Bedroom trends 2023: 10 comforting designs and trending colors for the year ahead
From Japandi-style design to dopamine color-drenching, experts say these are the biggest bedroom trends 2023 to inspire boudoirs in the new year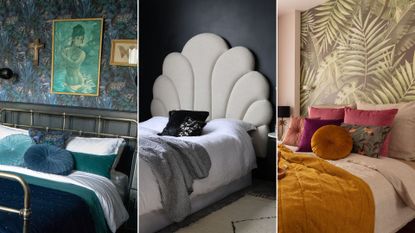 (Image credit: Divine Savages / Rocket St George / Dekoria)
woman&home newsletter
Sign up to our free daily email for the latest royal and entertainment news, interesting opinion, expert advice on styling and beauty trends, and no-nonsense guides to the health and wellness questions you want answered.
Thank you for signing up to . You will receive a verification email shortly.
There was a problem. Please refresh the page and try again.
The biggest bedroom trends 2023 cover everything from OTT design to natural colors and textures. There's something for every taste and budget to help create the bedroom of your dreams – literally.
Your bedroom is more than just a place to sleep every night, it's a personal sanctuary, somewhere where you can escape the stresses of the day which is why it's important to ensure it's a room where you want to spend quality time in.
As with all interior design trends and kitchen trends, each year brings different themes, but as Tracey Hague, Director of furniture brand Where Saints Go (opens in new tab), says, 2023 will be about feeling rested when it comes to bedrooms.
"It appears that anything goes as far as bedrooms are concerned," she says. "The only strong statement that seems consistent across the board is that people seem to be focusing more on creating a restful haven, a space for relaxation and thoughtful moments rather than just somewhere to just grab a night's sleep."
With the spa-like Japandi style still proving popular and the best bedroom paint colors remaining favorable, there are also several new trends on the horizon that will create a bedroom that's truly your own special sanctuary.
Bedroom Trends 2023: 10 inspirational ideas
Faye Lister, the founder of Voshie (opens in new tab), suggests spas will be the new, somewhat surprising, inspiration for bedrooms come 2023.
"We are going to see a big shift towards bringing wellness, mindfulness, and spa-inspired design into bedroom interiors," she says. "We will be looking to wellness retreats and spas for inspiration and how we can create a calm and restful space in our bedrooms."
But there's also room for personality and bold design choices too. Here are 10 of the biggest bedroom trends set to inspire our sleep spaces for the year ahead.
1. All natural
Maybe it's because sustainable living is becoming more important to everyone, but natural materials are predicted to be popular for bedrooms in the coming year. Choosing natural materials for your bedding, for example, is not only sustainable but also better for you. They contain fewer toxins and 100% natural fabrics, such as cotton, can help you regulate your temperature better ensuring a better night's sleep.
"If you're looking for texture and natural materials, 100% linen is a great place to start," says Molly Freshwater, co-founder and creative director at Secret Linen Store (opens in new tab). "Linen is a more sustainable fiber than cotton and its unique textured surface makes it a great choice, not only because it looks amazing, but because it feels fabulous too, getting softer and softer after each wash."
Don't forget your window treatments either when it comes to the all-natural trend. "For 2023, it's out with the opulent velvets and in with more rustic window treatments such as natural linen and textured sheers," says Zoe Warren, interior design expert at PriceYourJob.co.uk (opens in new tab). "On the flip side of this very understated trend, there's a move towards bolder wooden shutters. Using blues, greens, or blacks to make a statement."
It's not just bedding and windows that can be all-natural in the bedroom either, adding elements of natural materials such as wood and stone also work well, whether that's through thoughtful accessories or bigger elements like paneled walls.
2. Dopamine dressing
While bedroom colors are usually neutral and calming, there's a big step towards bright pops of color in your sleeping space. In the fashion world, dopamine dressing (the idea that wearing bright colors makes you feel more positive) has been huge for a while, and the same theory works for bedrooms.
Sammy Margo, a sleep expert at Dreams (opens in new tab) says: "Introducing pops of color could be the perfect way to subtly inject some positivity into your bedroom, without this impacting on your sleep quality and quantity."
But how to introduce this into your bedroom without it being too overwhelming? One way is to choose a bright piece of furniture. "We are seeing more customers choosing bright-colored beds as the focal point of the room and going for sumptuous fabrics," says Patricia Gibbons from the design team at sofa.com (opens in new tab).
"With color, it's important to think about layering the room with a mix of textures that add a pop of color and tie in the aesthetic. Bright colors come into their own in spring and embody the feel of the season all year round."
Another easy way to add color to your bedroom is with paint, and Sophie Smith from Zhoosh Paints (opens in new tab) says 2023 is the time to get adventurous.
"Color-drenching rooms or creating features such as headboards and canopies with paint are a great way to go," she says. "If you have a smaller bedroom these effects are fantastic for adding drama and decoration without taking up physical space."
She's predicting that berry shades like purple and pink will be big in 2023, with various shades of purple already proving popular with their customers. "Pastels and lighter shades reflect the warmer evening skies and create airy, relaxing rooms - while darker mauves and burgundies are rich and inviting: great for creating a comforting and sumptuous setting," she says.
3. Nature-inspired hues
If super brights aren't your thing, you're in luck as at the other end of the color spectrum are nature-inspired hues. In fact, one of the interior paint color trends 2023 will bring is colors inspired by all things natural, from sunsets to plants.
Sam Bramley, Lead Colour Consultant at Lick (opens in new tab) says: "Our bedroom walls will be adorned with calming color palettes and grounding neutrals in 2023 to help you slow down and be more mindful of your surroundings."
She recommends taking the look from the skirting boards all the way to the ceiling for a monochrome style that will look really pulled together and help give that feeling of being back to nature.
Helen Shaw, UK Director of Benjamin Moore (opens in new tab), says as well as calming colors, bold nature-inspired colors will be popular, such as their color of the year, Raspberry Blush, which was inspired by sunsets. Deep browns and golden yellows will also have their place.
"Stark, strong and striking, this look is both confident and simple," she says. "They're perfect teamed with whites and natural wood."
4. Comforting Textures
The Japandi bedroom trend uses different textures to create a zen-like feel, layering texture to make your bedroom cozy and comfortable.
"It's all about hunkering down and cocooning oneself in comfort; something I think we're all continuing to crave. Sweeping, curved lines ensure the range feels soft and warm," says Laura Burnett from Feather & Black (opens in new tab).
The first step when looking at how to make a home cozy is by using the right colors says British textile designer Jan Constantine (opens in new tab).
"Colour is key, so shades from warm creams and soft terracottas to deep reds and oranges and the return of warm browns can all help raise the temperature in the bedroom," she says.
It's then all about mixing and matching textured fabrics to make it super welcoming. Jan suggests a teddy sheet or duvet cover to keep things snug. Or chuck a shaggy rug on a hardwood floor to make things feel super comforting. Don't forget to make it tactile as well, choosing those textiles that make you feel snug when you touch them.
"Now more than ever we're looking to our home for solace, so exploring different textures in the home not only makes a bedroom interesting to look at but can add warmth and intimacy to a space," says Rachael Burn from The Tartan Blanket Co (opens in new tab).
"Different textures can also be achieved through finishing - for example, a lot of brushed and felted fabrics really emphasize and bring a material and room to life."
5. Art Deco Revisited
It may feel like Art Deco has never gone away but it's back with a real bang for bedrooms in 2023! An easy way to add glamor to a bedroom, Art Deco styling combines detailed touches with a considered palette.
Alongside neutral base colors, you can really bring the Art Deco look alive by using finishing flourishes of brighter jewel tones, alongside metallics recommends Faye.
"In terms of color consider jewel tones such as sapphire, emerald, and gold, which can easily be incorporated in an existing color scheme using cushions, throws, or even a statement accent chair in velvet, a fantastic texture harking back to the Art Deco era," she says.
The other thing that creates an Art Deco feel is curved lines, a feature that works well in bedrooms as it keeps things flowing and adds a harmonious feel to the room.
"Curves are a super and well-proven way to add some art deco to your room without re-decorating the whole room," suggests Molly. "I love curved Art Deco bedside tables on either side to complete the look."
And don't forget your flooring – Art Deco is a luxury look, so go for a deep pile rug or carpet to finish off the look.
"Flooring and plain colors play off of each other to provide a harmonious backdrop for design detail," says Jemma Dayman, Carpet Buyer from Carpetright. "Investing in a luxe deep pile carpet such as the Saxony range provides a sumptuous starting point for the elegant flourishes and design detail associated with this look."
6. Tropical accents
While biophilic designs were among one of the big bedroom trends 2022 bought us, in 2023 they will be back, albeit with a tropical twist!
Think about incorporating vibrant, tropical colors or wallpaper into areas of your bedroom to give it a vacay-vibe.
If jungle walls are too over-the-top for your tastes, stick to vibrant shades on the wall and then add tropical accessories such as a palm print cushion, duvet or rug instead.
"For quick and cost-effective project look for simple solutions that make a big impact," says Jemma. "Adding a rug is a great way to elevate neutral flooring and you can layer this with a set of complementary bed linen to unify the look."
7. Headboard walls
In 2023, headboards are going XL! Laura from Feather and Black says that headboard walls are a popular search term on Pinterest right now.
"Headboard walls are becoming very popular," she says. "A headboard is often the centerpiece of your bedroom and a larger headboard, or headboard wall undoubtedly determines the feel of a space. By using paneling, or a neutral-toned headboard, you can add a huge amount of luxury and elegance to the room."
While these headboards work really well in larger bedrooms, Suzanne Kugler, Buyer for mattresses and headboards at Dreams says it's actually a trend that can work in all sizes of bedrooms.
"If you have a smaller bedroom, it makes the sleeping area feel extra special without taking up valuable square footage so having something comforting yet stylish helps to co-create a cozy space," says Suzanne.
What's more, if you get a headboard wall built bespoke, you can extra storage into it, which is great when working out how to make a small bedroom look bigger!
8. Grandma chic
One of the more nostalgic bedroom trends 2023 is predicting will be big is grandma chic. With the upturn in thrifting and upcycling furniture, it's probably no big surprise that this trend is coming into its own, after all, doesn't granny always advise against throwing anything away?
To get the look, think frills, lace and the all-important florals, which Lucy Ackroyd, Head of Design at Christy (opens in new tab), says are the mainstay for this trend.
"Floral bedding is a must to achieve this aesthetic and to elevate the look to its full potential, choose fitted bed sheets that come with over-the-top frills to add texture," she advises. "Furthermore, treat your bedside table to a tasseled lampshade"
Another way to get an injection of vintage florals is to introduce granny-esque patterns into curtains or rugs – a perfect solution if floral wallpaper is too much for your tastes!
"Choosing statement flooring is a clever way of grounding the look," says Jemma from Carpetright. "For those looking to spruce up a room adding a rug is a simple way of achieving this look, however, for a statement look that lends a touch of luxury to proceedings, there's nothing like a beautifully patterned wall-to-wall carpet. It helps to elevate the look and feel of the space and provides pattern and color for all the other accessories and décor to combine with."
For the finishing touches, Lucy advises a trip to a charity shop or second-hand store to get the look. "Repurpose old china as trinkets for jewelry, find the most unusual vase for a fresh bunch of flowers, or choose some old paintings to adorn your walls," she advises. "This is a great way to create a bedroom that is all your own, completely unique, and full of character."
9. All out Maximalism
For those who love over-the-top design rejoice as 2023 is the year of maximalism, where more is more! Think murals, ornate on-trend wallpapers, and statement lights.
"In stark contrast to the simple design trend is the continuation of the maximalist trend mixing bright colors and bold silhouettes and patterns," says Tracey of Where Saints Go. "This trend is only for the bold and extrovert personalities amongst us, and a certain level of design skill is required to pull this off."
To dip your toe in the trend, Lucy from Christy says a showcase wall is a great way to start."If you have a show-stopping wall in your bedroom, you can mirror the design within your bed linen. For example, if you have a floral pattern on your feature wall, use a duvet cover with subtle botanical prints to achieve balance and harmony within the room," she says.
And if that makes you too nervous, stick to plain white bedding and use throws and cushions in brightly contrasting colors to add to the OTT feel.
Lighting is another great way to create a maximalist feel. Ditch the sleek lights and instead opt for a statement chandelier. "We have seen a notable uptake in customers utilizing oversized statement chandeliers in the bedroom for a more dramatic look," says Jo Plant, Head of Design at lighting company Pooky (opens in new tab).
10. Relaxing seating areas
While the bed is obviously the focal point in any bedroom (the clue is in the title after all), there's another piece of furniture that will have its moment in the spotlight, the chair! It's going to become even more important in bedrooms come 2023, with whole seating areas being totally on-trend.
"As bedroom trends are about sanctuary and ritual in 2023, seating in the bedroom is going beyond the simple occasional chair," says Zoe.
She continues: "The idea of including a loveseat or small sofa is likely to take hold as we look to spend more time in the bedroom doing activities that boost our sense of wellness and calm. This type of seating will be more like a welcoming hug than the functional seating we're used to seeing in bedrooms. Contemporary design and plenty of curves will mean they make more of a statement while softening the room."
Getting bespoke, built-in seats is the dream, but if space is limited, a cushioned bench — perhaps at the end of the bed — is a great alternative. Pile super soft, touchable cushions and throws on the top to make it a restful place to read or relax before bedtime.
With over 22 years' experience in journalism, Jayne has written about a variety of subjects. She spent the start of her career within the world of film, interviewing Hollywood stars, attending premieres and lusting after red carpet outfits, and then moved into fashion, launching websites for big magazines such as Look, Woman's Own and Wedding and working with top fashion brands such as Westfield, LK Bennett and Hunter.
Career highlights include dressing up as Kylie (in gold hot pants!) for a national newspaper and working on big fashion events alongside Giles Deacon, Henry Holland and Naomi Campbell.