Debenhams new tableware range with artist Lucy Tiffney is adorable and will make your table happy!
It would make the perfect wedding gift or treat for creative cooks...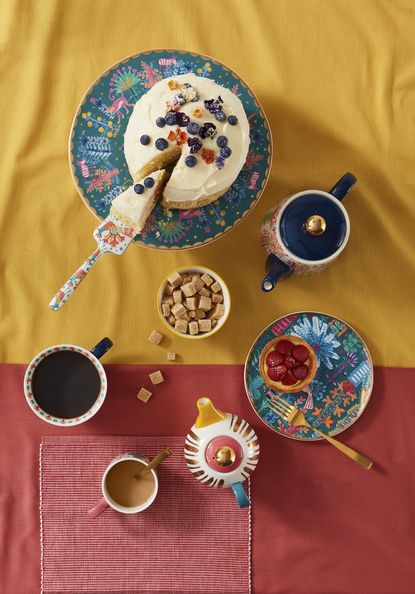 Debenhams have partnered with interior designer and mural artist Lucy Tiffney to launch an adorable tablewear collection.
Expect lovely colourful prints from Debenham's latest collaboration. You'll find mugs, teapots, bowls, and much more in punchy shades of pink, blue, orange and green. A piece or two from this collection is all you need to amp up your kitchen. And it gets even better: prices start at £8!
If the name sounds familiar it's because Lucy was a finalist on The Great Interior Design Challenge in 2016. Recently Lucy has been working with clients to create murals and wallpapers, which is how the department store "found" her. Enamoured with her signature bold prints, bright colours and floral and botanical motif, Debenhams commissioned her to translate her painterly style into homewares.
Lucy describes the process: "I worked closely together with the Debenhams Design Team and we thought it would be fun and great to transfer my unique bright and bold style to much smaller but strong 3D products that would be accessible to a broad audience."
And where she gets her inspiration: "The colours and patterns of the collection are informed by so many things, not least the creative journey of my life, in its many forms, a lot of travel and also the every day beauty of the world and people around me. I love the idea that people may start collecting and cherishing the whole range. The collection has everything you need to make your table a happy one!"
Debenhams x Lucy Tiffney collection
Our top picks from the 22 piece collection.
Cake slicer, £8
Who doesn't love cake? This cute cake slicer is just another reason for you to have another slice.
SHOP NOW: Cake slice, £8, Debenhams (opens in new tab)
Oven gloves, £12
Keep safe in style with these lovely colourful oven gloves.
SHOP NOW: Double oven glove, £12, Debenhams (opens in new tab)
Salt and pepper shakers, £12
Add some whimsy to your table with these adorable salt and pepper shakers! Hard not to smile when seasoning food with these we'd bet.
SHOP NOW: Salt and pepper shakers, £12, Debenhams (opens in new tab)
Small jug, £15
We found you the perfect floral jug. Use on your dinner table or as a flower vase to update your living room.
SHOP NOW: Small jug, £15, Debenhams (opens in new tab)
Teapot and teacup, £20
It won't just be the caffeine perking up up if you have a cup of tea from this teapot / teacup. The design is delightful.
SHOP NOW: Teapot and teacup, £20, Debenhams (opens in new tab)
Serving plate, £25
Impress your guests, or yourself, with a beautiful serving plate. The lively botanical print makes it a jolly addition to your spring tableware.
SHOP NOW: Serving plate, £25, Debenhams (opens in new tab)
We think Lucy's right when she says this collection is all you need for a happy table. We can't wait to take them home!
Freelance Fashion and Lifestyle Writer
Manuela Rio Tinto is a freelance fashion and lifestyle writer with experience in both short and long-form articles, as well as copywriting. Brazilian, she moved to London six years ago and since then has worked for brands like Woman & Home, Woman's Own, Chat, Selfridges and Karen Millen, to name a few. Passionate about all things culture, travel and scuba diving-related, you'll find her either reading, travelling or diving in her spare time.