The best running shoes for women – for casual jogs, long runs and beautiful trails
Our round-up of the best running shoes for women will help you make the right decision before parting with your cash.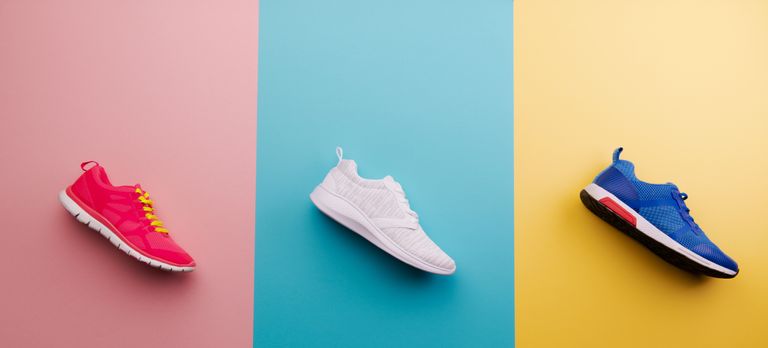 (Image credit: Getty)
Investing in a pair of the best running shoes for women will allow you to make the most out of your workout, whether you're an avid runner or a 'Couch to 5k' beginner.
Investing in the right running gear, from great running shoes to one of the best fitness trackers, is essential to improve your overall performance. Not only will the best running shoes provide you with the correct support to ensure you're looking after your body properly while you're exercising, but they can even give you the comfort and stability you need to work that little bit harder and hit a new personal best.
To help you on your search, we tried and tested a range of the best running shoes for women. From the moment we unboxed the running shoes, we put each pair through its paces and considered how well they fitted, performed, and how they benefited us during each workout. All trainers were tested for several times on different workouts to see how they fared for a range of activities, from running to HIIT classes.
To help you on your search, we tested a range of top brands, including Salomon, Helly Hansen and Saucony. We looked for all the key features good running shoes have, assessing how comfortable, breathable, lightweight and flexible they were to bring you this round-up of the best running shoes for women.
The best running shoes for women as tested by our experts
1. Salomon Supercross Blast GTX W
Best running shoes for women overall
Specifications
Size range: UK 3.5-10.5
Offset: 10mm
Terrain: Muddy and soft
Waterproof: Yes, Gore-Tex
Reasons to buy
+Great grip+Very supportive
Reasons to avoid
-One-pull laces-Poor breathability
Of all the running shoes we tested, the Salomon Supercross Blast GTX W trainers came out on top. Lightweight, comfortable and with great grip even in treacherous conditions, these running shoes tick all the right boxes, especially when it comes to exercising outside. In fact, the grip is so good you never have to worry about slowing down or losing focus again. Plus, thanks to the Gore-Tex technology, these running shoes stay 100% waterproof, whatever the weather. With just the right amount of arch support, your feet won't slip around and your ankles will stay cushioned and supported throughout workouts. Currently available in either black, green or pink, the colors are muted and mature instead of garish, so you could wear them with jeans post-workout and wouldn't look out of place.
The only thing you'll have to get used to is the one-pull laces but, over time, you'll never want to go back to manually tying them ever again.
See our full Salomon Supercross Blast GTX review
2. 361 Strata 4
Best premium running shoes for women
Specifications
Size range: UK 3-9
Offset: 8mm
Terrain: Road
Waterproof: No
Reasons to buy
+Great for long distance+Comfortable
Reasons to avoid
-Irregular sizing-Not waterproof
Stop running when your feet start to hurt? Then these are the right pick for you. Yes, they are slightly more expensive than the rest, but you are paying for comfort, especially if you want to run further.
Every detail has been thought through carefully. Often stop running to reposition the tongue? This has it integrated with the laces (via the Morphit lacing system), so it won't move at all. These trainers are ultra-versatile too, and great for protecting joints no matter what sport you're doing, from road running to burpees. Plus, they're definitely not too clunky for the treadmill.
Looks-wise, these running shoes are more about practicality than being bang on trend, but being sleek, and not overbranded or brash means you won't need to upgrade for a long time.
See our full 361 Strata 4 review
3. Helly Hansen HH W Varde Trail
Best budget running shoes for women
Specifications
Size range: UK 3.5-8
Offset: 5mm
Terrain: Trail
Waterproof: No, water-repellant
Reasons to buy
+Attractive+Great traction
Reasons to avoid
-Potentially uncomfortable-Not waterproof
It's not usual for a budget buy to have so much to offer, but these Hansen trainers definitely do and are some of the best trail running shoes out there. They've been designed for both trail running and mountain hiking, and, thanks to the multi-directional lug system, the traction is above average. What's more, the stable midsole means your feet won't roll about at all.
So, what are you losing out on by paying around half the price of the others? Probably things most people would be willing to forfeit, such as reflective detailing and extra padding around the heel. And, while they are only water-repellent and not waterproof, they do protect against the wind.
The old saying "buy cheap, buy twice'" is definitely not the case here – the quality of the materials used mean these trainers last just as long as those double the price.
See our full Helly Hansen HH W Varde Trail review
4. New Balance Fresh Foam Tempo
Best running shoes for shin splints
Specifications
Size range: UK 3.5-9
Offset: 6mm
Terrain: Firm
Waterproof: No
Reasons to buy
+Well-cushioned +Stylish+Lightweight
Reasons to avoid
-Not waterproof-Sizing not accurate
Often experience shin splints when running? The main selling point of the ultra-light New Balance Fresh Foam Tempo is the Fresh Foam midsole cushioning. This basically compresses each time your foot hits the floor to help protect against the force of the impact. So, however hard the terrain, joints will feel supported and comfortable. The attention to detail (even down to the padding on the heel to combat rubbing) makes this pair worth spending your money on. The design is exceptionally stylish to the point where they're not just running shoes, but also a fashion statement post-workout.
The only downside is they're not waterproof and, although the traction is good, it's not amazing. Therefore, it's probably best to stick to paths, pavements and the treadmill, instead of any terrain that's too treacherous.
See our full New Balance Fresh Foam Tempo review
5. Saucony Ride 13
Most comfortable running shoes for women
Specifications
Size range: UK 3-10
Offset: 8mm
Terrain: Neutral
Waterproof: No
Reasons to buy
+Responsive+Great flexibility
Reasons to avoid
-Not waterproof-Expensive
If you pick a pair of Ride 13's in Citron Mutant, then everyone will know about it. Not just because the bright yellow design is outrageously loud (yet strangely appealing), but because you won't stop telling every runner who will listen how great they are. Yes, they are comfortable – which is largely thanks to the Formfit, but they don't just allow your feet to melt away inside. These trainers are flexible and responsive, so the cushioning actually helps power each stride. Sleek and stylish, with a large toe box for wiggle room, these running shoes are on the premium side when it comes to price. However, they are durable (the sole is pretty solid), so you'll still have the same support mile after mile.
See our full Saucony Ride 13 review
How to choose the best running shoes for women for you
Still not sure which of our best running shoes recommendations are right for you? It's a very personal decision, but there are a number of things you should always look out for in good running shoes:
A large toe box
"Fashion over function has become the motto of many shoe companies over the years," says Vikash Sharma, a Doctor of Physical Therapy at New York City's Perfect Stride Physical Therapy. "As a result, the toe box on shoes has been getting narrower, altering the anatomy of the foot and decreasing its functionality. When selecting a running shoe, toes should be able to sit in the shoe without being crowded."
Good fit
"If your foot can sit on top of the insole without spilling over the edges of the insole, you have a shoe that fits," says Vikash. "You should never think that a running shoe can be 'worn in' to fit your foot – it should fit well on day one."
Stack height
"This is the distance between the ground and the bottom of your foot (how thick the sole of the shoe is)," says Vikash. "If you have a thick cushion between the ground and your foot, you are greatly reducing the ability of your foot to respond to its environment." This is often a personal preference, so try a few trainers with different stack heights to see what level suits you best.
Arch support
"As long as your foot is functioning as it should, there is no need for increased arch support," says Vikash. "But, if your foot is unable to get into and out of pronation, you may need to use a shoe with arch support until this can be resolved." Speak with your doctor or physician for further information if you are concerned about your arch support.
With thanks to Perfect Stride Physical Therapy for expert advice and commentary.