Saucony Ride 13 VS Nike Air Zoom Pegasus 37: Which neutral trainers are No.1 between these bestselling brands?
The Saucony Ride 13 vs Nike Air Zoom Pegasus 37 debate is a tough one as both are bestselling ranges for their brands.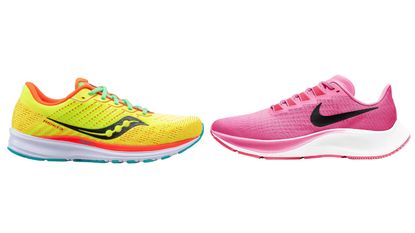 (Image credit: Saucony, Nike)
woman&home newsletter
Sign up to our free daily email for the latest royal and entertainment news, interesting opinion, expert advice on styling and beauty trends, and no-nonsense guides to the health and wellness questions you want answered.
Thank you for signing up to . You will receive a verification email shortly.
There was a problem. Please refresh the page and try again.
Saucony and Nike are two of the top brands when it comes to trainers and they have been for years. So, if you're looking for the best running shoes for women (opens in new tab), how do you choose between the two? The Saucony Ride 13 vs Nike Air Zoom Pegasus 37 debate is definitely a hard one!
Saucony's top neutral running shoes are the Ride, which adapt well on both hard and soft surfaces. The neutral Nike Pegasus, which have been on sale for almost four decades, are bestsellers time and again for Nike. They are certainly one of the best Nike running shoes for women. (opens in new tab)
Both trainers have lifelong fans counting down until new versions are launched, as they offer plenty when it comes to comfort, stability and support. Knowing which one may work best for you can be confusing.
In this Saucony Ride vs Nike Air Zoom Pegasus review, we take a look at the latest releases for both and break it down for you.
Quick comparison: Saucony Ride 13 vs Nike Air Zoom Pegasus 37
Offset: Saucony Ride 13: 8mm VS Nike Air Zoom Pegasus 37: 10mm
Weight: Saucony Ride 13: 244g VS Nike Air Zoom Pegasus 37: 235g
Waterproof: Saucony Ride 13: No VS Nike Air Zoom Pegasus 37: No
(opens in new tab)
What's special about the Saucony Ride 13?
Having been trading for more than a century, the experts at Saucony definitely know a thing or two about running shoes. This is a big reason why the Ride style is still so popular and keeps improving with every adjustment and new version launched. Saucony currently stocks the Ride ISO 2, which first came out in 2019, and has rave reviews for its shock-absorbing qualities.
Their latest launch is the Saucony Ride 13 (opens in new tab) and it's this special pair we're going to focus on during the comparison. One of the bestselling points about the Ride 13 is the PWRRUN cushioning, which helps to reduce impact on joints when you're pounding the pavements. They're flexible, supportive and, most importantly, super versatile. The level of comfort they provide makes them worth the investment for a beginner who wants to go for longer walks and slowly build up to a 5K. Plus, they're not too chunky, so would work well in the gym, too, especially for HIIT and Zumba.
But that's not all. Perhaps the feature that makes the Ride 13 so special is that each time you wear them, the more they can benefit your running. While that might sound odd at first, it's because with every run the Saucony Ride 13 really starts to shape to your feet. What's more, that's not the only way they adapt – they work well on most surfaces, so you don't have to pause or think about what you are doing when you go from roadside to woodland. All these things make the Saucony Ride 13 a really special buy.
(opens in new tab)
What's special about the Nike Air Zoom Pegasus 37?
Nike has been updating their Air Zoom Pegasus trainers for many years and they're the brand's bestselling shoe for a reason, mainly thanks to how comfortable and receptive they are when running. However, it's the major design and technical changes on their latest launch, the Nike Air Zoom Pegasus 37, that really benefit women and will make a difference to how they run, and it's this that makes them so special.
One of the updates to the Nike Air Zoom Pegasus 37 is the new Zoom Air bag, which helps cushion each step and improve the responsiveness of the trainer. It's in the midsole section of the shoe (the area that can often go ignored) and makes the trainers exceptionally comfortable. This Zoom Air bag is more than twice the thickness than it has previously been, so it really protects joints from impact. Also, compared with the men's version of the Pegasus 37, the sole is slightly less stiff and more flexible, which was something women directly asked for and is said to help improve gait.
Combined, all these special features make this lightweight pick great for both beginners and daily runners. What's more, the added comfort at the front of the shoe makes them perfect if you have any feet issues, such as plantar fasciitis. This means they are ideal if you want to use them to walk for miles, but usually have to stop due to pain. Sleek and stylish, some users say they're almost like wearing a pair of slippers!
What is the main difference between them?
These are both top running shoes for women, so they're comfortable and won't need breaking in before using, but the main difference between the Saucony Ride 13 and Nike Air Zoom Pegasus 37 is where on the foot they provide most cushioning.
The Saucony Ride 13 has a FORMFIT 3D cushioning system, which surrounds the whole foot. This really supports the heel area and provides cushioning everywhere, from toe to heel, including the tongue – you feel cocooned when wearing them. The TRI-FLEX sole has good flexibility, which really helps to reduce the amount of impact on joints. However, a downside is that, despite all of this, these running shoes still feel sturdy. While they are responsive, some people might find them just a fraction too firm.
In contrast, the Nike Air Zoom Pegasus 37 are more bouncy and the serious comfort is focused mainly in the midsole. Because of this, it does mean the heel area may not fit quite as snuggly as in previous versions. Fans of the Nike Air Zoom Pegasus 36 might find the heel area doesn't feel quite as supported as previously. The tongue is slightly shorter, too. While these factors are all very easy to get used to, they do help differentiate between the two bestselling brands.
Should I buy the Saucony Ride 13 or Nike Air Zoom Pegasus 37?
This is a tricky one and it will take a lot for lifelong fans of both brands to switch up from their usual go-to choice.
Both of these running shoes are lightweight, breathable and look fantastic when on, all of which can be just the thing to keep you running when all you want to do is head back inside and hide under your duvet. Because of this, they will suit both beginners and dedicated runners.
Also, they both come in great colourways, which cover every taste and need, from muted and subtle for the office commute to bold and brash with a desire to be seen when out and about.
Therefore, the decision as to whether to buy the Saucony Ride 13 or Nike Air Zoom Pegasus 37 really depends on one thing: How bouncy do you like your trainers? If you like yours to be both comfortable but firm, go for Saucony. If you want yours with just that slight extra bounce and flexibility, then opt for Nike.
Faye M Smith is an award-winning journalist with over 15 years experience in the magazine industry. Her continued work in the area of natural health won her the coveted title of the Health Food Manufacturers' Association (HFMA) Journalist of the Year Award 2021. Currently Health Editor across several brands including woman&home, Woman and Woman's Own, Faye specialises in writing about mental health, the menopause, and sex and relationships.