Saucony Ride 13 review: Is this pair of trainers really the perfect mix of support, comfort and responsiveness?
Bright, brash and bold, the Saucony Ride 13 definitely stand out from the rest.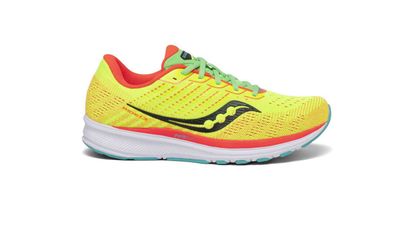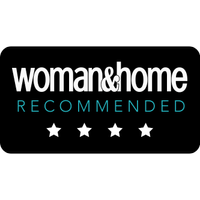 (Image credit: Saucony)
They may not be the most bouncy, but these support in all the right places.
Reasons to buy
+

Responsive

+

Good sizing

+

Great flexibility
Reasons to avoid
-

Not waterproof

-

Quite firm
Why you can trust Woman & Home Our expert reviewers spend hours testing and comparing products and services so you can choose the best for you. Find out more about how we test.
Looking for a pair of running shoes to start a new exercise regime or to give your current one a boost? The Saucony Ride 13 (opens in new tab) – which are both flexible and supportive – could be for you. How to be sure? We've put a pair through its paces from the moment we took them out the box, so you can see if you think they are worth the investment.
I tested a wide selection of the best running shoes for women (opens in new tab) and considered how they fitted, performed and benefited my workout. All trainers were used at least three times for different workouts to see how they fared.
Keep reading for the full review to see if these running shoes are the ones for you.
Saucony Ride 13 specifications
Size range: UK 3-10
Offset: 8mm
Terrain: Neutral
Waterproof: No
Who will the Saucony Ride 13 suit?
The Saucony Ride 13 will suit both beginners and dedicated runners.
What are the Saucony Ride 13 like to wear?
At just under 250g, these running shoes feel light to wear, yet my feet were still protected within them. This is thanks to the PWRRUN cushioning, which really helps to reduce the amount of impact on joints. However, unlike other running shoes, these are still sturdy and responsive, so you still feel in control of where you are placing your feet on the ground. Some people might find them too firm. Yet, while I never felt like I was bouncing around, which can sometimes happen with an overly cushioned shoe, I was still very comfortable.
What's more, each time I wore these, the more I felt my running was benefiting. This is because with every run, the Saucony Ride 13 running shoes were starting to shape to my feet. Plus, the laces are slightly wider (and a lot more stretchy) than traditional ones, which stops them from coming undone, and this really helps your feet to stay secure throughout your workout. I also had enough arch support. The only downside was that, while there is plenty of meshing on the top of the running shoe, my feet still felt hot once I had finished each run. This is a shame, but typical of many shoes I've tried and tested.
The Saucony Ride 13 design
When it comes to design, the Saucony Ride 13 has something for everyone. Available in three colourways, for those who like to stand out from the crowd the Citron Mutant would be the perfect pick. These are bright and brash yellow and orange, with clashing green laces, so you'll definitely be spotted by traffic if running at dusk. For some reason, these ones really put a smile on my face! While these won't be for everyone, the look-at-me-now design definitely feels special.
Looking for something more subtle? The Saucony Ride 13 are also available in Alloy Black, which are essentially grey and black. This is ideal to wear with office clothes if you want to walk your commute to add extra steps to your day. The final choice is Blush Dusk, which is a stunning mix of different shades of purple. The choice is great and it's unusual to have such varying picks in one collection. Shape-wise, they are very much running shoes with a large toe box, and not fashion trainers, but they are still very stylish for what they are.
(opens in new tab)
The versatility of the Saucony Ride 13
With many running shoes, they're usually either great on hard or soft surfaces, but I found these worked well on both. In fact, it meant I didn't pause or lose focus at all when I switched between woodland to roadside – they really adapted for me, so I didn't have to.
Plus, this is where the Saucony Ride 13 score really highly as, although they are great for running, they are not too chunky, so would work well in the gym, too, especially for HIIT and Zumba.
(opens in new tab)
Sizing and comfort of the Saucony Ride 13
I have quite wide feet and found these shoes fit well and were a true size. If you look down at the Saucony Ride 13, they seem sleek and stylish, but with a large enough toe box, so there's plenty of room to flex your toes when needed.
Yes, they are quite firm, but these running shoes are very comfortable and the more I've worn them, the more they have moulded to my feet.
How do the Saucony Ride 13 rate online?
Although relatively new to the UK market, the Saucony Ride 13 have been released for longer in the US. There are plenty of positive reviews online, with many users very satisfied with the level of comfort and support the running shoes have to offer, especially over longer distances.
There are some complaints about rubbing around the little toe area, although I found my toe box was large enough and this didn't happen to me.
Are the Saucony Ride 13 worth buying?
Yes, the Saucony Ride 13 are definitely worth buying, for whatever type of running you enjoy. They are both flexible and supportive to help protect muscles and joints, so even worth it for a beginner who wants to go for longer walks and slowly build up to a 5K. They could be the boost you need to keep going.
Faye M Smith is an award-winning journalist with over 15 years experience in the magazine industry. Her continued work in the area of natural health won her the coveted title of the Health Food Manufacturers' Association (HFMA) Journalist of the Year Award 2021. Currently Health Editor across several brands including woman&home, Woman and Woman's Own, Faye specialises in writing about mental health, the menopause, and sex and relationships.