Mastectomy tattoos help women reclaim their bodies after breast cancer—here's everything you need to know
Three women share their mastectomy tattoo experience and how it helped empower them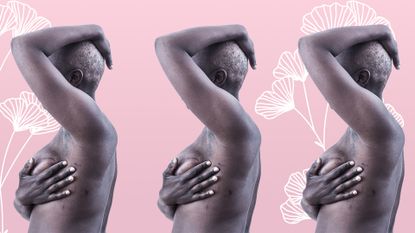 (Image credit: Future/Getty Images)
For many women, the decision to have a mastectomy tattoo at the end of their breast cancer treatment brings with it a new lease of life and a sense of freedom. It's an emotional and liberating experience, that draws a painful chapter to a close.
Research has shown just how empowering these tattoos are for women and their mastectomy recovery. A study (opens in new tab) by the University of Victoria in British Columbia discovered that mastectomy tattoos are "a work of art capable of transforming a woman's identity, empowering her to redefine beauty and heal following traumatic experiences." Mastectomy tattoos challenge the patriarchal ideals of beauty and the female body and allow women to reconnect with their bodies post-mastectomy.
This sentiment certainly rings true for breast cancer survivor Patricia Collins, "I want every survivor, like me, to feel as beautiful and confident as I do now after my tattoos," she says. Whether you're considering a decorative breast cancer tattoo or nipple tattoos after a mastectomy, here we share everything you need to know about mastectomy tattoos—plus, the experiences of three women whose tattoos brought closure to their breast cancer journey.
How do mastectomy tattoos empower women?
Following a mastectomy, breast-conserving surgery or breast reconstruction, some women choose to have a decorative mastectomy tattoo—a design of their choice created to cover mastectomy scars. Others choose to have areola tattoos—3D nipple tattoos that recreate a realistic-looking nipple and areola after it has been removed during a mastectomy. "I don't think we realize how important our nipples are," says Tanya Buxton, a tattoo artist specializing in medical tattoos and founder of the Mastectomy Tattooing Alliance. "They're almost like a part of our identity. Until you're in a position where they're not there anymore, they're probably quite easily taken for granted as well."
"Having a tattoo after a mastectomy is a women's way of reclaiming their body and themselves again," says Buxton. "As soon as you're diagnosed with breast cancer it can be a whirlwind, and you're told what you've got to do to save your life. Whereas this is something they've chosen to do for themselves, they're in charge."
There are lots of reasons people may decide to get a tattoo after a mastectomy. For many women it:
Marks the end of their breast cancer journey
Boosts self-confidence and helps them to love their new bodies
Creates something beautiful out of a tough time in their lives
Lets them take control of their bodies once more
Gives them a sense of freedom
Three women share their tattoo journeys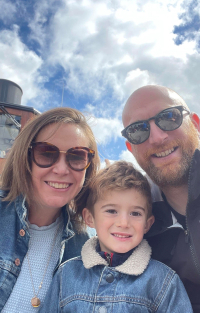 (opens in new tab)
Rebecca Booth, 40, England
Rebecca Booth was diagnosed with breast cancer five years ago, just weeks after giving birth to her son Monty. "The diagnosis with a newborn was unbelievably tough," Rebecca recalls. She underwent six cycles of chemotherapy, a mastectomy, and three weeks of radiotherapy. As she was in her mid-thirties at the time and because of the type of cancer she had, Rebecca was genetically tested and discovered she was BRCA1 positive.

This lead her to the difficult decision to have her ovaries removed and have a second mastectomy with double reconstruction, where the tissue and fat from her stomach were used to reconstruct her breasts. "I really struggled with having the mastectomies and became very self-conscious," Rebecca says. It wasn't until her sister Alison, who also tested positive for BRCA1 and had a double-mastectomy, had areola tattoos that Rebecca decided to go for it herself. Her post-mastectomy nipple tattoos have given her a confidence boost and a newfound love for her body.

"I found the process emotional as it was the final step on my long journey and I cried tears of happiness when I saw the end results," Rebecca says. "It really does make such a difference to have the areola tattoo, it's made me feel more womanly, it's given me my self-confidence back and a sense of normality about my new body." Rebecca adds, "I always wanted to take Monty swimming but felt unable to as I was so self-conscious. It has given me the confidence to do this now, which we are both really enjoying".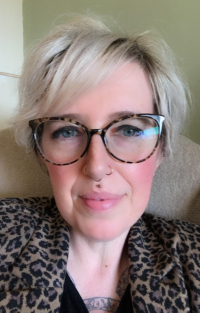 (opens in new tab)
Patricia Collins, 45, England
Patricia Collins also decided to have areola tattoos following a double mastectomy. Her tattoo experience allowed her to feel beautiful and confident. After her mastectomy, Patricia struggled to undress in front of her fiancé and love her body. "I was mourning the loss of my breasts and trying to come to terms with my new body and look," Patricia says. "Before my tattoos, my self-esteem was at the lowest it had ever been," Patricia adds. Then, she stumbled across Buxton's Paradise Studio Instagram account. "I came across Tanya by accident and the wonderful tattoos she does. I decided straight away that I wanted her to tattoo me."

Although she knew she wanted to have the tattoos, she was not prepared for how she would feel afterward. "There was a flood of emotions. I cried. I finally felt complete. I can honestly say I have never felt as confident as I do now, I'm permanently on Cloud Nine." "I m wearing clothes I would never have worn before, I'm not ugly anymore," Patricia adds. "I want every survivor to know that you don't have to settle for second best," Patricia says. "Get over the taboo of a tattoo studio, and you can feel beautiful and confident."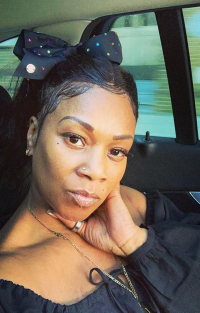 (opens in new tab)
Natasha Veerasawmy, 45, England
After battling stage 3 breast cancer, and watching many of her family members also living with cancer, Natasha Veerasawmy, founder of BoundedThruCancer (opens in new tab), chose to make something beautiful of her breast cancer experience."I didn't feel like it was ugly (the scar), I just felt like the situation was ugly with my mom and sister having cancer too," Natasha says. While she wasn't initially compelled to have a decorative tattoo, when the opportunity arose she went for it and found it brought her a sense of closure and signaled a new beginning.

"I didn't think about getting the tattoo, I was just happy to be alive. But, then it happened... it was so emotional. I didn't think I'd be breaking down," Natasha says. "It was a sense of freedom and closure."

Her new tattoo also gave her confidence. In romantic relationships after her mastectomy, Natasha didn't like to remove her bra. "I was with someone romantically, and I never took my bra off. And, they didn't know how to handle the situation either. It went on and on, and become normal. Then, I started to think this is not normal," Natasha explains. "The beauty in the tattoo gave me a sense of freedom that I can expose it. I don't have to wear the bra all the time, I didn't mind having it on show," she adds.
Mastectomy tattoos—what you need to know
Getting a mastectomy tattoo can be daunting. You're putting a lot of trust into the tattoo artist—so a good place to start is finding the right one.
How to find the right tattoo artist
Whether you decide to get a decorative tattoo of a colorful illustration, nipple tattoos or both, there are a few key points you should keep in mind when looking for a tattoo artist.
Check their credentials—look for artists with skill and experience in medical tattooing. Ensure they're registered with their governing body and check their reviews via a Google search. Buxton's Mastectomy Tattoo Alliance (opens in new tab) and F*ck Cancer's P.ink (opens in new tab) has a list of tattoo artists.
Enquire about ink used—if you don't want to have to revisit the studio for a top-up, ensure the artist will use permanent ink.
Ask to see previous work—seeing the artist's original work will give you a sense of what they can and cannot do, and the type of art they are skilled in.
Ask for a consultation—your artist should offer consultations and take the time to chat about the process with you. "I never like to rush anyone because it's a really important part of their journey," says Buxton.
When can you have a mastectomy tattoo?
Buxton recommends waiting 12 months after surgery before you have a tattoo on surgical scars. "During surgery, they've gone deep into the different skin layers and you need to let that tissue settle and mature before you break it again with a tattoo," says Buxton.
"I also feel the extra time allows the person to heal as much as it allows the skin too," adds Buxton. "It gives people time to process everything and think about what they really want."
"People also need to wait until they've finished any chemotherapy or radiotherapy treatment for their breast cancer," says Grete Brauten-Smith, Clinical Nurse Specialist at Breast Cancer Now. "It's always important to have a conversation with your treatment team if you're considering getting a tattoo."
Where can I get a mastectomy tattoo?
In the US
Personal Ink (P.ink) is a program hosted by US non-profit organization and registered Canadian charity F*ck Cancer. It's dedicated to helping people across the globe reclaim their bodies after breast cancer and in collaboration with P.ink, educates women on post-mastectomy tattoos.
Every year, during Breast Cancer Awareness month in October, studios across North America close their doors to the general public and create a safe and healing space for people who've had mastectomies to have decorative tattoos. Throughout the rest of the year, P.ink uses donations to pay artists to provide mastectomy tattoos for those who can't make the October events. The charity also has a directory of artists across the globe, to help you find a highly skilled tattooist nearby who can create your decorative or areola tattoo.
For more information visit:
Personal Ink (P.ink) (opens in new tab)—empowering women to reclaim their bodies after a mastectomy, P.ink provides a curated group of global tattoo artists who have mastectomy tattoo experience.
In the UK
In the UK, the NHS offers nipple tattoos using semi-permanent ink to women after a mastectomy. While this may be a good option for some, others might prefer a more permanent tattoo and choose to go to a tattoo artist specializing in medical tattoos.
After enquiring about the ink used for NHS tattoos, Patricia Collins decided to have it done privately with Buxton. "I was expected to go back to the hospital on a regular basis to get them [the nipple tattoos] touched up. I had been through hell and had no intention of going back there," she explains. "The journey's never fully ended for them if they have to go back to have the tattoos topped up time and time again," adds Buxton. "It's also not healthy to tattoo the skin over and over again for the foreseeable future."
Many women in the UK choose to have their tattoos done privately because they want to incorporate areola and decorative tattoos, and have them done by a creative tattoo artist.
For more information visit:
Mastectomy Tattooing Alliance (opens in new tab)—founded by Tanya Buxton, it houses an artist directory for UK-based artists who are skilled in post-mastectomy tattooing.
The Nipple Innovation Project (opens in new tab)—a registered charity in the UK providing free 3D nipple tattoos to women following mastectomy surgery.
Are there any risks of getting a mastectomy tattoo?
Infection from unsterile equipment—"for anyone getting a tattoo, the biggest risk is from dirty needles that can spread diseases such as HIV and hepatitis. Tattoo artists should always use sterile equipment and fresh needles," explains Brauten-Smith.
Allergic reaction to the pigment used—other risks can include an allergy to the pigment used. "This is very rare," says Brauten-Smith, "But some studios offer a patch test before a tattoo," she adds.
Damaging scar tissue further if it hasn't healed—if you have the tattoo too early and do not allow the skin time to heal, you could damage the scar tissue further. A tattoo is created by causing trauma to the deep layers of the skin. You want your scar tissue to fully heal before causing further trauma to the skin.
"While the tattooed area will be swollen, red, and may itch after having the tattoo, this should go away over time, and if it doesn't and you develop a high temperature or feel feverish you may have an infection. If you think you have an infection contact your doctor, nearest urgent care center, or A&E as soon as possible, as you may need antibiotics," advises Brauten-Smith.
What happens when you get a mastectomy tattoo?
Consultation
Similar to having a regular tattoo, when you have a mastectomy tattoo (whether decorative or areola), you'll first have a consultation with your potential tattoo artist. Here you can ask about their credentials, see examples of their previous work, share inspiration images, and discuss the plans for your tattoo. The tattoo artist will also ask questions about allergies or any health conditions you might have
"I always ask people to bring in pictures of things they like. It can be anything—it doesn't have to be a picture of a tattoo, it can be a photograph of a flower or a birthday card with a nice illustration," says Buxton. "Then it's my job to create something from their brief."
Consider what colors you like, and the size you'd like. Sometimes your tattoo artist will sketch a design at your consultation and may even sketch on your body if you're happy for them to do so.
Prices for mastectomy tattoos vary and will depend on the size, style and ink used (whether you choose colored ink or black ink), so ask for a quote for your body art at this stage.
On the day of your tattoo
Some women find the day of their tattoo brings with it a lot of emotions. "It was so emotional for me, I didn't go there thinking it would be. I didn't think I'd be breaking down in tears because it gave me a sense of freedom and because it was so beautiful," Natasha Veerasawmy says. For this reason, you might want to bring a family member or friend along for support.
On the day of your tattoo, your artist will show you the final design, if they haven't sent it to you beforehand. Take your time to approve the tattoo and tell them if there are any aspects you're unsure of. The artist might then draw the tattoo on your skin so you can get a feel for what it will look like.
"Most tattoo artists will incorporate any surgical scar into the design and shape of the tattoo, rather than inject ink into it. So, as scars vary from person to person, some designs will work better than others on different people and your tattoo artist should be able to advise you on what would work best for you," says Brauten-Smith. "They should also make sure you have all the necessary aftercare advice and instructions to care for your tattoo."
Depending on the type of tattoo, appointments can take between one and three hours, or more if you're having a large decorative piece.
After your tattoo
After your mastectomy tattoo, there's physical and emotional aftercare to consider. Your artist should provide you with aftercare information on how to care for your type of tattoo in the coming days and months. This can include steps like avoiding hot baths or swimming until the tattoo has healed, using aftercare cream in the days following your tattoo, and wearing loose clothing on the area until it's healed.
Having a decorative or areola tattoo can be an emotional experience. Some women find it gives them a sense of freedom, while others find it overwhelming—whatever your experience is, use the time after your tattoo to relax or spend time with loved ones. Talk about your experience and how it made you feel with someone close to you, or journal your feelings in a notebook.
Mastectomy tattoo ideas and inspiration
Floral designs and botanical elements are really popular in decorative tattoos, Buxton tells us. "A very popular design is a cherry blossom branch across the scar, but I always try to explain when you're tattooing a scar, it's not necessarily about covering it up it's about creating something beautiful that looks like it belongs on your body," Buxton adds. Consider this when researching mastectomy tattoo inspiration.
Mastectomy tattoos resources
For more information on decorative and nipple tattoos after a mastectomy, visit the following websites:
---
w&h thanks Rebecca Booth, Patricia Collins and Natasha Veerasawmy for sharing their experiences.
Many thanks to Tanya Buxton (opens in new tab), tattoo artist, owner of Paradise Tattoo Studio and founder of the Mastectomy Tattooing Alliance (opens in new tab) and Grete Brauten-Smith, Clinical Nurse Specialist at Breast Cancer Now (opens in new tab) for their time and expertise.
Ciara was the former digital health editor at womanandhome.com, covering all things health & wellbeing from fitness to sleep to relationships. She's always on the lookout for new health trends, innovative fitness gadgets and must-read wellness books.
Originally from Ireland, Ciara moved to London to study journalism. After graduation, Ciara started her career at Goodhousekeeping.com. Ciara qualified as a meditation teacher with the British School of Meditation in 2020, and outside of her day-to-day now runs her own meditation school called Finding Quiet. She is all about bettering that mind-body connection but believes wellness looks different to everyone.