Huawei Watch Fit 2 review: A great fitness tracker-smartwatch hybrid, perfect for reaching your health goals
We reviewed the Huawei Watch Fit 2 - here's everything you need to know about the fitness tracker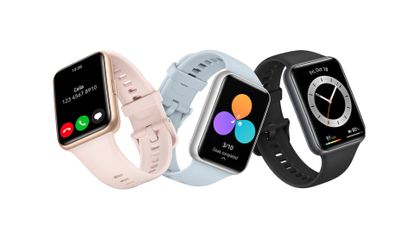 (Image credit: Huawei)
A great all-round fitness tracker-smartwatch hybrid, perfect for reaching your health goals
Reasons to buy
+

Long battery life

+

Range of biometrics

+

Variety of workout modes

+
Reasons to avoid
-

Biased towards Huawei devices

-

No contactless payment options
The Huawei Watch Fit 2 is an excellent fitness tracker designed for every activity from running to deep sea diving with nearly 100 different sport modes, a built-in AMOLED display, GPS, and an improved heart rate sensor.
I'm a huge fitness tracker and smartwatch fan, having worn a variety of them for the last couple of years to track my exercise patterns, sleep, and nutrition for weight and cardio training. But this was my first time testing out a Huawei wearable, so I put it to the test for several weeks, looking at functionality, durability, comfort, and more.
Overall, it's definitely one of the best fitness trackers for those looking to begin their exercise journey or keep up the progress. I was so impressed that I wore it for weeks after the testing period was over, having gotten used to the extensive range of features and tracking abilities this tracker/smartwatch hybrid offers.
Huawei Watch Fit 2 specifications
Size: 46mm x 33.5mm x 10.8 mm
Battery life: 7 to 10 days
Charge time: 2 hours to full charge
Water resistant: Up to 50 meters
RRP: £129.99
Huawei Watch Fit 2 review
The Huawei Watch Fit 2 is so simple to use and very similar to other smartwatch-fitness tracker hybrids out there, like the best Fitbits. On a basic level, it tracks important health statistics like steps, calories burned, heart rate, sleep efficiency, and stress levels. While this sounds like a lot, in 2022 when trackers are competing with Apple Watch models and the new WHOOP 4.0, this is the bare minimum that needs to be achieved. The Huawei Watch Fit 2 does the basics well, without overloading you.
However, scratch under the surface slightly and you'll find there's nothing this affordable wearable can't offer. By tapping the button on the side of the watch, you can access a massive range of features, including almost 100 different exercise modes, sleep tracking insights, blood oxygen (SpO2) levels, respiration, and stress levels. There are smart notifications, like weather reports, phases of the moon, incoming messages with a quick-reply feature, Bluetooth phone calls, and more. You can even track your menstrual cycle using the Watch Fit 2, and there's a torch feature and compass. When I say there's basically nothing the Huawei Watch Fit 2 can't do, I really mean it.
While some people might find this a bit of an overload, I love tracking every part of my health and wellness routine so being able to differentiate between something as small as an outdoor workout or an indoor workout was a huge bonus.
When it comes to checking insights and controlling some of the watch's features, you'll need the Huawei Health App. Before trying the watch for myself, I'd heard others say that if you didn't already have a Huawei phone, you'd need to download the app through the brand's own App Store. However, it is available on the iOS app store and it was as easy to download as any other app. Once downloaded, you pair your watch with the app and it automatically configures, presenting you with your data (which will be nothing to begin with) automatically.
The app itself is super simple with four categories to navigate through: Health, Exercise, Devices, and Me. Health is where your statistics live and if you let the watch flex its features then you can see insights on everything from your exercise, sleep, and stress levels, to blood oxygen levels, and blood pressure.
Is the Huawei Watch Fit 2 worth it?
Yes, absolutely. While not available for sale in the US, the Huawei Watch Fit 2 is available to buy in the UK for just shy of £130. This makes it on par with the Fitbit Versa 3 price-wise but it offers loads more features, and it's significantly cheaper than even older models of the Apple Watch.
There are also a variety of styles and colors to choose from, making the Watch Fit 2 one of the most customizable wearables out there. Choose to accessorize your device with an 'active' strap, made from silicone and available in three colors, the 'classic' which is made from grey or white leather, or 'elegant' in silver or gold metal.
You can also change your watch face as and when you like with various colorful and simple faces available to download from the app for free, or there's a selection for a small fee, and you can use a photo from your phone too.
Does the Huawei Watch Fit 2 have GPS?
The Huawei Watch Fit 2 has in-built GPS, making it the ideal fitness tracker for anyone who's just starting out with running, cycling, or another distance sport where you'll want to keep an eye on your pace, distance, and timing.
It's accurate on the whole as well, unlike many of the other top fitness trackers out there. If you're deciding between the Fitbit Charge 5, for instance, or the Huawei Watch Fit 2 and GPS is a priority - go for the Huawei model.
Is the Huawei Watch Fit 2 reliable?
Yes, the Huawei Watch Fit 2 is a very reliable fitness tracker and I'd really recommend it if you're looking for one of the best smartwatches with fantastic fitness tracking capabilities. One of the best features of the Watch Fit 2 is its incredible battery life.
Typical usage is 10 days for someone who mainly wants to use the watch as a smartwatch, focusing on checking the time (up to 200 times per day), taking calls and replying to texts (three calls and 50 messages), setting alarms (three timers), and just workout with the programs for 30 minutes per week.
The brand deem 'heavy usage' to be full heart rate monitoring, using the exercise programs for 60 minutes a week, checking the time 500 times a day, sending 50 messages and making three calls, and setting three timers.
Overall, when I was testing the wearable, I found it lasted for between six to eight days depending on how much GPS I was using more than anything else. On the days where I went for longer runs and cycles, I found the battery took a hit - but you can use the watch's GPS mode for a full 12 hours on full battery. And even when the battery is out, it takes just 2 hours to charge.
A digital health journalist with over five years experience writing and editing for UK publications, Grace has covered the world of health and wellbeing extensively for Cosmopolitan, The i Paper and more.
She started her career writing about the complexities of sex and relationships, before combining personal hobbies with professional and writing about fitness. Everything from the best protein powder to sleep technology, the latest health trend to nutrition essentials, Grace has a huge spectrum of interests in the wellness sphere. Having reported on the coronavirus pandemic since the very first swab, she now also counts public health among them.