The best white noise machines that will help you drift off into a peaceful slumber
We've tried and tested the best white noise machines to help you achieve quality sleep every night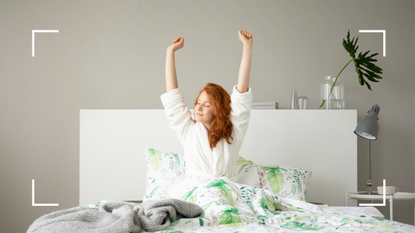 (Image credit: Getty Images)
Finding the best white noise machine might not be something you initially had on your list of essentials for a good night's sleep. However, listening to white noise can not only help you nod off, but also aid you in achieving a quality eight hours' snooze—so you'll wake up feeling refreshed. Science has found white noise can encourage brain activity to decrease, encouraging you to switch off, and it can also 'mask' external noise if you live in a busy place so you aren't woken up.
Read on to find out why a white noise machine is one of the best sleep aids for your bedroom, as well as our pick of the top options to invest in—for couples, your child, or if you are after extra features. We've tried and tested items from some of the biggest brands—including Lumie, Hatch, and Philips—and considered everything from the range of features to design functions and price points. So, if you're wondering how to fall asleep fast, or are after natural cures for insomnia, one of these devices might just do the trick.
What is white noise?
Why you can trust Woman & Home Our expert reviewers spend hours testing and comparing products and services so you can choose the best for you. Find out more about how we test.
"White noise is when every frequency the human ear can detect is played at the same amplitude, resulting in the 'shh' sound associated with TV static," says Dr Verena Senn, in-house sleep expert, and neuroscientist at Emma Sleep. To be classified as "white noise" it must be electronically generated and contain sounds of different frequencies at the same intensity, which is why it sounds a bit strange at first.
You may have also come across something called pink noise. "It differs from white noise in that its amplitude decreases by half each time the frequency doubles—this creates a mix of intense low-frequency tones and soft high-frequency tones," says Dr Senn. So far, there has been more research into the benefits of white noise for sleep compared to pink noise.
How can white noise help you sleep?
"If your sleep is disturbed by sudden outside noises, such as dogs barking, a siren, or people walking past noisily, then white noise can be used to diminish these sounds," says Dr Lindsay Browning, psychologist, neuroscientist, and sleep expert for And So To Bed. "The constant background sound of the 'white noise' helps to minimize the impact of occasional loud noises, since there isn't a sudden noise punctuating the silence. This is called 'sound masking'." Nocturnal noise pollution has been shown to cause tiredness, anxiety, and even cardiometabolic issues—so it's worth doing what you can to avoid it.
But even for those who are fortunate to live in quieter environments, white noise - along with the other sounds across the colour spectrum, like pink noise and brown noise - can still be helpful. "As we slowly drift off into the initial stages of sleep, our brain activity starts to reduce," explains Dr Senn. Thanks to its deeper sounds and lower waves, white noise has been found to help brain activity to decrease, in turn helping to extend the duration of sleep and even improve its overall quality." All you need is to choose your best pillow, and you're set.
Who is it most useful for? "White noise can be especially helpful for those suffering from tinnitus," notes Dr Browning. She adds that research has found people shouldn't be exposed to loud white noise for long periods, meaning the volume should be kept low (less than 50 dB) and be for shorter stretches of time. It's also important to be careful when using them around children and young babies. If you're finding you need a little extra help on top of the best sleep apps, then it could be worth a go.
How we selected the best white noise machines
We have thoroughly tried out the best white noise machines so you can get on with cultivating a comfortable bedtime routine. Here's how we picked the top items for our round-up:
Sound—our testers considered the quality of white noise played, as well as whether there was a timer or fade-out option.
Features—in addition to playing white noise, we also looked at all the other features each machine offered. This included other relaxing sounds (great if you're suffering from sleep anxiety), as well as an alarm function, wake-up light, transportability, and the ability to track the quality of your snooze.
Design—similarly, we likewise took into account the functionality of the machines—were they straightforward to set up, and how easy were they to use? Did they need to be charged up, or could they be plugged into the mains? And how aesthetically pleasing were they resting on your bedside table?
Price—finally, we wanted to share options with a range of prices to suit different budgets.
The best white noise machines, tested by us
1. Lumie Bodyclock Luxe 750DAB
Best overall white noise machine
Reasons to buy
+
Good quality sound
+
Includes wake-up light/ alarm
+
Stylish design
Reasons to avoid
-
It's a little fiddly to use at first
When considering tech that helps you sleep, Lumie should be one of the first brands you consider. The Bodyclock Luxe—their premium offering—plays very high-quality audio, and our tester found the gentle white noise had them nodding off in no time at all. There's also the enhanced option of experiencing it alongside a snooze-boosting fading 'sunset'.
There are further perks. Come morning you can be eased out of sleep by a wake-up light that comes on gradually 30 minutes before you need to get out of bed, along with the sound of birds singing—leaving you feeling much more energized than being jolted awake by a traditional alarm. This is particularly handy if you often feel tired in winter.
Compared to many other white noise machines, it doesn't require you to use your phone to control it—making it great if you're trying to incorporate some digital balance in your life by leaving your phone in the next room as you wind down for the evening. It also looks very stylish and will fit in well with most interiors. The only downside our tester found was that it was a little fiddly to set up and use—but once you've got to grips with the settings the interface is very user-friendly.
2. Hatch Restore
Best white noise machine with an app
Reasons to buy
+
Good quality sound
+
Includes wake-up light/ alarm
+
Easy to use via app
Reasons to avoid
-
You are trying to avoid using your phone
Hatch is another well-respected tech brand in the sleep department. Like Lumie's machine, its Restore device has many bedroom talents. However, unlike the Lumie, it's really easy to track the necessary sound down and get it going at just a tap, so you're not faffing around when you really want to just shut your eyes.
In fact, the ease with which you can set the machine up and navigate around it is one of its key perks—and our tester believes that anyone who struggles with instruction manuals, or tech in general, will find this device a dream to use. It's all controlled via a slick app, so—as well as white noise—you can swiftly browse the other restful sounds available, including meditations and ocean waves.
The Restore—which will blend seamlessly into most design aesthetics—also serves as a smart light, which can be used as a soft-glow reading lamp without any blue light hues that might keep you up. That said, the slight issue with this is the machine is largely controlled through your phone, so you generally won't want it to be too far away from your bed—tricky if you're trying to get into a non-digital headspace. However, there is the option to program a 'sleep routine' so you can tell the lamp when to wind down, and similarly, in the morning the light can work in reverse and gently wake you up.
3. Morphée Sleep Aid
Best white noise machine without screen
Specifications
RRP: $99.99/ £79
Power: Rechargeable
Reasons to buy
+
Good quality sound
+
You don't want to look at a screen
+
Easy to transport
Reasons to avoid
-
You prefer to control your devices at a tap or click
Our tester was rather skeptical about the Morphée at first. After all, compared to most machines with a white noise feature, it looks rather difficult to use—there's no screen or app, with the non-digital device controlled by turning three golden keys. However, their mind was completely changed after they realized just how effective a tool it was at relaxing you into a deep snooze.
In addition to white noise, you can choose between more than 200 guided sessions—including relaxing music and body scan meditations—which can be played through either a male or female voice, and last either eight or 20 minutes. Our tester enjoyed the nature sounds recorded in 'binaural' for a 3-D effect, as well as the napping option (four minutes of sounds, followed by silence, before you are gently awoken).
That there are only two durations to choose from might feel limiting to some, and it can take a bit of getting used to working out how to find the track that you want. However, if you ravel a lot, the machine is very portable. Its chic wooden case all protect it and it is rechargeable via USB, with enough power for seven to 10 days. What's more, if you don't want to disturb your partner, you can listen with headphones.
4. Kokoon NightBuds
Best white noise machine for couples
Specifications
RRP: £229.99
Power: Rechargeable
Reasons to buy
+
Great for solo use if you share a bed
+
Ideal for traveling
+
Tracks the quality of your sleep
Reasons to avoid
-
You don't like using earplugs in bed
These Kokoon NightBuds are ideal if you and your other half have varying bedtime routines, meaning you can play high-quality white noise directly into your ears without disturbing them. Additionally, this device (which is also featured in our expert-led best earplugs for sleep guide) will continue to play white noise at night to reduce external sounds (like your partner coming to bed a little later, or snoring).
Described as "intelligent headphones for sleeping", they also feature relaxing audio—including soundscapes, sleep stories and meditations—that can likewise help you fall asleep. They have very clever built-in sensors that detect when you are nodding off and will slowly fade out the sound. For those who love to monitor their health (perhaps with one of these best fitness trackers), the quality of your snooze time will also be monitored throughout the night, and you'll be given personalized advice via the connected app the following day.
If you're wondering whether wearing headphones is uncomfortable, then fear not. Our tester barely felt a thing all night, even with her ears pressed against the pillow. They are four times thinner than most Bluetooth headphones, coming in at just over 5mm thick. However, some people still may not get on with wearing something in their ears at night—in which case, these may not be for you.
5. Yoto Player
Best white noise machine for children
Specifications
RRP: $99/ £79.99
Power: Rechargeable
Reasons to buy
+
Perfect for helping kids nod off
+
Very easy to use
+
Option to record stories
Reasons to avoid
-
You don't want to download another app
You may not know, but white noise isn't just beneficial for adults. Used safely, it can also help babies and children fall asleep too—which is handy for parents struggling to cultivate a regular sleep routine with their little ones. Like the other machines we tested, the Yoto Player emits white noise into the room to help young listeners nod off. However, its fun, colorful design—including a jazzy pixel display—ensures kids are drawn in.
In addition to white noise, there is also the option to play other songs, sounds and stories—and if you want to treat your child, you can purchase extra 'cards', suitable for age groups up to 12 years. These include stories from Disney and Pixar, as well as the option to learn French.
This screen-free machine is really easy to use. It can be powered up via a magnetic charging dock, which then provides 10 hours of play. There's also the option to use it to wake your little ones up too, and the sleep and wake sessions can be programmed in advance. As you'd expect, there's parental control via the connected app, so the device gets up to no mischief.
6. Philips SmartSleep Sleep and Wake-up Light
Best white noise machine with wake-up light
Specifications
RRP: $200/ £199.99
Power: Mains
Reasons to buy
+
Great quality sound
+
Includes wake-up light/ alarm
+
Easy to use
Reasons to avoid
-
You are trying to avoid using your phone
Like the Lumie and Hatch, this Philips SmartSleep device does a lot more than just play white noise thanks to its futuristic-looking lamp. While using the sound as a soundtrack to drifting off, you can also time the machine via an app to fade out like a sunset. If you want to mix things up, there are breathing exercises available too. At the same time, you can set your phone to charge overnight through the handy in-built USB port.
In the morning, you can be gradually pulled awake by a red-tinted sunrise—which our tester found particularly soothing first thing—and which after 30 minutes will transform into orange and then bright yellow light. You can also boost your experience by setting nature sounds, or the radio, to turn on too. And, because we all have those days, it's really easy to snooze by just tapping the top of the device.
One of the main perks of this machine is that you can truly personalize it to your preferences, choosing specific sounds as well as the brightness level of the lamp. The touchscreen display makes it really easy to control, and the modern design will give your bedroom a stylish boost. However, if you're trying to keep your phone at arm's length, then this device—controlled via an app—might not be the best one for you.
7. Marpac Yogasleep Dohm UNO White Noise Machine
Best easy-to-use white noise machine
Reasons to buy
+
Very easy to set up
+
Incredibly simple to use
+
Can be placed anywhere in your bedroom
Reasons to avoid
-
You have to manually turn it off
Perhaps the most daunting aspect of having gadgets around the home is how difficult they can be to get to grips with—with numerous settings options and buttons to press to get to what you actually need. None of that is the case with this simple-to-use Yogasleep Dohm, which was first developed more than 50 years ago. Our tester was shocked—and delighted—that all they had to do was plug the device into the mains and switch it 'on'. The machine, which blends discreetly into most surroundings, then immediately starts emitting high-quality white noise.
The only decisions to make are how loud you want the volume—which can be easily adjusted by turning the entire machine clockwise or anti-clockwise—and where you place it. Unlike many other machines, it isn't necessarily designed to always sit on your bedside table. You can position it away from your bed, next to a busy wall, to mask sounds on the other side. Similarly, it can be left in front of your window to dull noises coming from the street. For a snoring partner, it's best placed beside them.
However, the fact there is largely an absence of options may be a downside to some. This really is for those who have no desire to faff around with screens and apps and who just want white noise to play—and all night long. Indeed, there is no timer or fade-out option for when you fall asleep, so once your machine is turned on it will run until you switch it off in the morning, which might not always be ideal. As with all the machines featured before this, it really all comes down to your priorities and preferences.
---
woman&home thanks Dr Verena Senn, in-house sleep expert and neuroscientist at Emma Sleep, and Dr Lindsay Browning, psychologist, neuroscientist, and sleep expert for And So To Bed, for their time and expertise.
Sign up to our free daily email for the latest royal and entertainment news, interesting opinion, expert advice on styling and beauty trends, and no-nonsense guides to the health and wellness questions you want answered.
Lauren is a freelance writer and editor with more than six years of digital and magazine experience. In addition to Womanandhome.com she has penned news and features for titles including Women's Health, The Telegraph, Stylist, Dazed, Grazia, The Sun's Fabulous, Yahoo Style UK and Get The Gloss.
While Lauren specializes in covering wellness topics—ranging from nutrition and fitness, to health conditions and mental wellbeing—she has written across a diverse range of lifestyle topics, including beauty and travel. Career highlights so far include: luxury spa-hopping in Spain, interviewing Heidi Klum and joining an £18k-a-year London gym.