Four IRL women reveal how they've gone (almost) plastic-free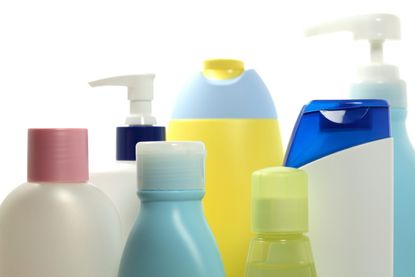 It's estimated that the UK produces almost 5 million tonnes of plastic waste each year, according to figures cited by WRAP (The Waste and Resources Action Programme).
And for anyone who's tuned in to the eye-opening BBC series War on Plastic with the Hugh Fearnley-Whittingstall and Anita Rani, you will have been bowled over by the revelation that residents of a single street in Bristol accumulated 7,145 pieces of plastic in their kitchens (opens in new tab), 5,241 in their bathrooms, and 3,388 single use items in other parts of their home or garden.
That's not to mention the fact that 'hidden plastic' is lurking everywhere from cleaning wipes to our clothing fibres!
If, like me, the above has made you consider taking the plastic-free path, you may be wondering where exactly you'll need to begin, and feeling overwhelmed at the prospect of trading up the products you have come to know and love.
I've started my own modest attempts at change by using toothpowder rather than toothpaste — I'll confess to missing the latter's minty fresh feeling — making my own handwash using Castille soap and lavender essential oil and popping in a reusable pump and putting a wash on for just an hour to stop the amount of plastic residue entering the water system. But I'm still yet to give up bottled water and more, so there's some way to go.
How to become plastic free
Below we meet four women who have taken up the challenge of going — almost - plastic-free in earnest, and reveal just how they've done it.
Anna Pisoni, 42, is a lunch supervisor and aspiring Social Media Manager and mum-of-two
I graduated in July in Social Media and my journey into sustainability is strictly connected with my Social Media Manager course.
To learn how social media works we were asked to create and run a community campaign about a topic we were most passionate about, and my choice immediately was going plastic-free and the recycling (opens in new tab) journey.
I have created and I'm still running Merton's Green Scene, a campaign which aims to share tips and ideas about recycling, going plastic free, talk about eco-friendly local businesses and much more.
I was really tired of seeing all the plastic in our house. I knew we had to start doing something differently. My inspiration was definitely a good friend of mine, Wendy, who has always been a great source of ideas and information, especially for me (not being born in the UK and coming from Italy, I didn't know a lot of things).
I have made quite a lot of plastic-free changes, especially in the bathroom routine. We don't use plastic toothbrushes anymore, only bamboo ones. For now, I'm the only one also using solid toothpaste instead of the normal tubes, but I aim to convert the whole family soon. We use Lush (opens in new tab) solid soap bars and shower creams, so we can recycle their pots. Solid shampoo is also a must. I'm using reusable and washable cleans pads for my face and to remove make up, we only use paper cotton ear buds when we have to. Also solid deodorant in a metallic box. I have switched to Smol and Splosh for my household cleaning products, dishwasher and washing machine tablets and conditioner. Milk&More is now delivering our milk in glass bottles during the week and I'm not using cling film anymore, since I have started to use beeswax wraps made by my (already mentioned) friend Wendy (find her on Instagram, @wrapperware).
I have started to sew my own string bags to wrap presents instead of wrapping paper; my daughter's party bags were also made of fabric and didn't contain any plastic. I'm drinking water from a refillable bottle I always have with me and I also have a reusable and collapsible cup for when I want to have a coffee.
I'm quite proud of the improvement we have made, but I know there is still a lot we can do.
I want to try and go to the farmer's market more often to buy fresh food from local producers, and make an effort to always find unwrapped food in the supermarket.
I already go and buy from our local plastic-free shop, Zéro, when I can, but not having a car makes it a bit difficult: I will try to cycle there more often and support this great local business as well.
My top tip for going plastic-free is start small: sometimes people think that going plastic-free means making a sudden switch in your lifestyle, and they feel a bit overwhelmed. There's no need to change all your habits in one go: choose one or two which are easy for you and then add another one when you realise how doable and easy is to have a greener lifestyle.
Don't feel down if sometimes you fall into old habits: life happens, just start again and try to avoid the same situation happening again.
You have to commit a little when you decide to follow the plastic-free path. It's absolutely true that all the easiest choices we have around us often involve plastic. But once I started the plastic-free journey, I really felt excited about what I was doing, and that helped me a lot in going forward and not looking back. Running the campaign and getting to know so many people who are doing their best and are keen to know more was also an incredible boost.
If you want to join Anna's campaign, visit:Merton's Green Scene (on FB), @MertonsGScene (on Twitter) and @mertonsgscene (on Instagram).
Daniela Tilbrook, 43, is a personal trainer and a mum-of-two
I have always tried to recycle as much as a can, but I was starting to think that this wasn't enough and I should be reducing the waste that we as a house produce. A few months ago I had a big declutter of the house and went through everything. The amount of stuff we had accumulated over the years was incredible. It took me about six weeks to fully declutter the house and once I was finished it felt so good. There was less stuff around, everything had been organised and mentally I felt much better without all the clutter. It got me thinking about what a wasteful society we had become. There were so many cheap plastic toys in our house and stuff we just didn't use or particularly like.
One of my friends has posted on Facebook about how she had dramatically reduced her waste. I signed up for Plastic Free July and took the challenge to go plastic-free. I met up with her and we went shopping together and she helped me to get started. I began by looking around supermarkets and found cucumbers that weren't wrapped in plastic and salmon from the counter that I put into my tupperware container. I also got my fruit and veg loose and tried to avoid any of the food that was wrapped in plastic.
I started using a zero waste shop. I was able to top up on washing up liquids and detergents as well as food. I now use a shampoo bar and conditioner bar. I no longer use shower gel and buy organic soap from the zero waste shop. I have also swapped toothpaste for toothpaste tablets instead. Our bathroom looks great and now there's no plastic left in there.
Other things were a little bit more challenging. There is so much plastic in supermarkets so I have had to look for alternatives. Market stalls are great as long as you refuse the blue plastic bags (opens in new tab) that they put your shopping in. I will be honest and admit that I haven't been able to go 100 per cent plastic-free, but it is a work in progress. Plastic Free July was really challenging and trying to do it all was really hard. What I have decided to do is make those small changes until they become habits and then I can eliminate plastics from our lives bit by bit.
My mother- in-law gave me a bread maker so now I make bread for the family and of course it's not wrapped in plastic. If you don't want to go down that route bakeries often wrap their bread in paper.
Easy wins are to carry a water bottle and top it up, I have been in this habit for years. I also have a coffee cup that collapses so I never use a single use cup.
Going plastic-free does require you to be organised and I am hopeful that companies will start to look for alternatives. If everybody did their bit we really could make a difference. It has also made me think about what impact I have on the world. I am starting to change my diet towards a plant-based (opens in new tab) one. Simple swaps like nut milk instead of traditional milk. I am not sure how far this journey will take me but maybe one day I will embrace the plant-based lifestyle fully. My meat consumption is going down and it all feels part of the same journey.
All this stuff we surround ourselves with doesn't make us happy. I think we need to look at how we are living and we owe it to future generations to do all we can now.
Ali Clifford, is a mum-of-two, and runs marketing consultancy Incredibusy (opens in new tab), working with ethical and sustainable brands
I've worked in the sustainable field for nearly 15 years, championing ethical brands, and of course, recycling at home – yet it's interesting how even though I've been submerged in this ethos, it's really taken David Attenborough, and Hugh Fearnley-Whittingstall to remind and push me that to make more of an impact, it's more than just 'well done, you are recycling your plastic', it's the REDUCING the use of plastic that's paramount. I think it's pretty hard to go totally plastic-free, however, working with brands such as Earth Conscious natural deodorant has been a complete wake-up call – and a realisation that there are so many plastic-free solutions out there that we've just been missing.
I've made lots of plastic-free swaps. In the bathroom we've moved over to natural deodorants, EarthConscious.co.uk (opens in new tab) in a cardboard tube, and to solid shampoos, and soaps.
We are using up the existing tubes of toothpaste and brushes we had in the cupboard, two of us have moved onto bamboo toothbrushes, and the old tubes and plastic brushes can be sent to Terracycle.
In the kitchen Percol coffee packaging is plastic-free as is our cat biscuit packaging – all compostable – we also buy tins of cat food rather than plastic pouches. Plastic-free washing-up brushes and sponges are available as good swaps, they LOOK good too! And say farewell to clingfilm and hello wax wraps.
In terms of tips for those considering going plastic-free the obvious and simple things for me are to try and shop at farmer's markets, selecting loose veg and taking re-usable carrier bags to the supermarket. Ditching the supermarket deliveries until they can up their game (previously, ordering amongst other things, two aubergines, which arrived packaged separately in plastic packaging for example).
It's also just about trying to be as mindful as possible when shopping – including fashion purchases – buying organic cotton sneakers, from brands like Po-Zu.com (opens in new tab) with fair trade rubber soles - no plastic or solvents.
It's important to be prepared – carry a reusable water bottle, (or cup if you fancy a takeaway coffee) and always have an extra cotton/string bag at the bottom of your backpack, or in your pocket.
Visit and support your local 'bulk store' where you can find dried pasta, rice, chia seeds, muesli and tea and support your local organic veg box schemes too.
There have been a few difficult moments in the plastic-free journey, such as being unprepared for ad hoc purchases in supermarkets, so much fruit and veg is still sold in plastic bags, or in 'recyclable plastic' tubs, with non-recyclable film lids. What's been easier is joining Facebook Groups and asking social media followers for advice – my @incredibusy Instagram friends are very eager to help and advise!
Laura Collins, 41, a former project manager and mum-of-three, runs various community groups on a voluntary basis
I became interested in environmental issues about seven years ago. I think climate change and pollution are both significant threats and we can't address one without thinking of the impact on the other. Many people say single-use plastic is helpful because it has a low carbon footprint in terms of production and shipping costs (it's lightweight) but what good is that if the plastic breaks down into millions of micro-plastics which will be around forever?
I'm not totally plastic-free, but I'd like to be, and I write letters to the people I buy things from to encourage them to reduce their plastic footprint. It amazes me that best practice isn't shared between supermarkets and producers – there are lots of great packaging ideas out there but no one seems to be sharing tips on recyclability of packaging or reducing unnecessary packaging etc. I was inspired by a zero waste book my husband bought me – I don't think he fully appreciated the repercussions as now we have loads of piles around the house where we sort things so they can avoid landfill! We're lucky in that our local dump recycles a lot of hard plastics and other items, and we also do Terracycle and other schemes. We're down to about half a bin bag every two weeks, and we're a family of five, plus a dog.
MORE:Holland & Barrett's new plastic-free beauty range already has a 55,000 people waiting list (opens in new tab)
I shop for pasta, rice, dried fruit, baking ingredients, kitchen staples, and detergents and other cleaning products at my local zero waste shop. I also use organic Fit Pit deodorant, which comes in a jar and doesn't use harsh chemicals. We use soap bars instead of pumped soap, and I tried shampoo bars but it didn't agree with my hair, despite a lengthy trial. I also shun plastic bottles in shops – if I need to buy a drink I go for a can, but I try to make sure I bring a reusable bottle or coffee cup with me, and I keep a canvas tote in my handbag for surprise purchases. I also have lovely mesh cotton bags for loose produce. My coffee capsules are fully compostable in my council collection.
I'm lucky that my local zero waste shop (BYO in Tooting) takes requests so I basically keep track of any plastic I throw away and ask her to stock the products!
Sometimes on the journey to going plastic-free you end up shopping at several different shops to get the things you need with the least or no packaging, and that can be time consuming. But it's all worth it to have less of an impact on the planet.
Miriam worked for woman&home for over five years and previously worked on the women's lifestyle magazines Woman and Woman's Own.