What To Eat At Every Life Stage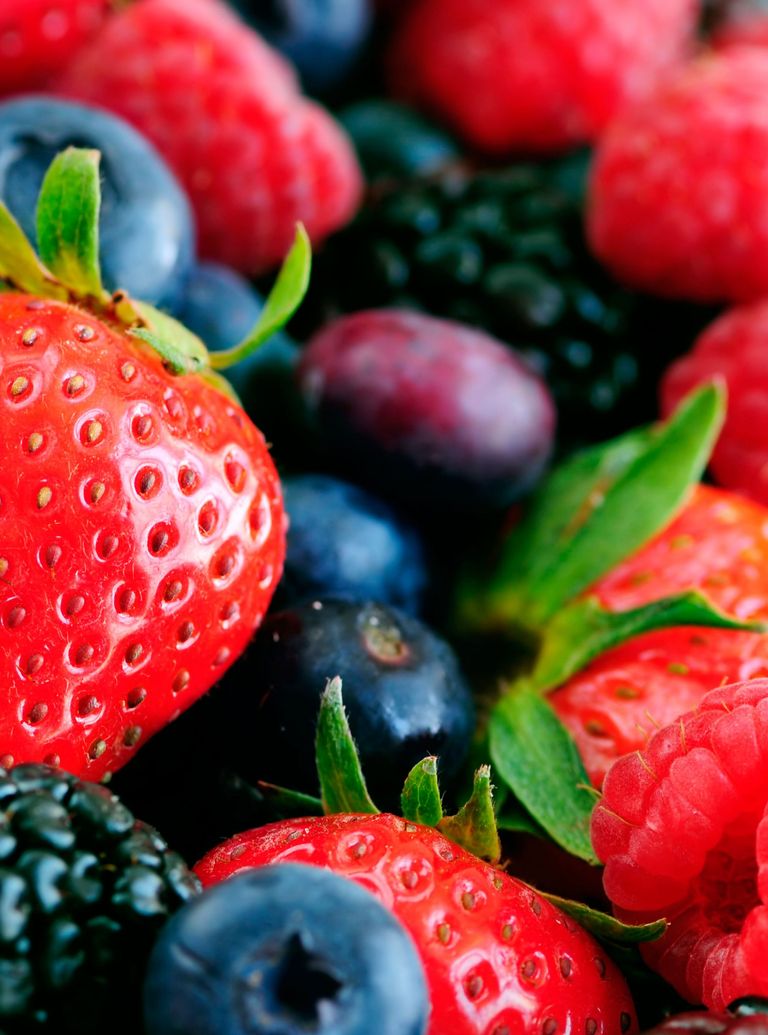 We reveal the right foods to eat at every decade
10 February 2015 Full of fibre, vital vitamins, and anti-ageing antioxidants, berries are a great food choice for every age - and unlike many superfoods they are actually tasty!
What's more new research reveals they could trim your waistline too! The study by academics at Loughborough University suggests that swapping your usual mid-afternoon snack for a handful of berries could see you lose upto stone in a year. This news couldn't come at a better time considering February 15th (this Sunday), is thought to be the one day of the year that most people fall off the diet bandwagon.
'Our research shows that an afternoon snack of mixed berries decreases energy intake at dinner.' explains Dr Lewis James, from the University's School of Sport, Exercise. The results showed that those who ate a handful of berries between meals, ate 30 percent less from their dinner plate than those that didn't, which could amount to a reduction of upto 1000 calories a week if you reached for the berries daily. It's also a great way to slip more fruit into your diet - at present only around 30 per cent of British adults are currently meeting the Department of Health's recommendations of five portions of fruit and veg a day.
The main reason most people struggle to stick to their New Year diet is that they cut out too many foods at once and it's difficult to maintain. Instead, stay on track with your healthy heating goal by making small changes such as one food swap a day - you'll find it it's so much easier to stick too and a far more effective way to lose weight in the long run.
Here are some treat-time berry recipes to get you started…
25-35: The Party Decade!
Top up your immunity with zinc-rich foods, such as shellfish, nuts and lean meats. Surveys show this age group is often low in iron, so make sure you have lean red meat and eggs at least twice a week. For veggies, include plenty of dark-leafy-green veggies, such as spinach, kale and broccoli, as well as pulses. And try to eat these with foods rich in vitamin C, such as tomatoes, or add a squeeze of lemon juice to aid iron absorption. Bones will reach their maximum strength at this time too, so make sure you have three servings of dairy foods each day - a matchbox- size piece of cheese, milk on cereal and around 75g (3oz) yogurt all count as a serving to give you the calcium you need. Find more healthy eating and wellbeing tips here For the latest w&h news and exclusive offers follow us on Twitter or 'like' us on Facebook
35-45: Responsibility Starts Here
More women are starting their families in this decade than ever before. It's good to boost your intake of foods containing folic acid to help ensure a healthy pregnancy - wholegrains, leafy and leafy-green veggies are perfect, so go for these at least once a day. If you already have a family and life is getting more and more hectic now, make sure you eat slow-burning carbohydrates at each meal to keep your blood sugars stable - wholewheat pasta, couscous, bulgar wheat, basmati rice and grainy breads are all great energy providers. Find more healthy eating and wellbeing tips here
45-55: Stay At Your Best
So the menopause may be looming but you want to feel and look great. It's time to think heart and bone health. For healthy hearts, choose unsaturated spreads, oily fish, plenty of fruits and veggies, and a daily dose of wholegrains. Bones need calcium and vitamin D to help maintain their strength so make sure you have your three daily servings of dairy foods or calcium-enriched alternatives. Using an unsaturated spread, such as Flora pro.activ, instead of butter will help boost your dietary intake of vitamin D. Find more healthy eating and wellbeing tips here
55-65: Keep Active
This is when you can choose to stay healthy before the signs of ageing set in. Keep an eye on your cholesterol with healthy spreads, oats and oily fish. Watch hidden calories in snacks because your body will start to need fewer calories. Keep joints healthy with mixed seeds and nuts for essential fatty acids, and maintain eye health with beta-carotene from yellow and orange veggies. Find more healthy eating and wellbeing tips here
65-plus: Take Care Of Yourself
Your digestion needs a little nurturing, so keep food clean and simple. Make sure portions are you-sized and take time to eat your meals slowly. Make sure you drink plenty of water because thirst isn?t as noticeable in your sixties and it's easy to get dehydrated. Your joints need to stay strong so you can keep active. Go for lean portions, oily fish and seed oils, such as rapeseed and sunflower oil, to help maintain their health. Find more healthy eating and wellbeing tips here For the latest w&h news and exclusive offers follow us on Twitter or 'like' us on Facebook