The 16:8 diet: what is it and could it work for you?
The 16:8 diet could be just the plan to follow if you're looking to lose weight and slim down...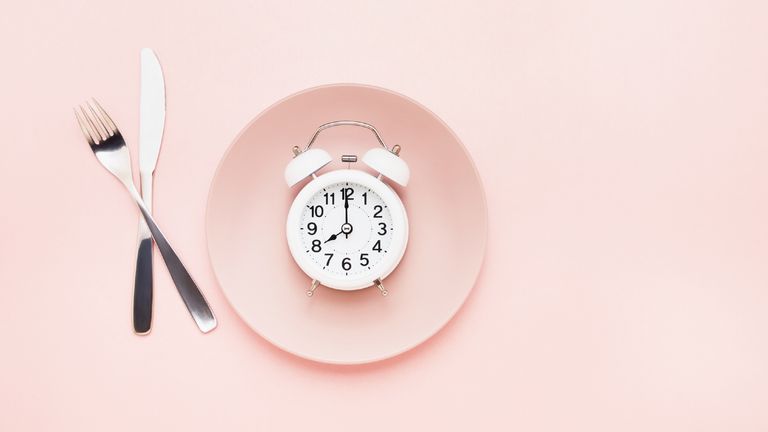 (Image credit: Getty Images / laimdota)
Thinking about starting the 16:8 diet, but want to find out more before you do? Well, you've come to the right place. This intermittent fasting diet has grown in popularity over the last few years and it's no wonder why. Changing the hours you eat can be a simple way to change your mindset about food, and it has great results.
Here's our expert advice on why the 16:8 diet may work for you...
What is the 16:8 diet?
"The 16:8 diet is an intermittent fasting diet," says dietitian, Dr Carrie Ruxton from The Health & Food Supplements Information Service. "16:8 intermittent fasting involves limiting consumption of foods and energy (calorie)-containing beverages to a set window of eight hours per day and abstaining from food for the remaining 16 hours. This cycle can be repeated as often as you like – from just once or twice per week to every day, depending on personal preference."
How does the 16:8 diet work?
"Restricting food intake to eight hours a day helps to cut calories," says Dr Ruxton. "It may also help weight loss if the diet is healthy and the person does not make up for fasting by eating large amounts of foods during the eating period of eight hours. As well as cutting calorie intake, the diet may reduce resting energy expenditure and contribute to weight loss."
What can you eat each day on the 16:8 diet?
Don't worry about starving, you won't on this diet.
"Start by picking a time frame for fasting, say 8pm until midday the following day or 5pm until 9am until the following day," says Dr Ruxton. "So, you'd eat during the hours of 12 noon until 8pm or from 9am until 5pm. You could eat anything you like although any benefits that might be gained from the diet would not be so great if you choose a high proportion of less healthy foods. It's important to stick to nutritious whole foods during the eating period. Drink calorie-free beverages, like water and unsweetened teas, during the fast period to curb appetite and maintain hydration."
READ MORE:
Why could the 16:8 diet work for you?
"While other diets often set strict rules and regulations on what can be eaten, 16:8 intermittent fasting is easy to follow and requires minimal effort," says Dr Ruxton.
It is really simple to follow. "It is generally considered less restrictive and more flexible than some other diet plans and is easier for some people to fit into their lifestyle, which can contribute to weight loss," adds Dr Ruxton.
Is the 16:8 diet bad?
"Restricting food intake to just eight hours per day can cause some people to eat more than usual during eating periods in an attempt to make up for hours spent fasting," says Dr Ruxton. "This may lead to weight gain, digestive problems and the development of unhealthy eating habits. The 16:8 diet may also cause short-term negative side effects at the start such as hunger, weakness and fatigue – though these often subside once a routine is established."
And that's not the only thing to look out for. "Restricting food intake could also reduce intake of vitamins and minerals," says Dr Ruxton. "In fact, any change of food/diet regime can prejudice vitamin and mineral intake."
How much weight could you lose on the 16:8 diet?
"This depends on your calorie intake during the eight hours you eat," says Dr Ruxton. "Research on this diet is limited, but has shown similar weight loss on an intermittent fasting diet and a low-calorie diet although intermittent fasting may be more effective for retention of lean tissue (e.g., muscle)."
Is the 16:8 diet worth a try?
Yes, this one is definitely worth trying. "The 16:8 diet can be a safe and easy way to improve your health when managed with a healthy nutritious diet and a healthy lifestyle," says Dr Ruxton.
"However, it shouldn't be viewed as a substitute for balanced, healthy diet rich in whole foods. Though 16:8 intermittent fasting is generally considered safe for most healthy adults, it's important to talk to your doctor before giving it a try. This is especially the case if you have any underlying health conditions, such as diabetes, low blood pressure, a history of disordered eating or if you take any medication. Plus, intermittent fasting is also not recommended for women who are trying to conceive or those who are pregnant or breastfeeding."
How much does the 16:8 diet cost?
Here's the great news. "You don't have to sign up to anything," says Dr Ruxton. "There are plenty of 16:8 plans online. The cost of the diet is your choice as you choose what to put in your shopping basket. You may spend less eating during eight hours each day."
Good luck if you try the 16:8 diet - we hope it works for you.
Faye M Smith is an award-winning journalist with over 15 years experience in the magazine industry. Her continued work in the area of natural health won her the coveted title of the Health Food Manufacturers' Association (HFMA) Journalist of the Year Award 2021. Currently Health Editor across several brands including woman&home, Woman and Woman's Own, Faye specialises in writing about mental health, the menopause, and sex and relationships.