Could Danish nutritionist Thorbjorg's anti-aging plan make you look and feel younger?
Thorbjorg's 10 Years Younger plan was a bestseller in Denmark, Norway, Sweden, Finland and Iceland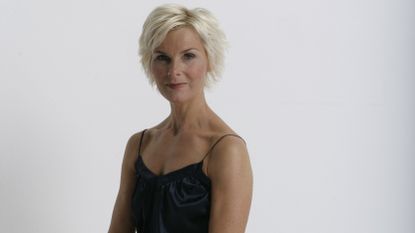 (Image credit: LE PRESS)
woman&home newsletter
Sign up to our free daily email for the latest royal and entertainment news, interesting opinion, expert advice on styling and beauty trends, and no-nonsense guides to the health and wellness questions you want answered.
Thank you for signing up to Woman & Home. You will receive a verification email shortly.
There was a problem. Please refresh the page and try again.
She's the Scandinavian anti-aging queen with a huge following in Denmark, but could Thorbjorg's 10 years younger plan work for you?
Scandinavian anti-aging queen, Thorbjorg isn't your average 50-something-year-old. She could be mistaken for a woman in her forties and often is. She believes she's learned how to slow down the aging process and wants to help other women to live agelessly, too. And, it doesn't involve just investing in the best eye cream. While anti-aging skincare formulas can help, Thorbjorg takes an all-around approach to make you both look and feel 10 years younger.
Danish nutritionist and lifestyle guru Thorbjorg's positive perspective on aging is refreshing and contagious. Her book, 10 Years Younger in 10 Weeks, became a bestseller in Denmark, Norway, Sweden, Finland and Iceland. In the book, she explores the idea we need to open our minds to getting older rather than fighting the inevitable. "You no longer have to think about 40+ as the age of repair," she writes. "This is the beginning of your sexy years". We couldn't agree more!
The nurse-turned-nutritionist is honest about her story, too. Understanding that "vitality comes from the inside" didn't happen overnight, Thorbjorg is a self-confessed former sugar addict who used to suffer from mood swings and energy dips. Since discovering that the secret to living agelessly is to take responsibility for your health and beauty, she says she's managed to stop the clock.
The book has achieved cult status in Scandinavia thanks to Thorbjorg's tried and tested all-natural approach, which she put to the test on Danish TV for a one-off documentary, Botox vs Broccoli. After just eight weeks following her plan, the broccoli team's health, vitality, and wellbeing far outweighed those who had used a quick-fix injectable, while their skin was judged to be equally as youthful. So, how does she do it? A combination of a healthy diet, exercise, and even sex!
Learn how to roll back the years in just 10 weeks with a little help from Thorbjorg. Here are seven key steps featured in the plan to help you get started.
7 steps to looking and feeling younger
1. Document your progress
If you were on a diet to lose a stone in a month, you'd document your progress week by week to help boost your body and mind. Thorbjorg says taking photos every week is integral to her plan.
Think of these self-portraits as bathroom scales. As time goes on, you should be able to see a marked difference in skin tone and hair texture along with other physical markers such as increased energy. This will motivate you to keep going. Snap a quick photo of yourself on your phone before you start the plan.
2. Snack on 'stressed vegetables'
Slowing down is not all about how to eat less, rather it's about what you eat according to Thorbjorg. That's why she's a firm advocate of organic produce.
"Stressed vegetables are healthy vegetables," Thorbjorg explains. "Stress is good for vegetables, just as a bit of stress is good for your body because it strengthens your defense mechanisms.
"Broccoli that grows in an unsprayed field, exposed to sunlight all day, unprotected against attacks from beetles and other insects that want to eat it, is exposed to stress. To resist it, the broccoli has to mobilize its own immune defense," she adds. "Broccoli that is very dark, bordering on purplish-green, is stressed and very healthy for humans to eat. When we eat it, we strengthen our own anti-oxidative defense against the 'enemies'—free radicals"
3. Walk for 30 minutes every day
Thorbjorg puts her 'ageless' body down to regular exercise—whether that's yoga for beginners, strength training for women or couch to 5k runs.
But, Thorbjorg sees walking as a daily luxury that clears the mind while boosting fitness. "Enjoy the fresh air and go for a 30-minute walk every day," Thorbjorg advises. "Gorge on fresh air with deep, healthy breathing. Breathe in and out consciously."
Learn how to breathe better and soak up the beauty around you with a lunchtime walk. Or, get off the bus a few stops early and enjoy the rest of your journey on foot.
4. Ditch the flour
It might surprise you, but Thorbjorg recommends avoiding foods with flour.
"Refined grain products are like food without instructions for use, so white rice and plain grain flour ground from wheat, spelt, barley, rye and oat should be avoided, Thorbjorg says. "They are grain products without the germ—and the husks that are full of signal substances and fibers," she explains.
"The body therefore cannot read or understand what it's supposed to do with these plain flours. The more processed and finely ground the products are, the harder it is for the body to use them and to perceive them as anything other than sugar. They also work just like sugar in the body," Thorbjorg adds.
So what should you eat instead? Wholegrain flour and brown rice is fine occasionally, but they still contain starch. Thorbjorg recommends cutting out gluten altogether, especially if you bloat after eating.
5. Blend your own supplements
"Normal Western food doesn't deliver the goods and neither does a standard vitamin tablet," Thorbjorg explains.
That's why she swears by taking individual supplements at different times of the day to stave off hunger or boost the body. "Some women need an extra oil supplement for lunch and at night," Thorbjorg says. "If you get hungry or crave sugar immediately after eating, you're probably one of them. Take 1 tablespoon of cold-pressed flaxseed oil or hemp oil in juice after each main meal."
6. Focus on your sex life
Knowing how to have good sex could be incredibly beneficial for your health, Thorbjorg says.
"Sex releases emotions that promote a youthful body and mind," she says. "Several studies show that running reduces stress symptoms. Regular sex also reduces negative stress.
"The physiological effect of orgasm is a release of endorphins. These are also released during running, but you have to run quite a long way and for a long time to produce the same amount of endorphins that you get from half an hour of sex with an orgasm," Thorbjorg explains. "In addition, sex and running also produce nitrogen oxide, which stimulates circulation and the exchange of nutrients and waste materials in the cells. Intimacy, closeness, touch, and light skin massage send beneficial messages to the nervous and hormonal systems. Sex is the best anti-aging medicine for both body and soul."
For an extra-intimate experience introduce the idea of tantric sex to your partner. Not only can it help you have multiple or longer orgasms, but it can also be a great bonding experience for you and your partner.
7. Swap refined sugar for 'beauty sugar'
"The sweet taste of sugar is associated with feelings," Thorbjorg says.
Science backs this up, so it's no surprise that we reach for chocolate or crisps when we're stressed or suffering from a dip in mood. There's no need to avoid the sweet stuff altogether though. Thorbjorg recommends swapping refined sugar for something more natural when you need a pick-me-up.
Try beautiful sugar alcohols that won't make you intoxicated, confused, tired or increase fat. Xylitol, maltitol, lactitol, erythritol and sorbitol can sweeten your life without causing a major load on your blood sugar. So can stevia, raw honey and palm sugar. It's actually possible to find excellent dark chocolate sweetened with maltitol, too," she adds.
This piece was originally published by w&h in 2014 and was updated in 2021.
Sign up to our free daily email for the latest royal and entertainment news, interesting opinion, expert advice on styling and beauty trends, and no-nonsense guides to the health and wellness questions you want answered.
Ciara is the former digital health editor at womanandhome.com and has covered all things health and wellbeing from fitness to sleep to relationships. She's always on the lookout for new health trends, innovative fitness gadgets and must-read wellness books.
Originally from Ireland, Ciara moved to London to study journalism. After graduation, Ciara started her career at Goodhousekeeping.com. Ciara qualified as a meditation teacher with the British School of Meditation in 2020, and outside of her day-to-day now runs her own meditation school called Finding Quiet. She is all about bettering that mind-body connection but believes wellness looks different to everyone.