I went on a four-day juice detox…and this is what it did for my body AND mind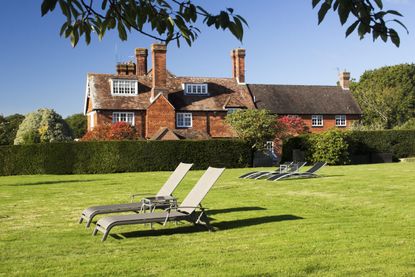 (Image credit: Simply Healing)
As a person who suffers from IBS-like symptoms, and whose ears perk up at the mention of any kind of retreat I was excited when an invite to Simply Healing – an 18th Century country house which has hosted juice and weight loss detoxes for 20 years – landed in my inbox.
What was I hoping to get out if it? Giving my digestive system a kick-start, hopefully shifting a few pounds and keeping my fingers crossed that all that fruit and veg goodness was going to leave me with glowing skin.
Simply Healing Juice Cleanse UK
The four-day programme involves a regime of juices, soups and cleansing therapies designed to leave you feeling refreshed and reinvigorated from the inside out. I also opted to do a digital detox for the duration of my retreat and had my phone on flight mode for extra zen, though wi-fi is available for those who want need to surf the World Wide Web for work or pleasure.
In the pre-retreat info pack you're encouraged to cut down on dairy, caffeine, wheat, alcohol and sugar in the lead up to your stay. As a vegan who isn't much of a drinker and hasn't really drunk any caffeine since another mind, body, spirit retreat back in 2016 the first four weren't much of a struggle. However, sugar is another matter entirely as I can't resist a steaming cup of chocolate and elevenses are usually a paleo bar with naturally derived sugars. I chose to stick with the latter and forgo the former around 4 days ahead of the retreat.
Day 1
On arrival at the retreat – and after a slight timings mix up by me – I was shown into my cosy room and after downing bags, it was straight into a super relaxing full body detox scrub followed by colonic hydrotherapy. The colonic was surprisingly painless with practitioner Katie doing great job of allaying my nerves and distracting me from mechanics of the job in hand. The sensation of warm water passing through my colon wasn't unpleasant but definitely a tad weird and stomach massage from Katie also helped get things moving.
In-between treatments guests can relax in the lounge in front of a roaring fire, go for a walk in the neighbouring countryside or simply chill out in your room watching a DVD.
Freshly prepared juices a mixture of psyllium husk (a form of fibre), Bentonite clay and cleansing herbs that includes a probiotic, all of this is designed to help you cleanse the colon are served at regular intervals and they can help to regulate blood sugars and more. As a result my fears of having a 'hangry' meltdown never really materialised. Though I will confess to having a fantasy or two about wolfing down a slice of peanut butter on toast, I think this was more due to the fact that I was missing the comforting ritual of food rather than having a rumbling tummy. Still regular cups of herbal tea, including a freshly prepared blend at afternoon tea (4.30 each day) and plenty of filtered water helped to keep me feeling hydrated and hunger-free.
Night one ended with a light and tasty carrot, ginger, coriander soup and gave an opportunity for me and three other guests to get to know each other.
That night I had vivid dreams and the welcome pack does say detox, as well as a physical impact, the detox can impact your emotions bringing things out that may be stored just beneath the surface.
Day 2
In the morning I woke up to my stomach feeling slightly flatter and a feeling of being clean on the inside.
After a tasty juice I spent 15 minutes on the chi machine – something you're encouraged to do three times a day. Lying down with your ankles nestled on top of the small machine it rocks your body from side to side, and is designed to maintain proper chi – or 'vital life force' – balance and oxygen to the body as well as helping with movement of lymphatic fluid.
I then had a consultation with Kate, one of the key retreat hosts, where I talked through my objectives for the detox and had my blood sugar – 5 – and weight – 11st 2lbs, had I really lost a pound already? – measured. This was followed by a detox foot spa where a combination of an electrical current in warm water and Epsom salts helped to draw out toxins from my feet and saw the water turn from clear to a light murky brown. Strangely this was reassuring rather than alarming, as the darker the water the more toxins that have been settling in your body without your knowledge.
Later, a gentle detox massage with oils had me drifting to sleep.
MORE:How to do a digital detox
The combination of a quiet location, rest and a clearing diet served to make me feel both energetic and tired simultaneously – with the latter, again, may be due to the fact that the body is working hard to remove what you don't need.
Simply Healing founder and owner Vivien Kay led the evening meditations in the main lounge in front of a warming fire and I could actually feel myself going under quite deeply. The group then couldn't have been more excited about our dinner of pea, mint and asparagus soup - most of us opted to sprinkle some cayenne over it for extra cleansing properties – and by savouring every mouthful we were mindfully eating by default. I even had a cheeky extra mug of soup, but felt soo full afterwards.
Day 3
I had a good sleep on night two and while I was slightly reluctant to get out of bed for the first juice of the day I did feel my energy levels upping as I got out and about.
A reflexology treatment helped me release tension and relax even further, and – unlike a previous reflexology session – I could feel a number of different sensations in my body as the practitioner pressed on key points at the base of my feet.
I followed this by taking a 30-minute walk along country fields – the route is outlined in your welcome pack – and just soaked up the peace and tranquility of the lanes and fields around Alliblaster House.
The evening ended with an amazing drum meditation led by Vivien and of course another tasty soup.
Day 4
A weigh in before at 8am revealed I'd lost around 5lbs! My skin also had that much sought after lustre to it. I also noticed over the last couple of days that I was looking less puffy and bloated.
A breakfast of of strawberries, blackberries, raspberries and blueberries with a side of agave nectar was definitely welcome and left my tastebuds feeling zingy.
The final – and second – colonic also revealed a lot – quite literally – andI thought how it was so much better to have all that waste out then in.
Lunch consisted of a small salad with grated carrot, apple beetroot, a few slices of avocado and strawberry, pumpkin seeds and a balsamic, fig and olive oil dressing. I don't think I've ever enjoyed a salad so much or felt so full after such a light meal. Handily you can pre order a juice and frozen soup to take with you when you go (for a small extra charge), so you have no extra work to do that day. You also get a booklet with guidance on the right types to focus on going forward, recipes and food plan to follow for the first three days after the retreat. Guests can also email/call Simply Healing with any queries in the days or weeks following the retreat or if they need a little pep talk to help stick to the plan. This is as well as probiotic supplements to repopulate your body with good bacteria following your colonics.
When I arrived I felt: A little flustered from the journey and usual trepidations about staying somewhere new. And my tummy felt bloated, as it usually does.
When I left I felt: Lighter in both body and mind and surprisingly full.
Need to know
Group sizes: Maximum of 10
Prices: The Simply Healing 5-day healing juice detox starts from £,1475 - all listed above treatments included, 5 daily fresh juices and evening soups. A small exercise room for guest's use with power plates, the chi machine and a running machine are also available.
Who is it for? Anyone who wants a gentle introduction to change the way they eat or drink – as well as insights needed to make widen changes in their life. Simply Healing has hosted women and men of all ages from those experience burnout and empty nesters to those experiencing menopausal symptoms or who simply want to clear out their body as a step to achieving clarity in their minds. Ultimately, it's a chance to recharge and reset.
What makes it different? Simply Healing has been going for more than 20 years with Vivien at the helm, an experienced healer who has a passion for helping people to be their best and is always on hand to impart her many decades of knowledge in healing modalities and supports each guests' individual needs. The house has an inviting, homely feel with carefully chosen artefacts, crystals and more helping to foster optimum conditions for healing.
What is good for? Simply Healing says that their bespoke programme can help with balancing hormones, and stabilising blood pressure, blood sugar and cholesterol.
What I loved: The warm welcome and sense of ease I felt at Simply Healing, the flavour-packed delicious juices and soups, spending time with like-minded people who were also following the programme and just getting time to focus 100 per cent on myself.
Sign up to our free daily email for the latest royal and entertainment news, interesting opinion, expert advice on styling and beauty trends, and no-nonsense guides to the health and wellness questions you want answered.
Miriam worked for woman&home for over five years and previously worked on the women's lifestyle magazines Woman and Woman's Own.