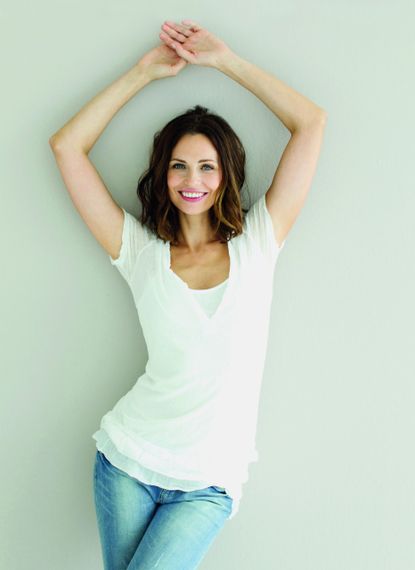 The easy to follow regime is so good you can take the weekend off!
Gwyneth Paltrow, Uma Thurman, Tom Jones and countless more A-listers all swear by it, but what is the Paleo diet?
Put simply, it's a diet based on the natural foods our ancestors lived on during the Paleolithic Age some 2.5 million years ago. Unlike contemporary diet fads, there are no complex rules to follow. Simply stick to meat, fish, nuts, seeds, fruit and vegetables, banishing synthetic and heavily processed foods that disrupt the digestive tract.
Food expert and author Daniel Green explains the Paleo benefits: "In the two years since I published my last book, The Paleo Diet, Paleo has gone mainstream. To me, it's popularity is hardly surprising as the simple principle of cutting out all the synthetic, heavily processed foods that are the cause of all our 21st-century bad health and replacing them with the fresh meat, fish, nuts, seeds, fruit and vegetables that our Paleolithic ancestors thrived on gives us a food plan that is perfectly suited to our bodies. There is no weighing food, or counting calories. You eat until you are full. There is no starvation or hunger, just satisfying food that tastes great, and as a result, we?re healthier and therefore happier."
As an overweight teenager, Daniel faced a future of diabetes, cardiovascular problems and limited mobility. Thankfully, by following the Paleo diet principles, he lost 29kg (4.5 stone) and regained his health. That was 20 years ago and he hasn't looked back.
The diet is based completely on natural, unprocessed foods such as fruits, vegetables, seeds, nuts and good fats. That means that unhealthy additives, trans fats and hidden sugars and salts are instantly banished. The result? A diet that's easy to follow and that will boost your health - not to mention, help you shed those unwanted pounds. And the best part is that there's even a little leeway for the occasional treat!
Keep reading to discover the principles behind the Paleo diet including the amazing health benefits plus a tasty breakfast recipe that will keep you satisfied until lunch.
Monday to Friday
Paleo also operates according to an "80-20" rule, which means that if 80% of what you eat is Paleo, the remaining 20% can fall outside. I love this concept, and not because I want an excuse to eat pizza and ice cream and chocolate on my days off, but because it's what makes this diet realistic. It's what I, personally, have done for over 25 years now, since I lost 4¹⁄₂ stone as an overweight young adult and why over all this time, I've never put the weight back on. I've always followed the exact same rule, which is easy for us to live on and maintain. It's what we do on average that works, and it's why detox diets are so criticised. Why do we expect one detox week out of 52 to make any difference to our health or our weight? It makes sense that it's what we do most of the time that counts. So you love chocolate? Great, you can have it, just in moderation. It's when we deny ourselves things that the cravings build and build and lead to excessive, unhealthy binges and the vicious cycle of yo-yo weight loss and weight gain. I'?s such a relief that Paleo offers a much healthier and practical alternative!
Why Go Paleo?
How does the paleo diet translate to physical signs of health? According to Daniel: 1 It's based on unprocessed, whole foods - which means fewer additives, unhealthy trans fats and no hidden sugars or salt. 2 It's low in salt and rich in potassium - which means lower blood pressure. 3 It's high in fruit and vegetables - which means getting your 5 a day is a doddle. 4 It's low in saturated fat and high in healthy fats - which means lower cholesterol and less inflammation. 5 It's rich in protein and fibre - which means it helps you feel fuller for longer and keeps hunger pangs at bay. 6 It helps to recalibrate your metabolism - which will help you to shed any unwanted weight. 7 It's gluten-free - which helps to banish bloating and digestive problems. 8 It's low GI - which helps to avoid unhealthy spikes in blood sugar. 9 It's rich in plant-based phytochemicals - which can help reduce the risk of certain types of cancer and conditions like dementia. 10 It helps balance the pH in your body - modern diets encourage the production of acid within the body, which is believed to increase calcium loss from the bone and lead to many other health problems, including kidney stones, arthritis, fatigue, headaches, PMS and skin disorders. In contrast, the Paleo diet helps create a more alkaline environment.
What To Eat
MEAT, FISH & EGGS: Fresh meat, poultry, game and offal, fish and shellfish, eggs. FRUIT & VEG: Stock up on your favourite fruits and veggies, including apples, carrots, apricots, cherries, berries, broccoli and cauliflower, and try more something more unusual like seaweed and algae for extra phytonutrients. Be sure to check the label of tinned fruits and vegetables to make sure they're sugar- and sodium-free. NUTS: All nuts except for peanuts are allowed (peanuts are not Paleo-friendly because they are legumes). Nut flours are a great ingredient for baking and can be used in place of wheat flour. Substitute dairy mik for nut milk, and always choose the unsweetened option. COCONUT: Coconut flour, coconut milk, shredded unsweetened coconut, coconut aminos - a soy-free seasoning sauce made from coconut tree sap, this is a great substitute for soy sauce (available on Amazon). SEEDS:Flaxseed, pumpkin seeds, sesame seeds, sunflower seeds. DRINKS: Filtered or spring water, herbal tea, coconut water, freshly juiced fruit and vegetables. SWEETENERS: Raw honey, stevia, maple syrup. OILS & FATS: Avocado oil, coconut oil, flaxseed oil, hazelnut oil, macadamia nut oil, olive oil, sesame oil, walnut oil, lard. FLAVOURINGS & SAUCES: Fish sauce, curry paste, sea salt, truffle salt, mustard, gluten-free tomato purée, stocks, arrowroot powder, herbs and spices.
What To Avoid
PROCESSED FOODS: Pumped full of E numbers, salt and sugar, the problem is not just with what has been added but what has been taken away. Processed foods are often stripped of the very nutrients dietary fibre, vitamins, minerals and phytochemicals that are good for you. No ready meals or fast food! REFINED & ADDED SUGAR: Unlike natural sugars (i.e those you find in fruit, which come packaged with other nutrients), refined sugar provides nothing beneficial. This includes no jam, ketchup, barbeque sauce. GRAINS: Grains weren't introduced into our diet until after the Agrarian Revolution, so they weren't eaten by our Paleolithic ancestors. Gluten, a protein found in grains, can irritate and damage the lining of the small intestine. This can lead to digestive problems and interfere with the absorption of nutrients from food. So biscuits, cakes, oats, couscous, cereal and even beer are out. BEANS AND LEGUMES: Like cereals, beans and legumes contain antinutrients - lectins and phytic acid - which can irritate and damage the lining of the gut and cause problems such as bloating and diarrhoea. No broad beans, cannellini beans, chickpeas, kidney beans, lentils, peanuts, peanut butter, sugar snap peas and soy. VEGETABLE & SEED OILS: These oils are high in omega-6 fatty acids (very different from heart-healthy omega-3s) and promote inflammation - one of the major causes of heart disease and other conditions such as arthritis. No rapeseed oil, palm oil, peanut oil, safflower oil, sunflower oil, soya bean oil, margarine. POTATOES: Contain saponins - antinutrients that can damage the intestine. DAIRY: Cow's milk is designed to help calves grow quickly, not for humans to consume throughout their lives, and many believe we lack the digestive enzymes suited to this task.
In Moderation
ALCOHOL: The occasional glass of wine isn?t a problem and yet it is important to remember that alcohol is a toxin so ?in moderation? is key. You should also avoid alcohol that is made from foods on the ?avoid? list, such as beer (made from grain), gin (processed with grain-based alcohol), rum (made from sugar), vodka (made from potatoes) and whisky (made from grain). CHOCOLATE: Chocolate is made from cacao which is packed with healthy chemicals like flavonoids and theobromine. However, chocolate often also contains large amounts of sugar so make sure you choose a quality brand with a high ratio of chocolate solids (ie. dark rather than milk). COFFEE: Coffee can irritate the gastrointestinal tract, decrease insulin sensitivity and hinder iron absorption. However, it is also full of antioxidants and can protect the liver so the occasional cup will do no harm. Opt for a quality organic brand as coffee beans are often sprayed with pesticides and other toxins and don?t add sugar! SALT: A high-salt diet will increase the risk of high blood pressure and upset the acid/alkali balance within the body. STARCHY VEG: The issue of starchy vegetables is one of Paleo?s grey areas. Potatoes are definitely on the ?avoid? list, but other root vegetables, like sweet potatoes, don?t contain the same antinutrients. SWEETENERS: The body processes all forms of sugar in the same way (even honey produces an insulin response in the body), so only use raw honey or stevia as sweeteners. VINEGAR Vinegar can upset the acid/alkali balance within the body, so use it only in moderation. If you do want to use vinegar in moderation, choose apple cider vinegar, balsamic or red/ white wine vinegar rather than barley malt vinegar. Find delicious Paleo weekday recipes in our latest issue, out now in digital format and in newsagents. Subscribe to woman&home here.