What are the benefits of vitamin D and what foods can it be found in?
Our experts weigh in on the multitude of ways vitamin D benefits the body, and why you should get more of it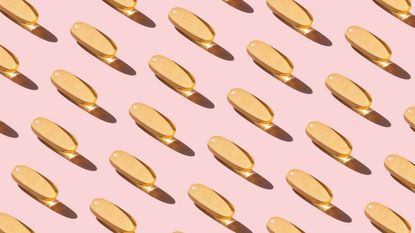 (Image credit: Getty Images)
Even if you lie outside for hours, soaking up every drop of light, you still might be vitamin D deficient. Yet vitamin D benefits the entire body, from bones to hormones to the skin, so why aren't we paying more attention to it?
Vitamin D is one of the best vitamins for women and can help us get better sleep, healthier skin, hair, and nails, and boost our immune systems. You've probably heard something about it as you've gone about your outside activities. Turns out it's about more than just getting a little sun exposure.
"Studies show that approximately 50% of the US population is deficient in vitamin D," Tim O'Brien, the founder of The Healthy Place, tells us. It's a serious issue, as vitamin D helps the very structures of our health. We asked health experts to explain the benefits of vitamin D, how to get more vitamin D into our diets to avoid a nutrient deficiency, and when a supplement may be necessary.
What are vitamin D benefits?
Vitamin D health benefits
Vitamin D is essential for our overall health. In short, it can help to:
Promoting bone health, muscle, and nerve function
Healthy hair, skin, and nails
Hormone balance
Regulating blood pressure
Protection from serious illnesses
Boosting the immune system
Cognitive function
Overall wellbeing
---
"Insufficient vitamin D is a major public health issue," says Chloe Giraldi, the nutrition scientist and VP of HologramSciences, a company dedicated to personally tailored health-giving. "The benefits of vitamin D are well-documented and include promoting bone health, muscle, and nerve function, supporting the immune system," and much more. Vitamin D can give your body the nutrient boost it needs to regulate your blood pressure and protection from serious illnesses.
Vitamin D benefits for women cannot be overstated. Integrative medicine physician Dr Lynn K. Wagner notes, "For women, in particular, vitamin D is critical for hormone balance and for the prevention of osteoporosis." Vitamin D's importance in maintaining bone health and strength is noted again and again by our experts.
The National Institute of Health (NIH) points to the importance of healthy bones for women, explaining, "The first few years after menopause, most women go through rapid bone loss, which can lead to osteoporosis." Supporting vitamin D in your diet improves bone health and by association your body's longevity.
Additionally, ensuring your body isn't vitamin D deficient, particularly in the winter months when sunlight is weaker, staves off seasonal depression. "It's the vitamin for a mood boost and a pick-me-up," says O'Brien.
Dr Mona Fahoum, a naturopathic family medicine physician at Meridian Medicine, weighs in, explaining that "low exposure to the sun means few opportunities for vitamin D to synthesize in the body. Vitamin D plays a role in immunity and cognitive functioning and is an important part of your overall wellbeing."
Vitamin D benefits for hair, skin, and nails
"Vitamin D is critical for healthy hair, skin, and nails," says Dr Wagner. Low vitamin D levels reduce normal physical processes, and the alarm signals our body produces are all over our hair and skin. For example, a person with insufficient vitamin D might experience excess hair shedding and thinning. The vitamin D benefits for hair include keeping your tresses thick, shiny, and healthy.
Vitamin D benefits for the skin can be wonderful, but the National Institute of Health cautions vitamin D seekers not to look for it in suntanning. While the sun can introduce healthy amounts of vitamin D into our immune systems, spending time in the sun should be exercised with caution. Stepping outside for five to 30 minutes during the day can provide enough vitamin D—but excessive exposure can be damaging.
Your skin can handle and react to a certain amount of sun each week, but ultraviolet (UV) rays can be harmful. "UV exposure is the most preventable cause of skin cancer," reports the NIH, adding that, "people usually do not apply sufficient amounts of sunscreen and facial sunscreen, cover all sun-exposed skin or reapply sunscreen regularly." To keep your skin safe, make sure you are applying and reapplying sunscreen with at least a sun protection factor (SPF) of 30 every two hours. If you're outside sweating or swimming, consider a water-resistant sunscreen with a higher SPF to protect your skin from aging and harmful UV effects.
So while small amounts of sunlight can synthesize vitamin D in your body, aiding with skin health as well as overall bodily function, there's a thin line between helping and causing more damage. People who are vitamin D deficient shouldn't necessarily look to spend more time in the sun, which is why most turn to diet and supplements.
How to incorporate vitamin D into your diet
Vitamin D is found in a small number of foods, Giraldi explains. These include:
Fatty fish such as

Salmon
Mackerel
Tuna
Trout
Cod liver oil

Mushrooms
Red meat and liver
Fortified foods and beverages
But even with additional attention paid to vitamin D-rich foods, it can still be difficult to fill your vitamin D needs from food alone. Giraldi reasons that, "many people might benefit from supplements to help increase their levels.
"When it comes to vitamin D supplements, we recommend talking to your healthcare provider before starting. It's also important to understand your current vitamin D levels, and that not all vitamin D supplements are the same."
How much vitamin D do you need?
Your body, and its needs, are different from others. That's why it's hard to say how much vitamin D one age group needs compared to others. It can all depend on what you already consume, where you live, and how much sun exposure you have, as well as your other vitamin needs.
Dr Wagner should contain at least 20 nanograms per milliliter, but 50 to 60 nanograms per milliliter is the best for most. "The best way to do this is to get some sun exposure every day and supplement your diet with vitamin D. Your dose will depend on your blood levels of vitamin D and will fluctuate based on the season. So get outside, test your levels—and supplement when needed!"
---
woman&home thanks Dr Lynn K. Wagner, Tim O'Brien of The Healthy Place, Dr Mona Fahoum, a naturopathic family medicine physician at Meridian Medicine, and Chloe Giraldi of HologramSciences for their time and expertise.
Sign up to our free daily email for the latest royal and entertainment news, interesting opinion, expert advice on styling and beauty trends, and no-nonsense guides to the health and wellness questions you want answered.
Lauren is a freelance writer and editor with more than six years of digital and magazine experience. In addition to Womanandhome.com she has penned news and features for titles including Women's Health, The Telegraph, Stylist, Dazed, Grazia, The Sun's Fabulous, Yahoo Style UK and Get The Gloss.
While Lauren specializes in covering wellness topics—ranging from nutrition and fitness, to health conditions and mental wellbeing—she has written across a diverse range of lifestyle topics, including beauty and travel. Career highlights so far include: luxury spa-hopping in Spain, interviewing Heidi Klum and joining an £18k-a-year London gym.