Meet The Woman Who Inspired Lorraine Kelly's Weight Loss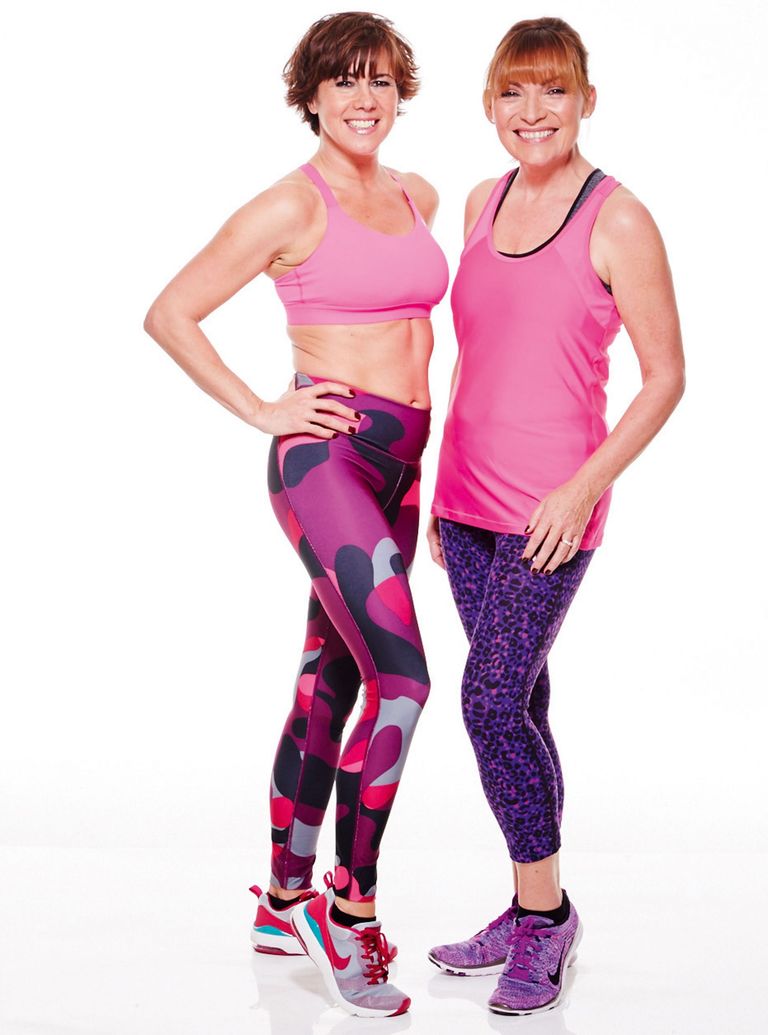 In recent years, Lorraine Kelly has undergone a dramatic body transformation. Gone is the woman who began her career on TV - nowadays, Lorraine is a healthier, slimmer, and more toned version of herself.
And there's one woman who has helped inspire this lifestyle change in everyone's favourite TV presenter. Maxine Jones, 46, lives in London with her husband, CJ, an IT security salesman, and has two stepchildren.
She became a Zumba teacher in 2011 after 20 years in banking, and has since gone on to create a DVD with TV presenter Lorraine Kelly, called Lorraine: Living To The Max with Maxine Jones. This is how she turned her passion into a career, and joined forces with Lorraine...
After 20 years of going to the gym, nothing has changed my body shape as much as Zumba has. I'd tried spinning, Boxercise, you name it. But after a few months of Zumba, I went from a size 12 to a 10 and now I'm a size 6, just from dancing.
At the gym there is very little twisting and if it is a waistline you want, you need to engage all sorts of different muscles like your transverse abdominals. Dancing does that. It is also way more fun than going to the gym. I find it's the best stress buster because for that hour you forget your troubles. You are in the moment.
I st
ill have lots of the same people coming each week - including Lorraine Kelly. The first time she came, in 2014, I thought, "She sounds like Lorraine Kelly" - and it turned out she was! I treated her like everyone else and was very happy to have her in class.
After a year of her coming she'd dropped a dress size or two! And she asked if I'd like to be part of a 24-hour Zumbathon in Scotland. Of course I said yes, it was amazing but totally exhausting! Gradually we became good friends, and she asked if I wanted to do the Vow to Wow campaign on her show (the aim was to get into a LBD before Christmas). That went well and we've done another since, as well as summer campaigns.
When Universal approached Lorraine asking if we'd make a DVD, I couldn't believe it. I wanted it to be as close to a class as possible. I wanted it to show the sweat, to break away from the 'perfect' look which only gets people down. I'm very proud of it and the feedback on social media has been amazing.
For more from Maxine, including the 5 things she'd tell her younger self, see our exclusive video here.
For classes with Maxine, visit maxamazin.com
The DVDLorraine: Living to the Max with Maxine Jones is out now (£13, Amazon)
My classes are for everyone of all ages, shapes and sizes. A month ago a woman came up to me after a class and said she'd lost two and a half stone and reversed Type 2 diabetes. I actually cried! After I composed myself I told the rest of the class and they gave her a massive round of applause.
A positive mindset is crucial. So many people say to me that they're scared to come because they think that everyone else is super-fit and knows all the routines or that they have zero co-ordination and no rhythm.
My classes are for everyone - we've all had a first class at some point, as long as you're moving it's all good. But if you can't get to a class, get my DVD and do it at home. The main thing is to be committed and get into a routine.
You've convinced us Maxine!