This Morning viewers brought to tears by breathing hack that could battle anxiety and depression
"Get high on your own supply"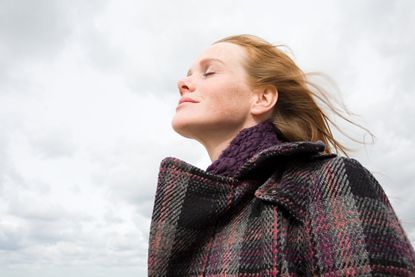 (Image credit: Getty Images/Image Source)
This Morning viewers were left seriously impressed by a relaxing breathing technique demonstrated on the show today.
Dutch athlete Wim Hoff appeared on the ITV favourite via video call to demonstrate some a breathing exercise designed to induce a meditative state.
The wellness coach talked viewers and hosts Phillip Schofield (opens in new tab) and Holly Willoughby (opens in new tab) through the breathing approach which involves taking deep and focused breaths (opens in new tab).
The special routine, which is utilised by stars like Jason Statham, Beyonce and Gwyneth Paltrow, clearly worked on telly duo Holly and Phil, who explained they felt "high" after taking part in the breathe-along with Wim.
Explaining that the exercise can have that uber-relaxing impact, the Amsterdam based guru said, "That's what I say during my classes, [you can] get high on your own supply."
"I don't think I should be on the telly right now," Holly joked, looking very chilled out indeed, while Phil agreed, admitting he felt "so good".
Lots of impressed This Morning fans quickly contacted the show to thank Wim for his expertise during the segment.
One claimed that the calming feature had brought them to tears while another said they feel that the breathing masterclass could be the answer to battling their anxiety and depression.
'Oh my goodness, just practiced Wim Hof's deep breathing technique. I am training as a hypnotherapist (opens in new tab) and will definitely be using this much deeper breathing and understanding of the body for myself and my family and clients. Amazing results,' another agreed on social media.
'OMG I did the breathing exercise this morning and I feel like my head has been cleaned out of rubbish and feel so awake (opens in new tab),' one more chipped in.
Wim also insisted that braving a brisk cold shower every day could be the key to keeping our heart healthy.
Holly asked, "So you can have a warm shower, have a wash, wash your hair and then for the last minute, can you just crank it onto the cold and brace yourself?"
"A minute, a minute and a half, that is all it takes," Wim exclaimed.
"That is the vascular fitness, that it what the world needs!"