The surprising side effect of the menopause that you may not expect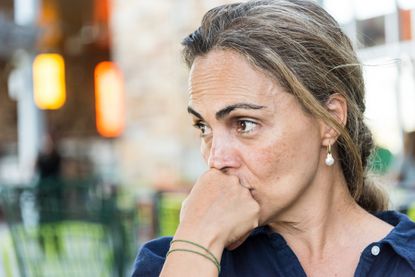 The side effects of the menopause can be irritating and debilitating, and if you're going through it, or have been through it, it's likely that you could make a list of most of them.
But there's one menopause symptom that you may not yet have heard of - although it's something that appears to be on the rise with women going through the life stage.
Increasingly, women are speaking out about a surprising side effect of the menopause; a growing anxiety around driving.
In a recent article for Get the Gloss, journalist Jane Druker revealed that it's something she's started to experience since 'the change' began.
MORE:10 causes of hot flushes that have nothing to do with the menopause
She detailed, "Since I went through the menopause two years ago, anxiety – specifically a fear around driving on roads where there is space and speed particularly motorways and dual carriageways – sends me into frequent and frightening panic attack meltdowns.
"It's baffling as this is the only place I seem to feel unsafe, vulnerable, exposed."
And it appears she's not alone. On multiple menopause blogs across the internet, women are reporting similar problems - a crippling sense of panic as soon as you get behind the wheel.
So what's going on?
Of course, one of the many psychological symptoms of the menopause is anxiety, and so it makes sense that these worried feelings manifest themselves in different ways.
One the Menopause Matters forum, one woman explained, 'I'm really not that happy behind the wheel these days. This has been going on for a good few years now. I've had a couple of frights and it's really knocked my confidence to the extent that I won't drive on motorways or really busy roads.'
Speaking to the Daily Mail, Dr Louise Newson, from the Newson Health Menopause and Wellness Centre, revealed that it's not a surprise to her.
MORE:An explanation for breast pain, joint pain and other common aches in menopause
She admitted, '[It] isn't really surprising. A drop in oestrogen and testosterone [during the menopause] may well affect certain pathways in the brain that are linked to anxiety.
'As a result, women can feel overwhelmed or – in their own words – irrationally anxious. They suddenly panic about something that has never troubled them before. And driving is a classic example of this.'
It seems the root cause of the problem is the 'fight or flight' response anxiety causes. Driving, with all of its many distractions and demands on your attention, can make it easy to feel panicked, as your body attempts to run away from the overwhelm on your senses.
But just like with all forms of anxiety, there are ways to address the problem, such as cognitive behavioural therapy (CBT), which can help to address the root cause of your issues, and give you the tools to change your thinking patterns to help you handle the situation better next time.
And if you feel like your menopausal anxiety is proving difficult to deal with, make a visit to your GP to talk through your options for treatment.
Amy Hunt is an experienced digital journalist specialising in homes, interiors and hobbies. She began her career working as the features assistant at woman&home magazine, before moving over to the digital side of the brand where she eventually became the Lifestyle Editor up until January 2022. Amy won the Digital Journalist of the Year award at the AOP Awards in 2019 for her work on womanandhome.com.