Experts warn that eyelash extensions could be teeming with lice
Make sure you take proper care of your lash extensions to avoid this happening...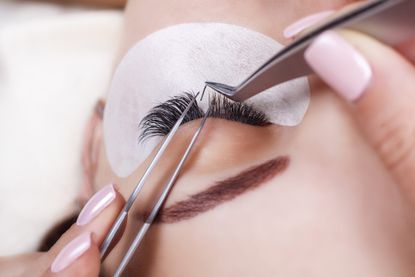 With Christmas party season round the corner, glamming up your look with a set of eyelash extensions may seem tempting.
But an expert has warned against the popular beauty trend because it could hold serious health risks.
The procedure provides customers with an easy way of maintaining a made up appearance at all times, with the long, black lashes meaning there is no need to apply mascara.
According to a leading optometrist, opting for the semi permanent treatment, which sees synthetic or fur lashes individually adhered to your natural lash line, could put you at risk of infection and lice.
Dr Sairah Malik told ABC7 news that people's reluctance to touch the eyelashes and get them wet can leave them unclean and infested with parasitic insects.
The eye health expert said, "Generally the idea when you have eyelash extensions is that people are afraid to kind of touch them or wash them because they're afraid the eyelash will fall out."
Dr Malik also added that the Demodex lice, which are similar to head lice, survive by burrowing into lash follicles and can jump from person to person.
"It's an organism that lives on the hair follicles. It can jump on to anyone, it is just like having head lice," she explained.
READ MORE:Study reveals that winter gloves contain five times more bacteria than the average toilet seat
Symptoms of Demodex can include burning skin sensations and flaky, red, skin and can lead to infection.
The best way to keep the nasty lice away is to keep the lashes clean, with Dr Malik recommending a gentle but thorough tea tree oil cleanse every day.
"We recommend tea tree base cleanser. Any cleanser that has a diluted form of tea tree, and it is a good idea to use on a daily basis," she said.
If you're not a lash extension wearer, it's also recommended to make sure all remnants and mascara and eye make up are removed properly to prevent Demodex.