Doctor warns people to avoid this popular heatwave hack and reveals what actually helps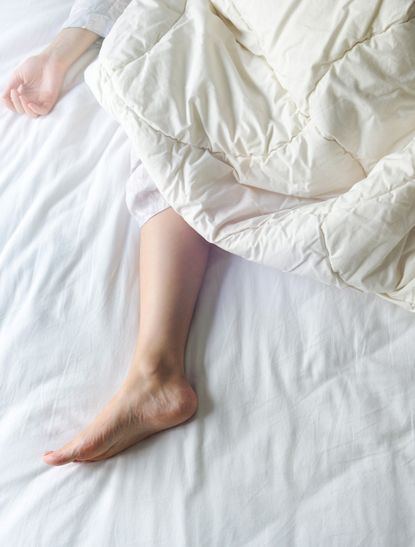 With the British heatwave at its peak, you've probably seen a number of clever tips and secret hacks on how to keep yourself cool as temperatures sore. But there's one particularly popular method we should all be staying well away from, according to a doctor.
While there are many upsides to the scorching sunshine, getting a good nights' sleep isn't one of them. Over the past couple of weeks, the UK has seen temperatures rise to as high as 36 degrees, which has made it near impossible for many of us to get a solid eight hours (or even five!) of rest.
Naturally, this has meant we've all been surfing the web to get the best tips on how to cool ourselves down at night when our fan simply isn't doing the job. However, some hacks do more harm than good says Good Morning Britain's Dr Sarah Jarvis.
Advising viewers on the breakfast show this morning, Dr Jarvis warned people off putting ice directly on their skin. She then went onto explain that it was better to have a "cool shower" instead of a "cold shower" as the body would still feel the same benefits.
"We don't want to have a really cold shower. If you have a cool shower and then allow the water to evaporate off your skin, it will definitely help cool you down," Dr Jarvis said.
Her comments came after GMB host Kate Garraway confessed that she had found it so hard to sleep at night due to the heatwave and even admitted that she sometimes dips her bed sheets into cold water before going to bed. Another idea that came up in conversation was using a hot water bottle, filling it up with cold water and then freezing in time for bed.
Kate was quick to vouch for the idea, saying "it does work, it does help definitely." However, Dr Jarvis wasn't keen on the method, adding, "please don't forget; never put ice directly onto your skin because that can cause ice burns."
She explained that those who would like to try it should always remember towrap up the hot water bottle with a tea-towel or put a layer of fabric on top of it before placing it on their skin.
"A cool flannel around your neck, and possibly putting sheets in the freezer, but not risking any ice burns, can help," Dr Jarvis added.
Right, we're giving that a go tonight!