An expert reveals how to have safe sex in the age of coronavirus
Let's talk about (safe) sex.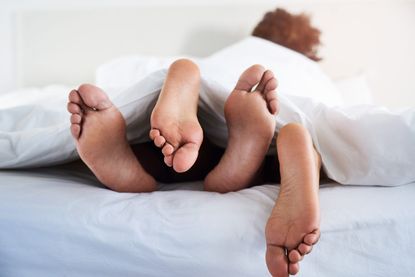 (Image credit: Getty Images)
Whether you're with a long-term partner or just getting back out there, here's how you can enjoy sex while staying safe.
Sex and coronavirus aren't exactly natural companions, but this year's World Sexual Health Day is aiming to bring the two together – by promoting safe sex in the age of Covid-19.
Whether you're with a long-term partner, or are beginning to dip your toes back into the dating pool, practicing safe sex has taken on a new meaning in the wake of the virus.
And while we're with the 65 per cent of people who've been inspired to try new things in their sex lives, it's important to take a few extra precautions to ensure safe sex.
Undoubtedly, the chance of catching and spreading the virus is minimised by being with the same sexual partner, or reducing the number of sexual partners you engage with. But that doesn't mean that if you're single, you have to delete all your dating apps immediately and dig out your best vibrator.
MORE: One in ten people over 60 are interested in embarking on a new sexual relationship, says study
As normal life slowly starts to resume after lockdown, it's only natural that your sex life should, too.
Ahead of World Sexual Health Day, Parvinder Sagoo, Medical Advisor at Simply Meds, has the following advice for getting your sex life back on track in the age of coronavirus:
Wear a mask
"We know that the virus is passed on through saliva so you should avoid any sort of kissing to help minimise the chances of spreading the virus during sexual intercourse," says Parvinder.
"If you want to remain close without having to worry too much about the risk of passing on infection, then I would advise you both wear good face masks, as this will help to protect you both from any respiratory droplets which may be exhaled and passed across from any heavy breathing or moaning," she advises.
"I would opt for a mask that offers a few layers of fabric and which fits tight against the face so there are no exposed areas that droplets could escape from."
If you are unsure about how much protection your face mask is actually providing you, there are at-home methods which you can use to test its effectiveness.
Switch up your positions
"You should opt for positions which offer minimal chances of passing on infection – for example positions where you are not face to face," says Parvinder.
We're not suggesting you go for the Kama Sutra's most difficult, but on the bright side this is a great opportunity to experiment with different positions, and discover new things that you like in the bedroom.
"You should also be avoiding oral sex where possible as this can also increase any potential risks of infection," she says.
But this doesn't mean you should skip out on foreplay – there are a wealth of great toysand vibrators available to help you maximise your pleasure. Just make sure you clean them properly before and after use.
"Try to also keep your bedroom cool by opening any windows to help prevent you both from sweating too heavily as this could also increase likelihood of infection," Parvinder further advises.
Wash your hands – then wash them again
"You should be washing your hands for at least20 seconds, or using hand sanitiser before and after having sex," she says. "This will minimise any chances of infection as virus particles may be sitting on your hands,and could be passed on to the other persons face more easily."Maybe you could even incorporate it into foreplay. Sexy hand washing, anyone?
"You can reduce your risk of catchingand passing on corona by having sex with a regular partner or limiting the number of sexual partners you have," Parvinder adds.
And of course, "You should also remain safe and always use a condom during sexual intercourse."
Kate is a freelance contributor to woman&home, covering everything she loves most: fashion, fiction, and fancy face cream. If she's not working, she's probably reading, feeding her online shopping addiction, or judging the taste level of celebrity houses (10/10 for Dakota Johnson, 2/10 for Tan France).

She graduated from Central Saint Martins in 2020 with a BA in fashion journalism, and her byline has also appeared in British Vogue, The Times, and Marie Claire.