How effective is your face mask? An expert reveals how to check your mask is working as it should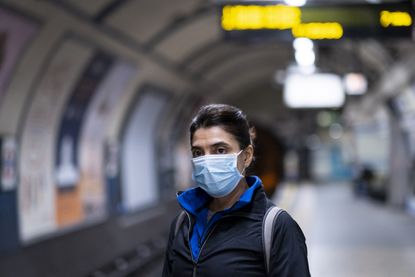 (Image credit: Getty Images)
These useful at home methods can help you determine how effective your face mask is.
With face masks becoming a mainstay in our everyday wardrobe, the range of face masks available to buy online and on the high street (opens in new tab) has grown exponentially. And while choice is never a bad thing, it has made finding the right face mask (opens in new tab) confusing.
But there are ways of determining how effective your face mask (opens in new tab) is in preventing the spread of droplets from coughing, sneezing and even talking.
Dr Simon Kolstoe, a Senior Lecturer in Evidence Based Healthcare, and University Ethics Advisor at University of Portsmouth, has revealed to The Conversation (opens in new tab)two useful at-home methods you can try to test the effectiveness of your chosen mask.
How to check your face mask is working correctly
The vape test
The first of these methods is the vape test. If you or someone you know vapes, you can use this method to quickly determine how much protection your mask is providing.
Vape while wearing the mask, and notice where the vapour spreads. When wearing a mask, the vapour tends to direct over the top of your head, down onto the chest and behind you.
"The breath is also turbulent, meaning that although it does spread out, it doesn't go far," the academic writes. He compares this with the journey of the vapour from someone not wearing a face covering. "You will see that the exhalation goes mostly forward and down, but a significantly further distance than with the face covering.
"Such a test is probably ideal for examining different designs and fits," he continues. "Do coverings that loop around the ears work better than scarves? How far under your chin does a covering need to go? What is the best nose fitting? How do face shields compare to face masks? These are all questions that could be answered using this method."
The candle test
For those who don't have ready access to a vape, a candle will also do the trick. While being mindful of the flame, the academic advises holding a lit candle in front of your face covering to test how much protection it is providing.
"Initially, the distance coupled with the strength of exhalation could be investigated, but then face coverings made from different materials and critically with different numbers of layers could be tried," he writes.
"The design of face covering that made it hardest to divert the candle flame will probably provide the best barrier for projecting the virus forward and through the face covering."
Kate is a freelance contributor to woman&home, covering everything she loves most: fashion, fiction, and fancy face cream. If she's not working, she's probably reading, feeding her online shopping addiction, or judging the taste level of celebrity houses (10/10 for Dakota Johnson, 2/10 for Tan France).

She graduated from Central Saint Martins in 2020 with a BA in fashion journalism, and her byline has also appeared in British Vogue, The Times, and Marie Claire.