Study finds that 65 per cent of people want to try new things in their sex lives since quarantine
People have been using lockdown rather creatively...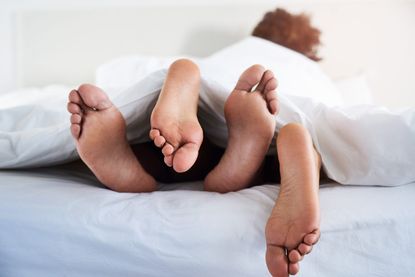 (Image credit: Getty Images)
The study also found that 97 per cent of people believe sexual health and pleasure affects overall wellness. So there's no better time like the present to get searching for the best vibrator (opens in new tab) (you might even be lucky enough to bag one in the bank holiday sales...)
A new study by American sex toy company Ella Paradis has found that one in three people are considering a more adventurous sex life in the wake of lockdown.
The study, conducted on 1,370 American adults between the ages of 18 and 54, also found that almost all of those surveyed (97 per cent) thought that sexual health and pleasure is crucial to overall wellness. (And we're all about health (opens in new tab).)
The study further found that one in three people were masturbating more than they were prior to the pandemic. Meaning you can definitely consider a vibrator an investment piece. (After all, vibrators do have a multitude of surprising benefits – as Toni Braxton recently revealed (opens in new tab) in her Vogue beauty video.)
While 51 per cent of respondents said their physical intimacy has stayed the same as it was prior to lockdown, 28 per cent admitted to going at it less than before. 19 per cent of people, meanwhile, reported having more sex than before.
MORE: 9 health benefits of using a vibrator (opens in new tab)
The sex toy (opens in new tab) company's CEO said of the study, "Without access to [favourite] activities, having a vibrant fulfilling sex life is more important than ever. Sexual fulfillment and experimentation are key to getting through the monotony of life in quarantine."
So if you fall into the category of those wanting to shake up their sex lives, you couldn't have picked a more fortuitous time than online sale season. Love Honey have up to 40 per cent off selected sex toy (opens in new tab)s for couples in their deal of the week, and Ann Summers are doing up to 50 per cent off sex toys (opens in new tab) in a huge summer sale. Even mattress prices have been knocked down, with Simba Sleep doing a great bank holiday deal of 30 per cent off when you spend £300 (opens in new tab).
MORE: O (opens in new tab)ne in ten people over 60 are interested in embarking on a new sexual relationship, says study (opens in new tab)
So whether in a couple or going it solo, there's plenty out there to help you along the way to a more satisfying sex life.
Kate is a freelance contributor to woman&home, covering everything she loves most: fashion, fiction, and fancy face cream. If she's not working, she's probably reading, feeding her online shopping addiction, or judging the taste level of celebrity houses (10/10 for Dakota Johnson, 2/10 for Tan France).

She graduated from Central Saint Martins in 2020 with a BA in fashion journalism, and her byline has also appeared in British Vogue, The Times, and Marie Claire.