Adult colouring books that will help to occupy your mind and ease anxiety
They've been proven to have mental health benefits...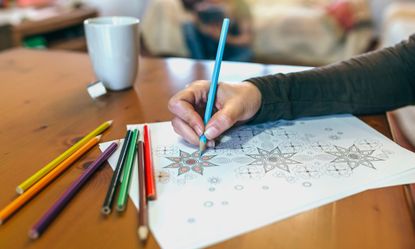 (Image credit: Getty Images)
We've all got our own ways of coping with anxiety and uncertainty.
For some, it's a long phone call with friends or family. For others, it's a run (opens in new tab) outside in the sunshine. Or, it could be as simple as a relaxed afternoon in front of the television.
But if you've not yet found your ideal outlet for de-stressing, it might be time to try adult colouring books.
MORE: Relaxing podcasts that will calm, soothe and distract you during these unprecedented times (opens in new tab)
Typically a childhood pasttime, colouring in for adults has gained huge traction over recent years, with many touting the wonderful mental health benefits it can bring.
And it appears to be a proven fact. Psychology researchers at the University of Otago in New Zealand conducted a study on the effect of colouring books on our mental health. Testing 115 women, they found that those assigned a week of colouring in tasks reported feeling lower levels of depressive and anxiety symptoms, and feeling more mindful.
Given that there are now fewer outlets than ever before for relieving stress - with gyms, restaurants, bars and shopping centres shut - making use of an adult colouring book could be a low-cost, low-risk and fun way to relieve any anxiety you may be feeling. Because, let's face it, it's a pretty uncertain time at the moment.
So which adult colouring books might be best for you?
Adult colouring books that can help ease anxiety
Vogue Colouring Book, Iain R. Webb
£10, Amazon For the stylish among us, this vintage colouring book is perfect. Made up of hand-drawn images from 1950s Vogue issues and covers, this colouring book was created to mark the centenary of British Vogue, back in 2016. Featuring glamorous images of luxury ballgowns, suits and cocktail dresses, feel yourself transported to a different - chicer - area, as you colour in the pictures however you please.
prettycitylondon: The Colouring Book, drawings by Lucy Hester
£9.25, Amazon prettycitylondon has a photo collection of books depicting beautiful, hidden-away areas of London - and this is the colouring book version of that. With images of peaceful mews, shops, eateries and homes on tree-lined streets, it's a London you might not typically see. In this period of lockdown, colouring in these picturesque scenes could also be a wonderful way to revisit a city that's off limits at the moment...
Enchanted Forest Colouring Book, Johanna Basford
from £26.19, Amazon For those of us who love the idea of escaping into a fantasy world, this adult colouring book is for you. Full of beautiful drawings to colour in and embellish, you'll be taken on a journey from rocky caves, to enchanted forests, mazes, streams and waterfalls, eventually reaching the castle - picking up symbols along the way.
The Mindfulness Colouring Book, Emma Farrarons
from £4.31, Amazon Dial in to the meditative benefits that colouring can bring with this mindfulness book. Full of intricate drawings of everyday (but beautiful) objects - such as teacups, cats and butterflies, this colouring book offers a great chance to get lost for an hour or two.
Lonely Planet Ultimate Travel Colouring Book
from £9.19, Amazon Okay, so we might not be able to travel abroad right now, but we can certainly pretend we are with this colouring book. Taking you through some real bucket-list destinations - including the Great Barrier Reef, Machu Picchu, the Taj Mahal and the Great Wall of China. Plenty of inspiration for when we can book our next flights...
Millie Marotta's Tropical Wonderland
from £6.06, Amazon Full of intricate illustrations of things like tropical parrots, butterflies, reptiles and flowers, this is a great way to add some colour to your life! A great one to help you bring the outdoors to life.
Field Guide: Creatures Great and Small, Lucy Engelman
from £3, Amazon If you're looking to combine some downtime with some learning, this adult colouring book is ideal. Colour in each different species and read the information on the reverse of each print.
The Great British Bake Off Colouring Book, Tom Hovey
£10.19, Amazon A fan of those lovely baking illustrations you see on the TV show? Well, the programme's official illustrator, Tom Hovey, has put many of them (90, to be specific) together in this book, for you to colour your way through.
World of Flowers: A Coloring Book and Floral Adventure, Johanna Basford
£12.99, Amazon Travel through the flowers of the world with this colouring boom - from water poppies in South Africa to blooms in Japan. This book is perfect for those who love spending time in the garden - or, for those who aren't lucky enough to have one during the lockdown. You can really bring the flowers to life by adding some colour!
The Time Garden, Diara Song
£8.19, Amazon Venture in to a magical land created by Korean artist Daria Song, full of hugely detailed and intricate pictures of whimsical scenes.
Amy Hunt is an experienced digital journalist specialising in homes, interiors and hobbies. She began her career working as the features assistant at woman&home magazine, before moving over to the digital side of the brand where she eventually became the Lifestyle Editor up until January 2022. Amy won the Digital Journalist of the Year award at the AOP Awards in 2019 for her work on womanandhome.com.