20 Beauty Foods For Healthy Skin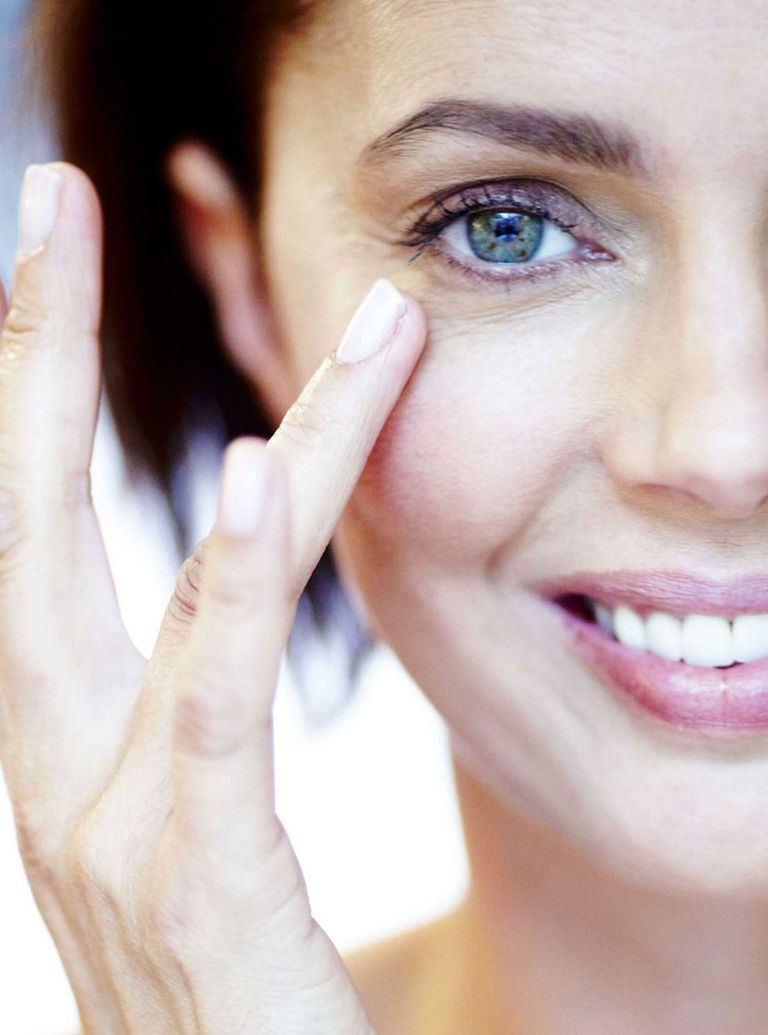 Discover the beauty boosting foods that increase energy levels and give you a youthful glow...
We all make a point of eating nutritious foods for our body's sake, but what about our faces? Can food really influence our complexions? The truth is, in the same way a processed microwave meal can wreak havoc on our digestive system, so too can it trigger an unwanted skin flare-up.
There's more than one reason to get back to an all-natural diet, and you'd be surprised to discover how many dinner plate-worthy foods feature in the beauty aisles nowadays. We've rounded up the best foods for healthy skin to give you the glowing, flawless complexion you desire.
From a scientific chocolate that actually improves your skin (the dream!) to complexion boosting watermelon and the collagen-strengthening power of cherries, there are a wealth of cupboard staples that can revolutionise your appearance. Whether they're filling your belly, or slathered on your face (there's a host of specially-infused skincare ranges), just make sure you're getting the nutrients your skin deserves.
So be sure to update this week's shoping list with our pick of the best foods for healthy skin. In the words of Coco Chanel: "Nature gives you the face you have at twenty; it is up to you to merit the face you have at fifty."
Salmon
Victoria Beckham has credited salmon with fixing her problem skin, having been advised to eat a serving every day - for breakfast, lunch or dinner - by LA dermatologist Harold Lancer. Rich in omega 3 fatty acids, vitamin A and vitamin C, salmon has been found to improve acne, reduce inflammation and enhance your natural glow. Although excessive consumption could result in mercury poisoning, experts say that it's safe to eat several servings of wild salmon per week.
The chocolate that slows skin ageing
Yes, really. As if we needed another excuse for our daily chocolate fix, this genius skincare/sweet hybrid is the result of 10 years of research and has proven benefits for your complexion.
It all comes down to antioxidants.
Esthechoc
contain Astaxanthin (the most potent antioxidant known to science) plus polyphenols naturally found in cocoa, both in their most bioavailable form - which essentially means your skin can access what it needs to fight off free radicals and environmental damage. In a study this was shown to reduce oxaditive damage by 72% and there's plenty more scientific backup on the
website
, if you're that way inclined.
These tasty little dark chocolate squares aren't exactly cheap at £42.40 for a 21 day supply, but think of them as superpowered skincare plus health supplement plus delicious luxury treat and suddenly it doesn't seem quite so steep!
Anti-ageing turmeric for a youthful glow
Favoured by actress Thandie Newton who adds it to her foundation, turmeric is a spice rack staple that doubles as a wrinkle-busting anti-inflammatory. Whether it's infused in tea, Indian-style, sprinkled over your dinner or added to your favourite night cream, turmeric is an unbelievably versatile anti-ager. You can pick up a jar for around £1 at your local supermarket.
Radiance-boosting rocket for a smooth neck
Rocket is a non-starch veggie that's jam packed with phytochemicals, antioxidants and vitamins, making it the perfect beauty food solution. This is because it's alkaline and easily digestible, which according to holistic nutritionist, Kimberley Snyder, author of The Beauty Detox Solution, is ideal for the body. Kimberley says when the body is pumped with foods it finds difficult to digest, such as processed, canned, diary, white-flour based or excessively salty, it leads to a build up of acidic 'sludge' that not only leaves us feeling sluggish but uses up valuable beauty energy. Fruits and non starch veggies like rocket, spinach, kale and broccoli require much less energy to digest, leaving the body with a surplus that can be concentrated towards making hair shinier and skin smoother and more radiant. So why not try adding some rocket to your salad or sandwich for a tangy flavour? Kimberley also warns not to be fooled by acidic or alkaline tastes, as food traditionally thought of as acidic, like lemons, can actually leave alkaline residue in the body whilst milk becomes acidic. Find more health and diet advice
Antioxidant-rich pepper for plumper lips
Whether sweet or fiery, peppers are abundant in phytochemicals that have antioxidant abilities. They are one of the richest sources of vitamins A and C and also contain fibre, folate, vitamin K, and the minerals molybdenum and manganese. All peppers have been shown to have positive metabolic effects, but to maximise the nutrients you absorb from them, opt for the riper red peppers rather than immature green peppers. Also the capsicum in red peppers boosts blood flow and circulation to your lips leaving you with a temporairly fuller pout. Use sweet, crunchy peppers in salads, cut into sticks as a snack or in stir-fries, roasts or quiches.
Pigmentation-Reducing Kombucha
The Chinese call it the 'immortal health elixir' because it promotes the production of hyaluronic acid, a key anti-ageing ingredient. It's a fermented tea mixture that's as great for your skin as it is for your gut. Applied directly to the skin, it improves texture and visibly reduces pigmentation. Want to give it ago? Try this Home brew starter kit, £19.95
Super Hydrating Chia
This little superfood has big benefits, just one tablespoon is jam packed with Omega-3s, fibre and protein, and its oil is a winter beauty must. Mix a spoonful into your favourite smoothie to immense your skin in hydrating properties from the inside out or apply One Love Organics' Supercritical Chia Oil, £39 topically to keep chill-beaten skin moisturised well benneath the skin barrier.
Anti-Oxidant Asparagus
As one of the most antioxidant and vitamin rich veggies, asparagus is a detoxifying powerhouse that can banish toxins and clear blemishes in one fell swoop. It's also great with hollandaise...
Rejuvenating Watermelon
Watermelon is packed with antioxidants that lessen the damage caused by free radicals and reverse the signs of aging. It's naturally high vitamin A concentration also helps to tone pores and smooth the texture of your skin.
Collagen Strengthening Cherries
Scrumptious in a trifle, these little red globes are jam packed with flavinoids - a type of antioxidant that destroys free radicals in the skin, thereby strengthening collagen for a plumper more youthful complexion.
Brightening Acai Berries
Whether they are pulsed in smoothies or sprinkled over your breakfast, Acai berries are the king of anit-ageing superfoods. When they aren't mopping up free radicals, or reversing the hands of time, they help banish dark under eye circles by gently boosting cell turnover.
Illuminating Carrot Oil
There are many a veggie virtue for the visage, but none quite as effective as Akoma Skincare's Carrot Oil, £3.82. Carrots illuminating agents carry a high concentration of skin-smoothing Vitamin A and beta-carotene. As well as giving your complexion a natural glow, they are particularly useful for helping skin recover from recent sun damage.
Moisturising Beetroot
Beetroot extract has enjoyed a variety of uses in the cosmetic world, not least as a colourant for lipsticks. But this potassium-rich vegetable also acts as a fantastic humectant, encouraging skin to absorb and retain moisture. Pop some into a warm Autumn salad.
Teeth Whitening Coconut Oil
Teeth whitening is just one of the many advantages of Pure Coconut Oil, £15.49 which is also heralded as a fantastic frizz tamer, hair conditioner and make up remover!
Energy-Pumping Chard
Greens also provide the greatest amounts of minerals, vitamins and amino acids we need to build protein, with broccoli containing twice as much protein as steak, calorie for calorie. By eating these vegetables raw we can assimilate their active enzymes that help our digestion. Chard, also referred to as Swiss chard and spinach beet, has large, tough leaves that have an earthy taste similar to spinach. It is an excellent source of vitamins C, E, K, A and B-complex, as well as a good source of magnesium, potassium and iron. The attractively colourful thick stalks of rainbow chard are red, white, yellow, or green and have a mildly bitter taste. Use raw young chard leaves in salads or add the fleshy stalks to a stew or frittata. Find more health and diet advice
Repairing Cucumber
Cucumbers are the fourth most cultivated vegetable in the world and rank amongst the best foods for your body's overall health. They have a 95% water content and are high in fibre, helping digestion and allowing the body to rid itself of toxins. Technically a fruit, Kimberly describes how cucumbers fall into the category of seeded fruit that are 'pregnant with fertility' and therefore packed with energy and goodness. (Be sure to buy all seeded fruit in its natural seeds-and-all state to benefit from their natural nutrition). Cucumbers are a good source of vitamins A, B, D and C (especially in their skin) and minerals such as calcium, magnesium, and potassium. They also contain silicon and sulfur that help to stimulate hair growth and promote joint health, lignans linked to reducing the risk of several cancer types and a hormone used to produce insulin. Use cucumbers in juices, salads, sandwiches and cut into sticks as a snack Find more health and diet advice
Bok Choi
Bok choi, sometimes known as Chinese white cabbage, is a rich source of vitamin A, C and K, antioxidants, folic acid, B-complex vitamins and minerals such as calcium, phosphorous, potassium, manganese, iron and magnesium. 100g of bok choi contains just 13 calories. Use bok choi to give stir fries and other Asian-style dishes a crisp crunchiness.
Balancing Dandelion Greens
Dandelion leaves may be considered a weed in the garden, but their nutritious content makes them a star on the dinner table. They are high in calcium and copper, loaded with antioxidants and contain more protein and iron than spinach. They are also rich in vitamins K, A, E, C and B, contain anti-inflammatory properties and may help reduce the risk of cancer, multiple sclerosis, cataracts, age-related macular degeneration and stroke. Use smaller, tender leaves in salads and larger, tougher leaves in soup and stews. The slightly bitter taste of dandelion greens is great offset with sweeter fruits in a smoothie. Find more health and diet advice
Youth-Enhancing Ripe Fruit
Fruit is the most life-enhancing thing we can put in our bodies; it breaks down fastest in our system, leaving no toxic residue and plenty of readily available energy, making it the strongest cleanser. However, its effects can only be felt in alkaline conditions. Be sure to only eat fruit on an empty stomach, as otherwise it ferments on top of what you have already eaten creating acidic residue. Also remember, not only is ripe fruit sweeter and more juicy but it is more alkaline-forming, particularly when organic. Prior to this it can be acidic-forming, so it's important to be able to tell the difference. Generally look for deeper coloured, textured fruit with a sweeter smell.
Nutritious Radishes
Sprout vegetables, such as radishes, have great health benefits thanks to the rapidly multiplying stored nutrition they contain, which often includes up to 30% more protein and over 1000% more enzymes, which means they are fantastic for naturally healing illness. Fibre, the B vitamins and vitamins C, E and K are also present in dramatically increased levels in sprouts, making them an invaluable part of any diet. Use them in salads or as a healthy snack on their own.
Almonds
Nuts and seeds are a great source of plant food protein, but be warned that roasting, salting and commercial packaging all alter their beneficial qualities. Avoid cashews and peanuts that can accumulate toxic moulds and instead opt for natural almonds, brazil nuts, pecans, pine nuts, pumpkin seeds, sesame seeds, sunflower seeds and walnuts. Soaking nuts prior to eating them helps deactivate protective inhibitor enzymes on their surface and reactivates dormant enzymes inside, allowing your body to really benefit from their store of energy. Use nuts and seeds as a healthy snack, sprinkled on your morning porridge, in salads and stews. Find more health and diet advice