Eat The Seasons: Find Out How To Make The Most Of Seasonal Foods, Fruits And Vegetables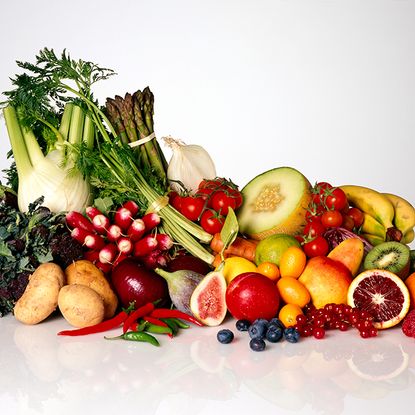 Although supermarkets do a good job of ensuring an all year supply of fresh foods it doesn't mean the produce is at its best for consumption. Seasonality has a big influence on taste and it is also important for tackling food waste.
We should be making the most of produce when it comes into season and let our diets be guided by this. Who needs apple crumble in January when you could have rhubarb?
With this handy breakdown, you can see a selection of the star products on season each month. We have even included some delicious recipes to get you motivated. Eating foods when they are in season is a great opportunity to try something new and it can be super satisfying. The list is not exhaustive and should be used as a rough guide. Not every 'in season' product will be featured but we hope that it will help you make the most of some fantastic ingredients.
January
Start the year with some stunning fruit that look too good to eat, celebrate some humble vegetables and indulge in some luxury ingredients.
Blood oranges - If nothing else, blood oranges are beautiful to look at. Their deep crimson colour is a real showstopper. They have a tarter taste compared to regular oranges but they can still be used for puddings and marmalade. In season January and February.
Cabbage - This humble leafy green is part of a huge family. The flavour can vary depending on the type but one thing they all have in common is that they're all delicious when lightly steamed and served with butter! In season September to January.
Clams and Oysters - There are several varieties of clam and all of them suit different cooking styles. Oysters can be eaten raw and are a natural aphrodisiac, they might help give your new year a kick start in the love department! For an easy mid-week dinner try this Orecchiette with Clams,it is perfect for impressing guests and seafood lovers will want more and more! In November to February.
Cockles - These tiny little saltwater clams can be eater raw or steamed liked mussels. They are traditionally sold with winkles. In season January to March.
Forced rhubarb - This variety of rhubarb has been deprived of light, causing the stems to shoot up and a sweeter-tasting product. The ginger in this cheesecake (opens in new tab) gives it the perfect balance. Only in season January.
Jerusalem artichoke - Contrary to the name this vegetable has nothing to do with Jerusalem. It can be cooked just as you would potatoes or parsnips, when pureed they make a delicious soup. In season November to January.
Mussels and winkles - Winkles are snail-like shellfish that can be sold live or cooked. They are traditionally sold with cockles. Mussels are cheap and simply delicious. These Garlic mussels are a must try and only take 15 minutes to cook! In season October to February.
Truffle - This fungus has an unforgettable rich, indulgent taste. If you can get your hands on some it can uplift any sauce or soup and can even elevate macaroni cheese! Why not give this luxurious cauliflower and truffle risotto with egg yolk (opens in new tab) a go for a hearty dinner? In season September to January.
Venison - This is the meat of a deer, it has a lean, red meat which is low in fat and full of flavour. It tastes divine paired with a red wine sauce. In season August to February.
Horseradish - The perfect accompaniment to roast beef, horseradish is a root vegetable that is loved for its spice. If you've only ever had it with beef you have to try this Salmon with horseradish and noodle salad. In season November to January.
February
Make dinnertime more colourful with a different variety of a family favourite.
Kale - This super food is from the same family as cabbage. It works brilliantly in a stir-fry (opens in new tab) or why not try a healthy juice? In season October to February.
Purple sprouting broccoli - It tastes the same as regular broccoli and can be used in the same way, but it can make your dishes look a little more interesting! Only in season for February.
March
Make the most of a delicious, sustainable and versatile fish during March for tasty dinners and delicious lunches.
Sardines - They are rich in omega-3 fatty acids and have a long, thin appearance. Sardines are perfect grilled or stuffed and can be eaten hot or cold. This Potato tart with sardines (opens in new tab) from James Martin makes an impressive dinner for two. In season March to August.
April
Feast on succulent meat, delicious shellfish and ingredients you might not be able to name in April! Spring brings some delightful foods to the menu.
Crab - Brown crabs are the most commonly eaten variety of crab in the UK. The soft flesh is incredible versatile and the claws and shell can be used to make wonderful sauces. This Chilli and cherry tomato linguine uses a mix of white and brown crabmeat. In season April to August.
Lamb - Celebrate spring with a delicious cut of lamb. Lamb is usually three to five months old and is incredibly tender. This Herb and pine nut stuffed leg of lamb makes a wonderful family feast. In season April to September.
Morels - These rich mushrooms should never be eaten raw because they can be toxic, but when cooked they become absolutely delicious. They have a distinctive honeycomb appearance, as seen in the photograph above, and are delicious fried and served with steak or when used in sauces. Only in season in April.
Rocket - This peppery leaf can liven up any salad, try it with crab and avocado (opens in new tab) for a lovely light lunch. In season April to September.
Spring onion - Some recipes might call these scallions or green onions. Spring onions are actually very young onions that have been harvested before the bulb can develop. They have are perfect for adding a mild onion flavour to stir-fries or salads. In season April to August.
Watercress - Adding watercress to your salads, soups, sandwiches and sauces will only make them tastier! It is a super versatile salad leaf that should be treated as more than a pretty garnish. In season April to September.
May
If nothing else, make the most of British asparagus this month.
Asparagus - Each spear of British asparagus is harvested by hand. It is full of vitamins that boost the immune system and reduce bloating. Cook simply by boiling, grilling, steaming, roasting or, if the sun comes out, stick them on the BBQ. In season May to June.
Broad beans - With a creamy texture and sweet taste, broad beans make a delicious dip or add a little crunch to your salad. Think of them as a handy alternative to peas. In season May to September.
Chicory - This vegetable or salad leaf can be cooked or eaten raw. It has many healthy benefits and has also been used as a coffee substitute. For a crowd pleaser that will leave everyone fighting over seconds, try this Braised chicory with crispy bacon and Parmesan (opens in new tab). In season May to September.
Elderflower - Elderflower has a very subtle taste but it can be used to make delicious cordials and treats (opens in new tab). Only in season in May.
Gooseberry - When consumed raw or unripe the berries have a sharp sour taste. However, when cooked they make a lovely addition to sweet or savoury dishes. Only in season in May.
Nectarines - Although shaped like a peach and similar in flavour, the smooth skin of nectarines make them perfect for slicing in salads or baking in tarts. In season May to August.
New potatoes - These are taken from the early crop and are similar to their fully grown relatives except they are sweeter and keep their shape better when cooked. They are delicious in salads, soups or served as a side. Only in season in May.
Radish - A fiery root vegetable that is much loved when sliced into salads, or why not have them the French way and simply dip them in butter. In season May to September.
June
Get into the summer spirit with juicy berries and fresh salads to keep you healthy.
Blueberries - These are an excellent choice as part of you five portions of fruit or veg for the day as they are packed with antioxidants and vitamins. They make a great snack or for a treat try this Blueberry and almond tart. (opens in new tab) In season June to September.
French beans - A wonderful addition to salads or curries, French beans are perfect for those who dislike the "stringy" texture in runner beans. In season June to August.
Mackerel - Oil-rich and strong in taste, cooked mackerel is delicious hot or cold. It is very cheap and wonderful grilled, baked or smoked. In season June to September.
Mangetout and peas - Mange tout are a flat, undeveloped variety of pea and both make a great snack raw. In season June to July.
Raspberries - These tart tasting berries are perfect for balancing sweetness. Why not indulge in this Raspberry ripple with white chocolate slab (opens in new tab)? In season June to September.
Strawberries - Strawberries are sweetest at this time of year, used damaged ones to make jams (opens in new tab) and compote. In season June to July.
Tomatoes - Often mistakenly taken as a vegetable, tomatoes are in fact fruits that come in a variety of colours. They taste amazing in salads or they can be cooked down to make divine sauces. In season June to August.
July
Jazz up your salads further with beautifully coloured produce that is full of flavour and perfect for BBQ season.
Apricots - You'll normally see these dried in the supermarket but fresh ripe apricots are even more delicious. They are part of the name family as peaches but have a much firmer texture. In season July to August.
Aubergines - Sometimes called eggplants, aubergines have a meaty, spongy texture which is perfect for absorbing flavour. Try these halloumi, aubergine and red pepper kebabs (opens in new tab) on the BBQ. In season July to September.
Beetroot - Most people probably think of crinkle-cut pickled beetroot but don't let this put you off. Beetroot is delicious boiled or roasted and can even be grated raw into salads. In season July to September.
Cherries - A true summer delight, cherries have a juicy flesh that is sweet or sour depending on how ripe it is. In season in July to August.
Courgette and cucumber - Both belong to the same family and if you're not concentrating, you could mix them up in the supermarket! Courgette is wonderful grilled or sliced very thinly and cooked as a substitute for pasta. Cucumbers are delicious in salads or pickled in burgers. In season July to August.
Fennel - The strong flavour of aniseed makes you either love or hate fennel. It can be eaten raw in salads for a stronger taste or it mellows out when cooked. In season July to September.
Globe artichoke - Not related to the Jerusalem artichoke previously mentioned, the globe variety is delicious raw, boiled, grilled, baked or stuffed. The bottom of the leaves are eaten but the star of the show is the heart. In season July to September.
Greengages - A type of dessert plum that is sweet and succulent when ripe. They are great in desserts or served as chutneys alongside fatty meat and oily fish. In season July to August.
Kohlrabi - It might look a little odd but it has a great flavour. Kohlrabi is a relative of cabbage and can be enjoyed mixed with other vegetables in a gratin or softened in butter as a side dish. It is a hugely versatile product that needs just a tiny bit of attention to bring out the best of its flavour. In season July to August.
Peach - Perfectly ripe peaches cause a right mess but they are so worth it! The sweet soft flesh can come in white or yellow varieties. The white ones are sweeter. Only in season in July.
Redcurrants - They are very tart in flavour but can be enjoyed raw, we recommend serving them with something sweet like strawberries on top of a Pavlova. Only in season in July.
Runner beans - A popular garden vegetable with a stringy texture. Enjoy gently steamed and dressed in butter or chopped into rice dishes and salad. In season July to August.
Seabass - This white fish can a meaty texture and subtle flavour. It can be grilled, baked or pan fried. In season July to November.
Swiss chard - commonly found in Mediterranean cooking this vegetable has thick green leaves perfect for shredding and adding to pasta. In season July to October.
August
Summer is in full swing and there are more ingredients than ever available to boost those salads! Included are two ingredients that have a very similar appearance to more well known products but have slightly different names, can you spot them?
Bilberries - No we haven't made a typo, bilberries are similar to blueberries but are very acidic. They can be eaten raw but most people enjoy them cooked and used in jam, jelly, pies and sauces. In season August to September.
Cobnut - A less known variety of hazelnut traditionally grown in Kent. They are more commonly sold dried or processed. When eaten fresh they are sweet with a flavour similar to coconut. In season August to September. Marrow - From the same family as squash and courgette, the marrow is a versatile vegetable perfect for stuffing. Much like courgettes, marrows have a very mild flavour. In season August to September.
Pepper - Available in traffic light colours, peppers are delicious and versatile. Their sweetness varies with colour but all are great in salads, stuffed, baked or grilled. This roasted red pepper dip is a must try. In season August to September.
Scallop - Although they can be quite expensive, scallops are worth the treat. This shellfish has a very soft flavour and benefit from being paired with something strong like Chorizo (opens in new tab). Queen scallops are in season July to August.
Sweetcorn - Grilled corn on the cob served with a knob of butter is a family favourite for BBQ season across the UK. When you can't get the BBQ out try part boiling and finishing them under the grill. In season August to September.
September
The end of summer doesn't have to be sad, get excited for rich, hearty produce that's crying out to be used.
Butternut squash - Sweet and wholesome, butternut squash is delicious roasted or used in curries and soup. In season September to December.
Damsons - These dark skinned fruits are similar to plums but have a much more sour flavour. For this reason they tend not to be eaten raw, try this Homemade damson gin (opens in new tab), it makes a great gift! In season in September.
Fig - A beautiful piece of fruit to look at, figs have an indulgent sweet taste. They are great in salads or in desserts. Dried figs are available all year round. In season August to October
Grey mullet - Richly textured and strong in flavour, grey mullet has an earthy flavour than can be confused with sea bass. In season September to April.
Grouse - A plump game bird that is medium to large in size. Young grouse breasts are tender and mild in flavour, the legs have a more distinctive gamey taste and are usually used with other meats or ingredients to leave just a hint of flavour. Grouse have twice the protein of chicken and less than a third of the fat. In season September to December.
October
Cook up some autumnal goodness guaranteed to warm you up using these wonderful ingredients.
Apples and Pears - This is the main season to enjoy apples and pears. Both come in hundreds of variety and can be eaten cooked or raw in sweet or savoury dishes. This apple and pear pie (opens in new tab) makes the best of them both.
Celeriac - Oddly shaped and subtle in flavour celeriac has a hearty nutty flavour. It is super versatile and works well in a gratin or pureed. In season September to April. Medlars - The fruits are really tart if eaten raw but they can be used to make delicious desserts and wine. In season in September.
Pheasant - Pheasant is a lean, gamey meat that is rich and makes for the perfect autumn treat. In season October to February.
Pumpkin - Don't let this delicious vegetable go to waste and only use it for carving out faces! It is really tasty when roasted and makes a wholesome soup. In season October to December.
Salsify - A root vegetable related to the dandelion. The most surprising thing about this vegetable is the taste, also known as the oyster plant because of the subtle oyster taste when cooked. In season October to January.
Sloe - Sloe berries are the fruits from Blackthorn trees. They are related to plums and have a sharp acidic taste if eaten raw. They are popularly used to flavour gin. This can make a wonderful homemade gift for the festive period. In Season October to November.
November
These winter comforts will keep you fuelled through the colder months and bring a little bit of excitement as the days start to shorten.
Brussels sprouts - It may be a little early but sprouts are most loved as part of a Christmas dinner, so get them in before hand as a treat. Why not try them with Pancetta and Parmesan (opens in new tab)? In season November to March.
Chestnuts - shiny, brown and utterly delicious when roasted, chestnuts are a firm favourite of ours. In season November to January. Cranberries - Plump and firm, these red berries have a sweet and sour flavour that perfectly matches roast turkey. In season November to December.
Satsuma - Seedless and sweet, satsumas are super tasty small and sightly flattened orange fruits. Eat them on their own or use them in juices, jellies or puddings. In season November to January.
December
'Tis the season to indulge, what better way to do it than with some of these amazing ingredients.
Parsnip - A root vegetable closely related to carrots, parsnips are simple and cheap but they are divine when covered in honey and roasted. In season September to March.
Swede - These can be a tricky vegetable to peel but they are super tasty when boiled and mashed together with carrots. In season November to February.
Goose - The bird that just keeps giving. Goose is a traditional alternative to turkey at Christmas, it has a richer, darker meat. It has a high fat content, this can be stored for weeks and used to make perfect crispy roast potatoes. In season September to January.
Jessica is a Senior Food Writer at Future and is an enthusiastic, self-taught cook who adores eating out and sharing great food and drink with friends and family. She has completed the Level 1 Associate course at the Academy of Cheese and is continually building on her knowledge of beers, wines and spirits. Jessica writes food and drink related news stories and features, curates product pages, tests and reviews equipment and also develops recipes which she styles on food shoots.