Walmart is actually selling Pink Sauce, TikTok's most controversial condiment
The pink-hued dipping sauce has finally made its way to the shelves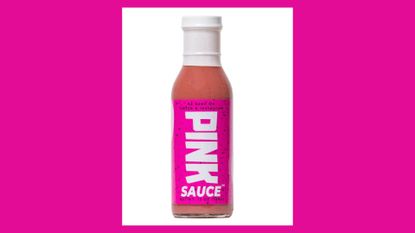 (Image credit: Dave's Gourmet)
woman&home newsletter
Sign up to our free daily email for the latest royal and entertainment news, interesting opinion, expert advice on styling and beauty trends, and no-nonsense guides to the health and wellness questions you want answered.
Thank you for signing up to . You will receive a verification email shortly.
There was a problem. Please refresh the page and try again.
Pink Sauce went viral on TikTok months ago, causing controversy for its uncanny resemblance to Pepto-Bismol and other unappetizing liquids - and now you can try it yourself by taking a visit to your local Walmart.
Bizarre food items continue to remain a curious topic for consumers - for example, remember when was everyone talking about the Kraft mac and cheese ice cream? Chef Pii, who wanted to hop on the "weird foods" bandwagon, went on TikTok in June 2022 to unveil her newest creation: Pink Sauce.
After months of mixed reviews, concerns, TV appearances, and press in general, Pink Sauce has officially made its way to the shelves of Walmart (opens in new tab), ready for your consumption.
The sauce itself, according to the website, includes ingredients like dragon fruit puree, coconut cream, distilled white vinegar, and garlic, along with other ingredients to create a sauce that many say tastes akin to ranch.
Originally, Chef Pii (real name: Veronica Shaw) went on TikTok to promote her Pink Sauce by putting it all over widely-loved foods like pizza, wings, gyros - and people had THOUGHTS.
"I wanna try it but I'm scared," someone commented under one of her TikToks.
Initially, people had concerns with the sauce while Chef Pii was manufacturing it on her own. Some people said that the sauce looked like it had different consistencies or textures depending on the video Chef Pii posted - in some videos it would be really thick, and in others, really watery.
"Girl why is it so watery," someone commented on one of her videos.
In addition, folks were noticing that the color of Pink Sauce also was inconsistent, and that while sometimes it would be a true bright pink hue, it would be dull and less pigmented other times.
"It's a diff shade every time bro I got hot pink, baby pink, salmon, Barbie pink, white pink, rose gold pink," someone else commented.
And, with all of this controversy, Chef Pii continued to sell it - with a going rate of $20 per bottle.
---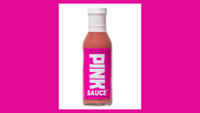 (opens in new tab)
Pink Sauce, $9.99 | Dave's Gourmet (opens in new tab)
You can now buy your very own bottle of the TikTok famous Pink Sauce.
Eventually, Dave's Gourmet was able to start manufacturing the viral sauce. Dave's Gourmet president, David Neuman, said the company's R&D staff was able to "re-formulate the sauce to match Chef Pii's exact color and flavor profile for the product and at the same time change some of the ingredients to make the sauce less complicated, dairy-free, and clean of any preservatives, artificial colors or flavors."
With this, Chef Pii's viewers started to notice that the sauce, once again, changed colors. "I've never seen a sauce change colors so many times," someone commented on one of Chef Pii's TikToks in November after Dave's Gourmet took on the product.
But, despite all of that, the sauce still ended up on Walmarts shelves with the help of Dave's Gourmet. On January 11, their Twitter announced that the sauce would be available for purchase in the American retailer.
"Pink Sauce is NOW available in stores and on http://walmart.com. You can find Pink Sauce in over 4,300 Walmart store locations!" the account tweeted.
Madeline Merinuk is woman&home's US lifestyle news writer. She covers celebrity, entertainment, fashion, and beauty news but is also obsessed with internet trends - you can find her reciting trending TikTok sounds out loud at any given time.
After winning multiple student journalism awards for her investigative work, she graduated from Hofstra University in 2021 with a B.A. in Journalism. After graduating, she worked at today.com, the digital site for the Today Show, where she wrote pop culture news and interviewed big-name personalities like Emily Ratajkowski, Haley Lu Richardson, Emma Corrin, and more.
Her personal interests, in no particular order, are: cheese, Joni Mitchell, reading, hot yoga, traveling, having multiple chapsticks in every handbag at all times, and dancing to ABBA songs as if she were in the Mamma Mia movies.