Selfridges have unveiled their advent calendar for mince pie lovers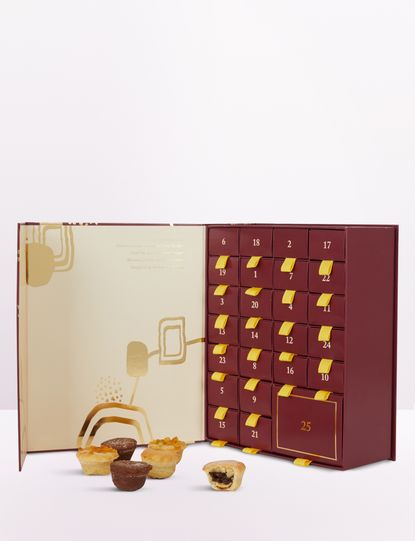 If a few mince pies over the Christmas period aren't enough, then how about a daily mini mince pie?
Selfridges' newest advent calendar includes four festive flavours. As you open the window each day, one of these will help you start – or finish – your day with a taste of Christmas.
READ MORE: This is the Selfridges brand that sells every 40 seconds
Handmade in the Cotswolds, Selfridges Mince Pie Advent Calendar will deliver you either a traditional mince pie, one with an almond twist, a chocolate inspired mince pie, or one that is citrus topped.
On the big event itself, Christmas Day, there's a special treat of a mini icing topped Christmas cake. The perfect pre-cooking snack or a well deserved reward after polishing off your Christmas lunch.
Will you opt for a traditional calendar, one with mince pies or a boozier alternative?
READ MORE: These gin advent calendars start from just £30 and we're already feeling jolly
If that's not festive enough for you how about something else from their new range?
The ever popular Italian Salted Caramel Panettone will be making a return (£25.99) and there is also a vegan Pumpkin Spiced Panettone (£19.99).
READ MORE: Aldi's very exciting new Christmas selection is making us excited for the festive season
A Festive Cinnamon Honey, perfect for slathering on your toast, comes with a stick of cinnamon floating in the golden nectar (£6.99).
If you're looking for something novel, master baker Alix Fauvel will be hand making the Gingerbread Snow Globe – a charming 3D gingerbread Christmas tree inside a jar with edible snow.
The Festive Mince Pie Advent Calendar is available from 25th October and is priced at £39.99. It will be available in store and online and is sure to be a big hit.
Will you be trying the mince pie advent calendar? Head over to our Facebook page and let us know!
Samuel has a BSc in Food from the University of Birmingham and nearly 16 years after he began his professional food career, his work has featured in national and international publications including Waitrose Food, Australian Delicious, and the LAD Bible Group.
He was also a nutritional consultant for BBC's Eat Well for Less. Throughout his career he has specialised in recipe writing and has produced many recipes for woman&home. Samuel is also Co-Vice Chair of the Guild of Food Writers and a Trustee of 91 Ways CIC.