Aldi slash the price of their award-winning champagne to £10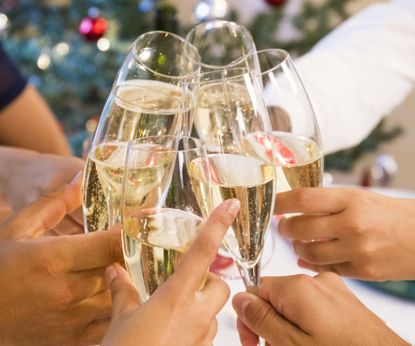 If you thought you'd have to be splashing out on champagne this festive season, Aldi have saved the day with their special in store £10 promotion deal.
Aldi's super champagne deal is something worth celebrating.
The supermarket is selling a bottle of Veuve Monsigny Champagne Brut for an incredible £9.99.
Normally costing £11.49, this high quality champagne is part of an in store, limited time only deal so we recommend you don't hang about!
This award-winning fizz is a blend of Chardonnay, Pinot Noir and Pinot Meunier.
The product has received hundreds of five-star reviews and customers are very happy with the quality of this bargain bottle with one saying, 'This is much better than many well known Champagne labels that are 3 or 4 times as expensive. Full of character and flavour and never fails to attract positive comments from our guests.'
Another reviewer thought it was 'subtle and refreshing' and said, 'excellent value.....lovely with starters to set off a meal.'
A glass of champagne paired with a smoked salmon starter would go down a treat with guests if you're hosting this Christmas season.
Another customer said, 'This is a little gem of a champagne. If you like your fizz with a sharper, citrusy edge then this is the wine for you. It has consistently fared well in blind taste tests and we've been consuming it as our "everyday" fizz for several years.'
Swapping prosecco this season for champagne is an affordable task with deals like this, with some customers finding they were saving money by doing so, 'This champagne is far better than many more expensive brands, and cheaper than many proseccos.'
Aldi's Veuve Monsigny Champagne Brut has been trumping big brands for years now in blind taste tests, beating labels such as Laurent-Perrier and Moët & Chandon.
Aldi is not alone however with other supermarkets such as Morrisons and Iceland offering champagne deals that are hard to resist.
Cheers to that!