The best shoe brands to shop if you have wide feet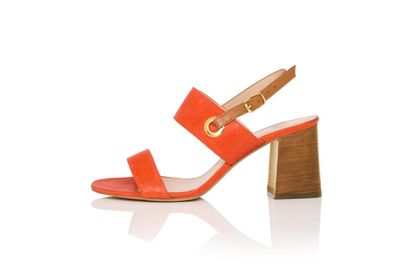 Shoes are a quick and easy way to update your wardrobe for the new season. Investing in timeless and comfortable footwear will ensure you can finish off every outfit in style, without breaking a stride.
Finding shoes that fit is half the battle, but fear not - we have rounded up all the best places to shop larger sized and wide-fit shoes that by no means compromise on style.
Fashion Team's Edit: The best fashionable wide-fitting shoes
Sante + Wade
Crafted in England and manufactured in Portugal, footwear brand Sante + Wade provide comfort, style and choice. Their shoes are available is sizes UK 5-11, offering chic options for the longer foot.
Sante + Wade are all about challenging the outdated perceptions that tall women shouldn't wear heels, or that wide-fit shoes can't look feminine. They believe every woman should experience finding something beautiful that fits perfectly. Your very own Cinderella and the glass slipper moment.
SHOP NOW: Adanna Sandal in Blue, £185 reduced to £92.50, Sante + Wade
Raffia Detail Sliders
SHOP NOW: Amma Sandal in White, £165 reduced to £82.50, Sante + Wade
Clarks
Shoemakers since 1825, Clarks are a master of their craft. Their shoes feature underfoot cushioning, forward-thinking technologies and modern designs. Many of their styles are available in a wide-fit width, ensuring there is something to cater for every fashion mood and occasion.
SHOP NOW: Pure Tone Leather Mules in Nude, £75, Clarks
SHOP NOW:Kaylin 60 Glad in Tan Leather, £59, Clarks
ASOS
ASOS cater to an extensive and unique audience, and one of the ways they achieve this is through offering a stellar selection of wide-fit shoes. As well as their in-house designs, ASOS is host to a plethora of amazing brands that also offer wide width footwear. In fact, there are over 1,000 wide-fit shoes currently available online, so no matter the style you're after ASOS can help you put your best foot forward.
SHOP NOW:Wide Fit Writer Ball Heels in Multi Weave, £38, ASOS
SHOP NOW: RAID Wide Fit Sidney Strappy Heeled Sandals in Pale Yellow, £29.99, ASOS
Gabor
Family-run footwear brand Gabor was founded in 1949. They are globally renowned and celebrated for comfort and style. Gabor designs are crafted from the finest materials and are cushioned for extra comfort. Their extensive range of wide-fit shoes ensure you can find shoes that fit and flatter.
SHOP NOW:Gabor Bunny Wide Fit Suede Lace Up Trainers, £120, John Lewis & Partners
SHOP NOW:Gabor Raynor Suede Wide Fit Sandals in Navy, £85, John Lewis & Partners
Dune
London-born brand Dune offer affordable yet luxury footwear and accessories. Their trend-led designs are also rooted in a passion for timeless appeal. Founder, Daniel Rubin, has always focused on the importance of a perfect pair of shoes for the right occasion. Their range of wide-fit shoes provide just this, from elegant high heels to street-smart brogues, there is something for every fashion need.
SHOP NOW: Wide Fit Barely There Strappy Sandal, £65, Dune
SHOP NOW: Dune Flinch Wide Fit Snakeskin Detail Suede Brogues, £75, John Lewis & Partners
New Look
Popular high-street brand, New Look, put their customers at the heart of everything they do. New Look interpret trends and translate them into wearable pieces at affordable prices. They offer one of the widest ranges of wide-fit shoes on the high-street.
SHOP NOW:Wide Fit Black Leather-Look Strappy Heels, £19.99, New Look
SHOP NOW: Wide Fit Leopard Print Court Shoes, £23.99, New Look
Sole Bliss
Founded by Lisa Kay, a former London fashion executive, Sole Bliss is a footwear brand with a difference. Say goodbye to sore and painful feet and step into triple-layered cushioning that supports and soothes your feet. Sole Bliss is a one-stop shop for women with wide width feet, and those who suffer from bunions and other foot problems.
Their technologically innovative shoes include cushioned soles, wide widths and deeper toe boxes to accomodate wide feet and alleviate painful pressure. They offer comfortable and on-trend footwear ranging from a UK 3-9, including half sizes too.
SHOP NOW: Ingrid Yellow Suede Heels, £149, Sole Bliss
SHOP NOW: Debut Tan Leather Boots, £210, Sole Bliss
Great shoes for everyone!
Happy shoe shopping...
Emma White is a freelance fashion and lifestyle writer. She has worked in the publishing industry since she graduated with an English Literature degree from the University of Southampton in 2018. Combining her love of writing and fashion, she started working as part of the fashion team at woman&home in early 2019.
Emma writes about a broad range of fashion topics, from trending seasonal styles, to sustainable fashion, how to get designer looks for less on the high street and timeless wardrobe classics. When she isn't writing she is probably shopping, looking for the latest piece to update her wardrobe.