High street wedding dresses that offer affordable elegance
Say 'I do' to these fancy but thrifty frocks!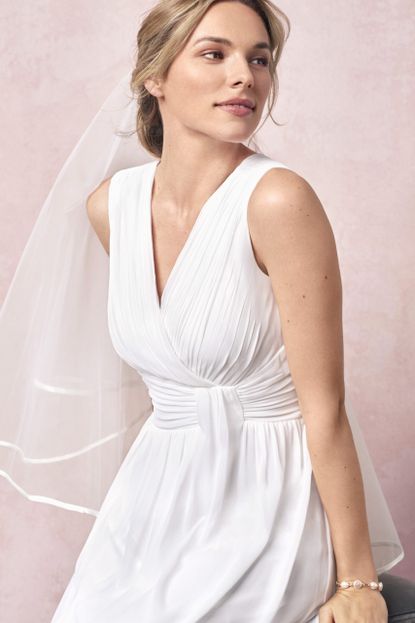 High street wedding dresses don't have to be cheap looking. See our edit of the stunning gowns that don't cost a fortune...
SHOP NOW (above): Dress, £89, Dorothy Perkins
£24,000; the cost of a gorgeous new car, and now, the average price of a wedding in the UK. With venue hire, catering and decorations, those prices can soon mount up.
But there's one thing you can definitely save on this season - the dress. Even though the average price of wedding dress in the UK is £1,385, there are still ways to get a gorgeous high street wedding dress for your 'budget' wedding without having to go second hand. From vintage styles to thoroughly modern cuts, every high street is suddenly awash with styles to suit every taste, size and budget.
MORE:The special reason why the Duchess of Sussex wears three rings on her wedding finger
Choosing a wedding dress at any time of life can be incredibly overwhelming - it is the moment a lot of us have dreamt about from a young age, and style is something you shouldn't have to compromise on. Thankfully, the gorgeous options available mean you can find your perfect dress for for a fraction of the average price tag.
We've noticed a distinct lack of strapless gowns in recent years, and an increase in sleeves made of stunning lace and embellishment. Vintage styles are also making a comeback.
Scroll through for stunning high street wedding dresses that will make any bride feel like a princess for the day...
Float down the aisle in a fairytale frock if you're a bride with a penchant for glamour.This piece includes intricate hand-embellishment.
SHOP NOW: Dress, £399, Monsoon
A princess dress without the price tag. This gown has a wrap bodice and shoulder straps with decorative knots at the ends.
This dress is designed in two layers, with a simple fitted sheath sitting underneath soft, sheer lace. It's adorned with intricate floral embroidery and covered with tiny white sequins for a truly showstopping finish.
Keep it classic with this sleeveless embellished bodice maxi dress with intricate detail.
SHOP NOW: Dress, £109, Dorothy Perkins
If sequins and sparkles aren't your thing but you still want to make a statement, this striped gown is a fashionista fave - available from Jan!
Dress, £395, Phase Eight
We think these stunning gowns are perfect for the big day...
Millie Gooch worked at woman&home as a fashion writer and stylist and has worked on numerous shoots for the brand. As a freelance journalist, Millie has written for a range of publications, including, ELLE, Stylist, the BBC, and the Evening Standard.
Millie is also the founder of Sober Girl Society, an online collective of women who don't drink alcohol. Millie's debut non-fiction book, The Sober Girl Society Handbook, is a bestselling manual to navigating life as a young and sober woman. Millie gave up alcohol back in February 2018 and has since dedicated her career to changing perceptions around sobriety.