Sustainable swimwear: 12 of the best recycled plastic swimsuits
These brands are making waves...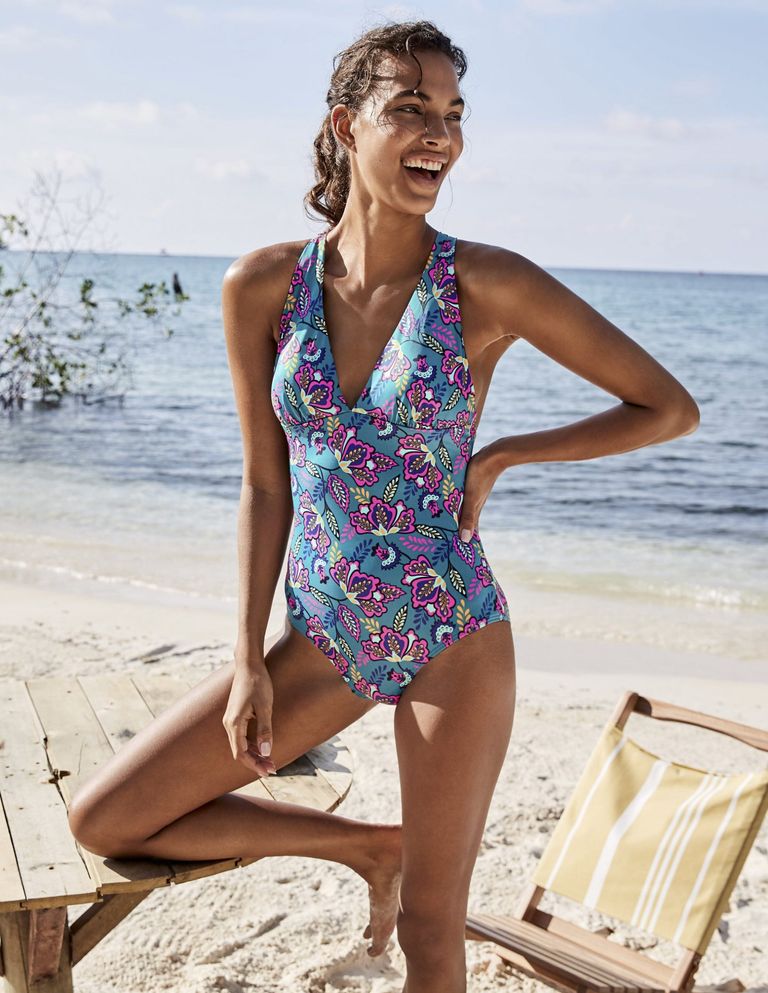 Welcome to woman&home's online shopping where we reveal where to buy the most popular and top-rated products. This guide is about the best recycled plastic swimsuits, but you may also be interested in our edits of sustainable fashion brands, the most flattering swimwear styles for every shape and summer tops with sleeves.
If you're looking for a new swimsuit but you want it to be sustainable and environmentally friendly, here's what you need to know.
Swimwear used to be one of fashion's most unsustainable area's due to the materials needed in order for it to perform well. Plastic-based synthetic fibres like nylon and polyester are popular because they are quick dry, stretch well, and wick moisture. But Polyester and nylon both come from petroleum and their production needs a large amount of water and energy, plus they don't biodegrade.
Thankfully there are new fabrics making waves, both on the high street and with small sustainable brands. ECONYL is a recycled nylon fabric made from a combination of ocean plastic and nylon waste. This gives another life to textiles that would normally go to the landfill or end up in the oceans, like fishing gear- which makes up 27 per cent of marine litter. REPREVE is a performance fiber made from recycled plastic bottles.
ECONYL can be made using anything from fishing nets to carpets and although nylon is still involved in the process, it's certainly better for the environment in a recycled form than thrown away, plus it is infinitely recyclable. Econyl saves on the demand for crude oil, plus it creates a nice, clean feel that is indistinguishable from virgin nylon.
However these new fabrics aren't totally green: it's still plastic so it still produces microfibres when washed. You can solve this by washing inside a £25 guppyfriend washing bag which catches invisible fibres from plastic based garment, stopping them getting washed into our rivers, water ways and oceans.
To ensure your swimwear remains in good condition, it should be hand-washed with mild soap and cold water after every use, to preserve the fabric as long as possible and remove chlorine, salt and sand. Air drying them flat, away from the sun and avoiding getting sunscreen or oil on them is also advised.
An important factor in living more sustainably is how long you keep your clothes for. When washed properly ECONYL and REPREVE will have a longer life than their plastic counterparts so they are your best available sustainable choices.
Much of the high street is now using ECONYL and REPREVE for the majority its swimwear, including sports brands such as Speedo and Sweaty Betty. We've also included some smaller brands that are more ethically focused than the high street giants – ensuring that production, packaging and fair pay are at the centre of their core values.
The best recycled plastic swimsuits to shop now
Here's our pick of the 12 best recycled plastic swimsuits...
Recycled plastic puffin swimsuit
£50, sizes xs_xl, batoko.com A small independent swimwear brand based on the North West coast of England. Ethically produced in China.
Boden Econyl twist front swimsuit
£30 (was £75), sizes 6-20, Boden Most of Boden's swimsuits are now made using ECONYL, and their linings are also made from recycled polyester.
VIEW NOW: Boden Econyl twist front swimsuit
Monsoon Recycled Polyester swimsuit
£19.50 (was £39), sizes 8-22, Monsoon Monsoon and Accessorize are committed to using sustainable fabrics within much of their fashion ranges. This swimsuit is made from recycled polyester derived from PET plastic bottles.
VIEW NOW: Monsoon Recycled Polyester swimsuit
Econyl swimsuit
£80, sizes xxs-xl, Sweaty Betty Sweaty Betty now have a large sustainable edit of swimsuits, leggings and active wear made from recycled fabrics.
White Stuff REPREVE® recycled swimsuit
£38, sizes 6-20, White Stuff All of the White Stuff's swimwear is made from from REPREVE®, a fabric made from recycled bottles.
VIEW NOW: White Stuff REPREVE® recycled swimsuit
Speedo 78% recycled Polyester swimsuit
£38, sizes 28-42, Speedo For the athletes out there, Speedo has a small range made from Powerflex Eco Polyester.
VIEW NOW: Speedo 78% recycled Polyester swimsuit
We Are Wear Eco spot suched side swimsuit
£32 (was £40), wearewear.com Created by women for REAL women, this lovely little brand has an eco edit all made from recycled Italian plastics.
VIEW NOW: We Are Wear Eco spot suched side swimsuit
Revisible swimsuit
£110, sizes 8 - 16, Finisterre It may be a little pricier but this reversible style means you ultimately get two swimsuits in one, making it last longer. Plus Finisterre is a fully sustainble company with ethical core values at its heart.
Recycled plastic swimsuit
£20, sizes xs-xl, Weekday Available in four colours, this recycled plastic swimsuit is an absolute bargain. They also have a 3 for 2 deal on!
VIEW NOW: Recycled plastic swimsuit
Fat Face Recycled swimsuit
£39.50, sizes 6-18, Fat Face Fat Face uses recycled plastic bottles for some of their swimwear range (including mens). This pretty style is included in the recycled range.
VIEW NOW: Fat Face Recycled swimsuit
Fully sustainable recycled REPREVE swimsuit
£52 (was £65) sizes s- l, Tide + Seek This small ethical brand uses REPREVE® fabric for all of their products. The fabric is chlorine resistant with a UV protection of factor 50.
VIEW NOW: Fully sustainable recycled REPREVE swimsuit
Arket Econyl swimsuit
£55, sizes xs-l, Arket Arket is owned by the H&M group who also own Cos and &otherstories. Because of the size of the group they are able to use a good range of recycled and sustainable fabrics. You can also take unwanted clothes to all stores to be recycled. This classic V-neck design with slender straps is made from ECONYL.