Best sustainable swimwear brands for eco-friendly style
Do your bit by investing in sustainable swimwear...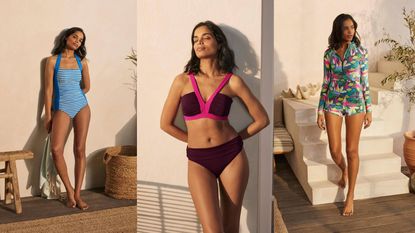 (Image credit: Boden)
Want to make more eco-friendly purchases this summer? Sustainable swimwear is a great place to start making waves in your wardrobe.
Alongside your best jeans (which, by the way take a frightening amount of water to produce) swimwear used to be one of fashion's most unsustainable areas. This is due to the materials needed in order for it to perform well. Plastic-based synthetic fibres like nylon and polyester are popular because they are quick dry, stretchy, and moisture wicking. But both come from petroleum and their production needs a large amount of water and energy to produce. Even worse, they don't biodegrade.
The good news is, new fabrics are on the rise, and are being used by both mainstream and smaller independent brands. "Where you can, choose swimwear that uses recycled nylon or recycled polyester yarns," advises Helen Newcombe, founder and director of sustainable swimwear brand Davy J. "These are made using waste nylon and polyester and then regenerated to form a new yarn. They have the full quality and characteristics of virgin yarn but are made from waste instead of oil."
ECONYL is a popular recycled nylon fabric, and the top choice for sustainable fashion brands including Reformation, Ayla and Fisch. It can be made using anything from fishing nets to carpets. An important factor when you learn that fishing gear makes up 27% of all marine litter. Although nylon is still involved in the process of making ECONYL, it's certainly better for the environment in recycled form than if it was simply thrown away. Plus, it's infinitely recyclable.
REPREVE is a similar, performance fiber made from recycled plastic bottles, used by brands such as Tide + Seek and Fatface. Both ECONYL AND REPREVE have a nice, clean feel, and are indistinguishable from virgin nylon and polyester. Look out for bathing suits and bikinis with chlorine and salt-water resistant coatings for extra durability.
Unfortunately, these new fabrics aren't totally green: they're still plastic so they still produce microfibres when washed. However, "higher-quality fabrics that deteriorate slower will be much less likely to give off any microplastics as the suit starts to degrade," explains Helen. Washing your sustainable swimwear in a Guppyfriend wash bag helps to. It catches invisible fibres from plastic-based clothing, stopping them from getting washed into our rivers, waterways and oceans.
Of course it's not just fabric that makes a brand sustainable. A label's commitment to production, packaging and fair pay for all employees comes into account too. "All of our packaging, down to the hygiene labels, is sustainable and recyclable and we have a "no plastics" policy in the office," says Georgiana Huddart, Creative Director of sustainable swimwear brand Hunza G. "It's about changing the mindset right from the core of a company rather than just in a perforative way to sell your products. Sustainability doesn't have to mean solely looking at the production chain of your goods."
Why should I buy sustainable swimwear?
If the negative environmental impacts of plastic fibres clogging up our oceans and unworn clothes filling landfill sites isn't enough to sway you, buying swimwear that's not sustainable can also mean bad news for your bank account.
"Investing in sustainable swimwear is not just an ethical and sustainable purchasing choice but also a sensible one," explains Helen "Buying products that last longer, make you look good and feel fabulous are better value for money. Swimwear is often an item of clothing that has the potential to make us feel the most self-conscious in public. Investing in a timeless sustainable piece is not only a confidence booster but a statement about who you are and what you stand for." Hear, hear.
Where can I buy sustainable swimwear?
Whether you're after a bathing suit or a two-piece, these are the best sustainable swimwear brands to buy from:
Best sustainable swimwear - as chosen by our fashion team
Ayla Cross-Back Swimsuit in Risso Print
Specifications
RRP: $191/£135
Sizes: S-XL
Sacco Style Athena Bikini Bottom
Specifications
RRP: $52/£38
Sizes : XXXS-XL
(opens in new tab)
Boden Zip Up Rash Vest
Specifications
RRP: $75/£50
Sizes: US: 2-16/18 UK: 6-20
(opens in new tab)
Vitamin A Jenna One Piece
Specifications
RRP: $203/£158
Sizes: XS-XL
(opens in new tab)
Roxy She Just Shines Bikini
Specifications
RRP: Top: $50/£32 Briefs: $40/£30
Sizes: XS-XL
(opens in new tab)
Hush Cut Out Ruched Swimsuit
Specifications
RRP: $99/£69
Sizes: US: 2-14/UK: 6-18
(opens in new tab)
Hunza G Domino Swimsuit
Specifications
RRP: $190/£140
Sizes: One size
(opens in new tab)
Fisch Blue Coquille Bikini
Specifications
RRP: Top: $149/£118 Briefs: $115/£95
Sizes: XS-XL
(opens in new tab)
Davy J The Zip Up Cutout Suit
(opens in new tab)
Tide + Seek Tropic Rave Classic Cut Swimsuit
Specifications
RRP: $109/£75
Sizes: XS-XL
(opens in new tab)
Stay Wild The Nerida Bikini
Specifications
RRP: Top: £70 Briefs: £70
Sizes: UK: 6-18 US: 2-14
(opens in new tab)
Reformation Figue Square Neck One Piece