Summer dressing gowns that provide coverage but are lightweight and chic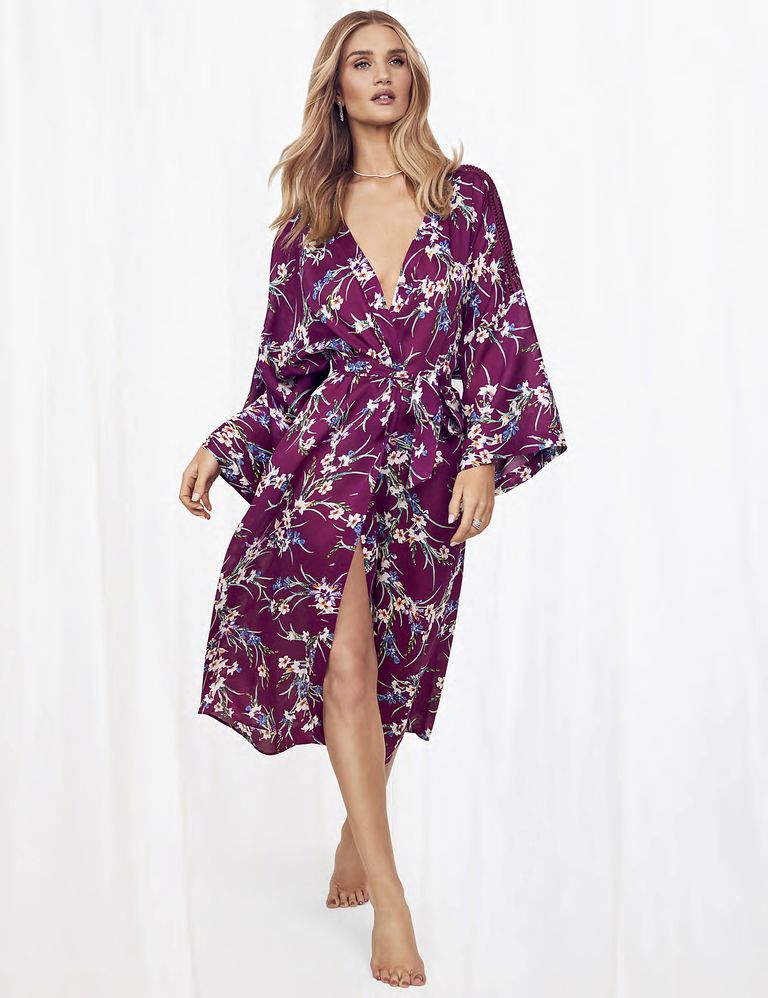 Welcome to woman&home's online shopping guides, where we reveal where to buy the most popular and top-rated products. This guide is about the best summer dressing gowns, but you may also be interested in our edits of leopard print sandals, royalty-approved underwear and comfortable yet stylish loungewear.
With all this extra time spent at home, a stylish dressing gown is the ultimate loungewear companion.
Whether you want something to throw on after a bath, or lounge around at the weekend, a luxurious robe can make you feel instantly relaxed whilst still feeling glamorous.
Lightweight styles are ideal for summer so we've included lots of breathable cotton, linen and bamboo fabrics in our round-up. Look out for fabrics mixed with 'Modal', a super soft natural fibre made from Beechwood tree's giving the feeling of silk without the hefty price tag. Loungewear brand One Hundred Stars use 50% Modal to create their silky smooth kimono gowns. We adore their £75 Kew gardens collaboration including stunning botanic prints.
If you want something you can use straight out of the shower, then The White Company's lightweight double faced waffle will give you that ultimate spa feeling; or H&M's 100% washed linen £34.99 gown is also good choice as linen is more absorbent and faster drying than cotton (although you'll want to rough dry with a towel first).
Shop The White Company micro waffle robe, £60
For pure indulgent relaxing long flowing kimono styles are wonderful as you'll feel like the lady of the manor when wafting around the house. This Botanical print frill sleeve gown from JD Williams is a steal at just £29.75 or chose opulent sateen and team with a silky camisole or wide leg silky pyjamas.
If you prefer something a little cosier during the summer months then a lightweight Merino wool is ideal. A completely natural fabric which is moisture wicking, odour resistant and breathable its ideal to get that luxurious cosy feeling without feeling the heat. Woolovers version is made from 90% merino wool with 10% added cashmere for added luxury.
Whether you're after a treat for yourself or a gift for a loved one, these luxurious robes will make the perfect choice, with options to suit every budget.
Shop our favourite dressing gowns for summer
Washed 100% linen dressing gown
£34.99, H&M
VIEW NOW: Washed 100% linen dressing gown
Darcie Floral Print Short Dressing Gown
£32, Cyberjammies
VIEW NOW: Darcie Floral Print Short Dressing Gown
Arket Satin Robe
£48 (was £69), Arket
Matalan Ditsy heart dressing gown
£10, Matalan
VIEW NOW: Matalan Ditsy heart dressing gown
Pour Moi Tropical wrap dressing gown
£21 (was £35), Pour Moi
VIEW NOW: Pour Moi Tropical wrap dressing gown
Not on the high street Birds of paradise kimono
£69, Doris Brixham at Not on the high street
VIEW NOW: Not on the high street Birds of paradise kimono
Marks & Spencer Cotton broderie short wrap
£25, M&S
VIEW NOW: Marks & Spencer Cotton broderie short wrap
La Redoute Cotton Muslin kimono bathrobe
£45, La Redoute
VIEW NOW: La Redoute Cotton Muslin kimono bathrobe
Verry Kerry Hand printed sustainable bamboo kimono gown
£109, Verry Kerry
VIEW NOW: Verry Kerry Hand printed sustainable bamboo kimono gown
Fancy Pumpkin Cotton japanese print kimono dressing gown
£24, Fancy Pumpkin at Amazon
VIEW NOW: Fancy Pumpkin Cotton japanese print kimono dressing gown
Zara Grey sateen dressing gown
£29.99 (was £69.99), Zara Home
VIEW NOW: Zara Grey sateen dressing gown
La Redoute Cotton Indian summer dressing gown
£65, La Redoute
VIEW NOW: La Redoute Cotton Indian summer dressing gown
Next Blue Tile Print Lightweight Robe
£28, Next
VIEW NOW: Next Blue Tile Print Lightweight Robe
One Hundred Stars Lightweight printed gown
£70, One Hundred Stars
VIEW NOW: One Hundred Stars Lightweight printed gown
Cyberjammies Alexa Floral Print Dressing Gown
£45, Cyberjammies at John Lewis & Partners