5 Reasons Your Next Pair Of Jeans Should Come From NYDJ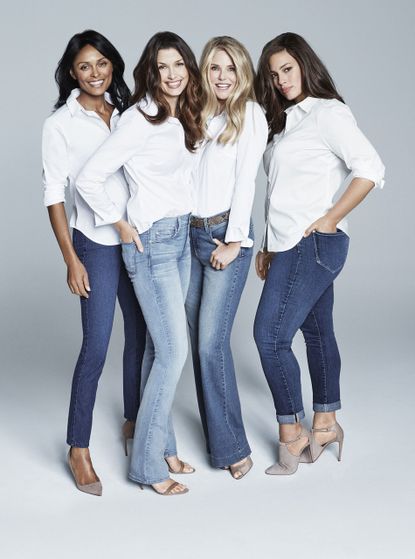 This is a woman&home sponsored advertorial
There is, perhaps, no wardrobe staple quite as well-worn as a great pair of jeans. From weekends running errands to dressed-up denim, we don't know a woman who doesn't own at least one pair of jeans.
But shopping for said reliable jeans can seem like a daunting task. We've all experienced the torture of finding the right style, the right waist size, the right length...the list could go on. Surely there must be an alternative to spending hours feeling bereft in a shop fitting room?
Well actually, yes. NYDJ (opens in new tab) knows a thing or two about creating the perfect fit. Established in Los Angeles in 2003, NYDJ launched the concept of slimming denim by introducing a revolutionary jean that was both comfortable and figure-flattering - and exactly what we're looking for! Not convinced yet? Here are five reasons to pick up your next pair of jeans from NYDJ...
1. The Slimming Technology
NYDJ's Slimming Technology makes you look and feel amazing, thanks to the genius Slimming Technology. All jeans feature:
- High, flexible waistband that fits comfortably without gaping at the back - A patented criss-cross panel that flattens in the front - A special weaving technique that lifts and tightens at the rear - And last but not least, NYDJ works with premium quality fabrics with just the right amount of stretch for maximum comfort, movement and a retaining shape.
2. The wearability
Finally, some comfortable jeans! High quality fabrics with just enough stretch mean you can wear them all day without feeling uncomfortable or restricted.
3. The styles
Trousers, bootcut, straight leg, skinny...you name it, they've got it! NYDJ's collections always feature the latest colours, washes and styles - all with their famed slimming fit. So no worries when shopping for a particular season: whether you choose a pattern, a white colour or even a linen fabric - you won't have to give up on the perfect fit!
4. The confidence-boost
NYDJ jeans are made to fit and flatter, so you'll feel more confident and the very best version of yourself. As if that's not enough, the jeans aren't just comfortable, they're also designed to make you look a dress size smaller. In fact, you can easily try them a size down - now that's what we call a confidence boost!
5. The every-woman philosophy
NYDJ cater to absolutely every size and shape. Not solely for plus size, petite or tall, the brand has something for all three and more. Choose your customised fit to find the perfect jeans.
Find your perfect style at nydj.co.uk (opens in new tab) or in retailers such as John Lewis.
Abigail Malbon is a journalist who has written for the likes of CN Traveller, Evening Standard, Red and Cosmopolitan. She likes pina coladas and exploring new places.