Style Lessons From Meryl Streep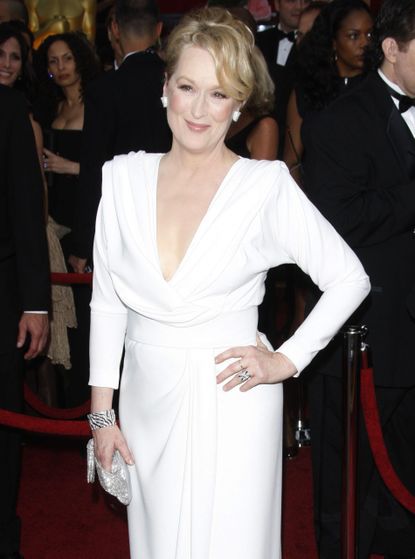 For a lady who once claimed she "couldn't care less" about fashion, Oscar-winning actress Meryl Streep certainly has a prevailing sense of style.
She famously portrayed the cold-hearted (but impeccably-dressed) fashion editor, Miranda Priestly, in cult classic The Devil Wears Prada. However, Meryl's own personal fashion style has evolved over the years. She's transcended trends but retained a timeless signature style that's consistently made headlines - (alongside her empowering speeches).
Meryl Streep's films have seen her embrace a widespread number of fashion looks, from the carefree dungaree-wearing Donna in Mamma Mia! to the formal jackets and skirts of Margaret Thatcher in The Iron Lady. However Meryl's own personal style is unique, as she often makes designer outfits her own by adding statement accessories such as glasses or belts.
Over the years she's graced the red carpet with a selection of stunning dresses.
We've taken a look back at the style lessons Meryl Streep has taught us over the years and we've rounded up some of her iconic fashion moments...
January 2017
At the annual SAG Awards, Meryl wore a floaty, long-sleeved Valentino number.
January 2017
Meryl's Golden Globes dress was a black floor-length gown by Givenchy, complete with an embellished neckline. Not only did her outfit make headlines but her passionate and powerful speech was recognised around the world.
Febuary 2016
Meryl looked radiant at the Berlin International Film Festival and sported a sheer reptile print gown.
October 2016
Whilst promoting her film Florence Foster Jenkins at the Rome Film Festival, Meryl proved you can nail a layered look - whatever your age - as she paired wide leg trousers and a tunic top with long sleeve 70s style blouse underneath.
February 2015
For the 2015 Oscars, Meryl switched up her traditional "dress" look and opted for a monochrome jacket, skirt and blouse - all by her designer of choice, Lanvin.
October 2015
At the premiere of Suffragette at the BFI, Meryl stunned crowds in a blue satin wrap dress by Lanvin.
March 2014
Meryl opted for a monochrome dress by her favourite designer Lanvin, with a draped shoulder and belted waist to define her shape.
February 2013
At the 2013 Oscars, Meryl presented Daniel Day Lewis with Best Actor wearing a bespoke sparkly silver-toned gown by her go-to designer, Lanvin.
February 2012
For the 84th Academy Awards, Meryl wore a breathtaking golden Lanvin gown. Her beautiful metallic dress wowed the crowds as she accepted her award for Best Actress, for her performance as Margaret Thatcher in The Iron Lady.
January 2010
For the Golden Globes Meryl Streep wore a black draped gown with a cinched-in waist belt. She picked up an award for Best Actress in musical Julia & Julia.
February 2010
At the Oscars, Meryl looked stunning in a draped white gown by Chris March, with a plunging neck and long sleeves. She was nominated for Best Actress in Julia & Julia.
March 2006
For the 2006 Oscars, Meryl sported a stunning grape-hued dress with deep v-neckline. She was nominated for Best Actress in The Devil Wears Prada.
January 1989
Meryl channelled an typical 80s look at the American Music Awards, with her big hair and padded shoulders.
February 1982
Meryl won her first Best Actress Oscar for her performance as a Polish Holocaust survivor in Sophie's Choice. She wore an embellished gold gown to the ceremony.
Samantha Rnic is a fashion stylist and writer from Colchester. She has worked for titles such as Grazia, The Sun and Look magazine. She is currently studio bookings manager at Matches Fashion.