Meet the fashion brand founder who switched careers at 40: "Facing death gave me a new fire in my belly to try something new"
At age 40, Jo Tutchener-Sharp changed her career. To mark International Women's Day we chatted to her to find out how she uses her fashion brand, Scamp & Dude to give back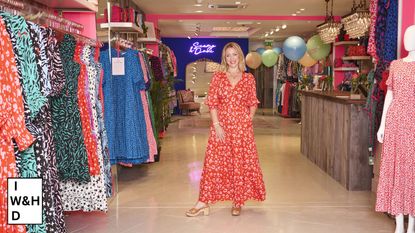 (Image credit: Scamp & Dude)
International Women's Day offers the opportunity to shout out to those women that might not always be at the forefront, but who are making a big difference. Jo Tutchener-Sharp is one such woman. After a life-changing moment Jo decided to dedicate her life to giving back, and she's doing it in the most stylish way possible. Making her a great source of inspiration this International Women's Day.
Switching careers at 40, Jo is the founder of the fashion and lifestyle brand, Scamp & Dude. Instantly recognizable by its use of bright colors, bold prints, and penchant for 'super power-inducing lightning bolts', Jo founded the company to make a difference after her own life-changing experience.
"I was in the process of selling my shares in my PR agency," Jo tells me, "when I suffered a brain hemorrhage. An acute headache saw me admitted to hospital where I discovered I had a lump on my brain which had hemorrhaged."
And like one might expect, "everything changed at that moment".
"When facing brain surgery and the fear that my life was about to end, I found myself questioning how proud I was of the life I'd lived. I'd had the time of my life running a PR agency and knew I'd always been a good person, but I hadn't actually done anything purposeful, and I came to the realization that I hadn't done enough 'good'. I didn't know this was so important to me until that moment and it's a horrible feeling to realize it might be too late to make that change. I made a pact with myself that if I made it through the surgery, I would dedicate my life to helping others and giving back."
And Jo stayed true to her word.
The beginning of Scamp & Dude...
The idea for Scamp & Dude came to Jo while in recovery from surgery, separated from her children, Jo felt that having them visit her in the hospital, would have been terrifying for a one and three-year-old.
"I looked like Frankenstein with one side of my head shaved, a large cut, and 20 staples so we were apart for 10 days."
Wanting to be close to them, Jo came up with her first major lightbulb moment, setting the trajectory for the brand you see today. "I wished I could have given them a Superhero to watch over them while we were apart, so the first product I designed was our Superhero Sleep Buddy. These special little Superhero comforters have a pocket on the back to hold a photograph of whoever the child wants to hold close, giving kids an extra sense of security when apart from their loved ones."
A product still available today, it's not just the kids that benefit from these special comforters. "The best bit is, for every one sold, we donate another to a child who has lost a parent or is seriously ill themselves," she tells us.
This idea spiraled into further lines. Recognizing the resilience of children and encouraging them to harness their own inner power, Jo created a "superpower-infused clothing line to fill kids with superpowers, giving them courage on the move too."
Moving into womenswear...
Although childrenswear laid the foundations for Scamp & Dude, Jo soon found that there was a burgeoning womenswear market interested in what she had to offer too.
"When I launched the brand on our website and into Liberty, there were only a handful of products for women, and these were only created because I wanted to wear the clothes I'd designed for kids myself!"
But Scamp & Dude's own website and Liberty couldn't keep the women's sweatshirts in stock, "they would sell out the moment they launched".
Fast-forward to 2023 and "womenswear now makes up 90% of the collection and our adults collection launched into the womenswear department of Liberty last year. We started with loungewear but over time we have developed the range and now offer a wide range of product categories including dresses, tops, skirts, denim, knitwear, loungewear, accessories, and nightwear."
All items are crafted in dopamine-dressing-inducing brights, bold prints, and flattering fits, for clothing that makes you look and feel great.
Charitable initiatives
Charity and keeping Jo's promise to herself to spend her life dedicated to helping others remain at the heart of the brand. Scamp & Dude has "now donated over 5,500 Superhero Sleep Buddies to children who have lost a parent or are seriously ill themselves."
And the brand's latest addition to their charitable product lines is a range of 'Super Scarves'. With one donated to a women with cancer for every scarf sold.
"I designed our Super Scarves with the aim of wrapping women having a really hard time in a superpower-infused hug." says Jo, and since the projects inception, it has donated over 15,000 scarves.
And for 2023, Jo and her team are looking to ramp up their efforts.
"We recently launched our latest campaign 'Scamp & Dude's Super Scarf Mission'. My ambition is to donate a scarf to every woman starting chemotherapy treatment this year (which is sadly around 60,000 women). To achieve this goal, we plan to launch new scarf prints each month. For March, in line with International Women's Day, we are launching a gorgeous black with peach leopard and lightning bolt print scarf with neon pink pom poms."
Offering us all the opportunity to be a giver.
And if scarves aren't for you, Scamp & Dude also donate a pair of Lucky Pants to a man/woman or child in hospital for every pack sold. This is in conjunction with the brand's 'kindness days', "where we donate an item of clothing to someone in hospital for every item sold and have now donated almost a million pounds worth or product to people having a really hard time which we are really proud of".
Still to come... "We have something super exciting launching in summer with some inspirational women in the beauty space. I can't say too much now, but it's going to be a great campaign that gives back and raises a lot of money for some very special charities".
(opens in new tab)
RRP: £40 (international shipping available)| The latest super scarf to launch, in a peach an black colorway with bright pink pompoms, when you buy one of these gorgeous scarves, one is automatically donated to a woman undergoing cancer treatment.
(opens in new tab)
Scamp & Dude Superhero Buddy
RRP: £30 (international shipping available) | The original set of products for the brand were the soft toy, super hero buddies. This bunny has a slot at the back for a child to put a picture of a loved one so they can hold them close even if they can't be together.
(opens in new tab)
Scamp & Dude Lucky Pants Boxers
RRP: £32 (international shipping available) | For every pack of 'lucky pants' sold another is donated. In two colors and decorated in the brand's signature lightening bolt print, these pants come in adult and kids sizes, so everyone can harness their own inner strength.
There's something so feel-good about Scamp & Dude, not just its mission but how bright everything is too, and seeing the donations tot-up and that promise to herself to help others come to fruition has clearly impacted Jo for life.
"Not in my wildest dreams could I have imagined Scamp & Dude would have become what it is today. I feel so lucky that so many other people love what we do and support us. We opened a shop in Marlow last year and our customers travel across the country to visit. We have had customers fly in for the day from Glasgow and Ireland, and customers drive from across the country just to visit the store. I am constantly blown away by our amazing community".
And Jo really has created a community. People from across all walks of life not only love what Jo does but appreciate the vehicle to make real changes to real people.
Shop Jo's favorite Scamp & Dude pieces
"Our Superhero Sleep Buddies and Super Scarves are favorites of mine as they do so much good, but I also really love our camo jacket which I live in. Also out of the new collection, I'd have to choose our new denim dresses and the khaki and black leopard & lightning bolt tassel dress. We have so many beautiful summer dresses launching soon which I can't wait to wear. Our fits are so flattering, and the colors and prints are really uplifting so you can't help but smile when you wear our clothes.
I'm also excited for our accessories this season; we have a range of new sunglasses and new bag shapes launching in May and June. I have a feeling that the black crossbody belt bag with gold studs is going to be popular, especially for festival goers."
(opens in new tab)
Scamp & Dude Dino Super Toy
RRP: £30 (international shipping available) | A super dino toy, this sleep buddy, as with the rabbit is one of the original Scamp & Dude designs, created with Jo's desire to help kids, like her own, channel their inner strength and cope with separation from a parent or loved one.
(opens in new tab)
RRP: £130 (international shipping available)| One of Jo's favorite pieces, this camo jacket has '90s fashion trends written all over it, making it a very of the moment piece. Easily pairable with almost any color, it will look great styled with straight leg jeans for a chic weekend outfit.
(opens in new tab)
RRP: £135 (international shipping available) | When it comes to the best dresses, does anything beat a denim one? This black denim dress is easy to dress up, thanks to the darker colorway and cute puff sleeves. The fabric, self-tie belt offers a great way to highlight your waistline.
Celebrate women every day - not just International Women's Day
This year, we've been celebrating the fashion brands that give back every day, like Scamp & Dude, and Jo concurs that while IWD is a fantastic moment to focus on women, like us, Jo wants to "celebrate women every day, not just on International Women's Day, but it is always nice to stop and appreciate all the wonderful women in your life."
As such we wanted to know just who inspires Jo to keep going, to keep building, and who she admires in the industry when it comes to business.
"I have always admired Holly Tucker (founder of Not on the Highstreet who now champions independent businesses/entrepreneurs). I also admire female business owners like Chrissie Rucker (White Company founder) and Anya Hindmarch. I respect down-to-earth, creative, strong women who don't think you need to wear a power suit to run a business."
Hoping to try something new? It's never too late to start...
Jo's story is undoubtedly inspiring, and if you've got similar designs on starting over, Jo wants you to know it's not too late to change your lives and the lives of others.
"I completely changed my career when I was 40. I had spent 19 years working in PR before starting Scamp & Dude. Facing death gave me a new fire in my belly and gave me the confidence to try something new."
So if you're looking to take the plunge, take this as your sign. Sure new projects are scary, and if you're thinking you don't yet know enough, believe it or not, that's how most people feel.
"I had to learn fast (and still am learning every day) but absolutely love the challenge and have honestly never loved a job more."
And things to know before you start?
"Having such a strong purpose makes all the hard work worth it and I have such a brilliant team right by my side now which makes all the difference too."
The future...
Built out of a will to survive and the promise to make a change, it's no surprise that Jo has big designs for the future of Scamp & Dude and helping others remains integral to that dream.
"I would love to launch Scamp & Dude overseas over the next 5 years. I love the thought of being able to help people all around the world by filling them with superpowers and providing them with joyful colorful clothes at the same time."
And seeing how much has been achieved in the last six, we're certain the next part of this journey will be just as electrifying.
Rivkie is a fashion editor, writer and stylist with over fifteen years' experience in the industry. Having studied design and pattern cutting at the London College of Fashion, Rivkie fell in love with styling and journalism, covering fashion weeks in London, Paris and New York.
Specialising in plus size fashion, Rivkie has long championed that style is for everyBODY and has been a regular talking head on a host of radio stations and television shows, pushing for greater representation for plus size women and fashion throughout her career.