Shopping addict? Two women share how they curbed their compulsive shopping
Can you relate?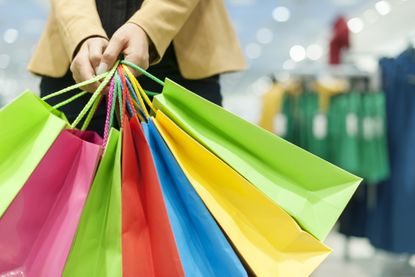 (Image credit: Getty Images/iStockphoto)
This feature for Woman & Home magazine was originally published in 2016.
A recent poll of British women aged 30-45 found that the 'average' woman spends up to £15,000 on clothes, shoes and accessories each year. The typical woman's wardrobe contains more than 150 items, 30% of which will not be worn for more than a year at a time. In fact, the UK's unworn clothes, hung on a single rail, would stretch from London to New York - and back. Twice. Of course, we do occasionally manage to offload them - 350,000 tonnes of used clothing end up in UK landfill sites each year. It seems we are a nation with a shopping addiction.
How are our shopping addictions affecting the planets - and our wellbeing?
Environmental experts say that simply extending a garment's average lifespan by 3 months could cut the carbon, water and waste footprints of the clothing industry by up to 10%. But could our ever more conspicuous consumption be damaging us, as well as the environment? Bearing in mind that the average woman will spend 4 days of each year deciding what to wear, it seems it could be depriving us of sleep, at the very least. So is it time to say, enough is enough? Do we need to reign in our compulsive sopping habits?
We spoke to two fashion and beauty professionals who, between them, have managed to clock up 22 shopping-free months, to find out what they've learnt from their experiences - and why they think you should join them in their mission to stop shopping...
Joanna McGarry, beauty director-at-large for Stylist magazine, is 10 months into her self-imposed shopping embargo. Her reasons for swearing off clothes are two-fold, she tells us. Having recently married, bought a flat and begun a second degree, her previous patterns of spending (i.e. a few big investment purchases spread across the year, interspersed with "top-up" shops at Cos, Whistles and & Other Stories) are no longer "even in the vicinity of what is possible or sensible or doable," she says. But reading a book whilst on honeymoon, "about our obsession with accumulating material goods," clinched the deal for her.
She describes the cult of consumerism as "a weird conspiracy that's taken hold in the last 50 or 60 years - we're just encouraged to renew and re-buy - and I started to feel a disconnection with that". How does she feel since she stopped shopping? "Lighter. I went past some shops the other day and had this little urge to go in and buy something, like, 'Oh, just something small, nobody'll know,' and then I just looked at that thought and realised that it was more about the buzz of buying something and treating myself because I'd had a bad day than it was about actually needing the item I was going to spend money on, so I stopped myself."
Fashion editor and designer Ursula Lake gave up shopping for an entire year as a New Year's resolution, "just to sort of prove that I could," having been teased by friends about her overzealous holiday packing (well, why wouldn't you throw in an emergency cocktail dress when heading off on a skiing holiday?). "I thought to myself, 'Is this environmentally sound? Is this morally right? Fashion that's so throwaway? Do I really need to do all this conspicuous consumption of products on an almost weekly basis - you know, going in for a quick Zara fix?'" she explains. "I just thought, actually, maybe I don't, and maybe it'll be really interesting to see what a year would be like, not buying clothes."
"We're just encouraged to renew and re-buy - and I started to feel a disconnection with that."
Did she enjoy the experience? "I did, actually - that was two or three years ago and [now] I don't buy in the same way that I used to buy. I might mooch around Selfridges but it's taken a lot of the desire away from me, and I don't tend to do fast fashion so much anymore. Towards the end, I was so unfazed by it that it didn't bother me at all. It certainly wasn't like on January 1st I rushed out and bought a load of stuff - I was quite content. I think I realised pretty quickly that I didn't need all the stuff that I thought I needed."
Joanna, however, wouldn't go so far as to say she is enjoying herself. "I love fashion. I love the artistry of fashion, I love the indulgence of fashion, I love expressing myself through fashion. So I do miss it in that sense," she concedes. But "being able to straddle my job and higher education and live in a comfortable, beautiful flat - that's just more of a priority now - and you can kind of train yourself out of anything after a month or two," she says.
Of course, her job as a beauty director still allows her to "get that buzz of unwrapping a beautiful compact and taking the plastic coating off," so, "I do still get that 'new' feeling," she admits. "But I get that from an Ocado delivery as well. It's just nice to be feeding yourself. But the level to which we are feeding ourselves as a society with material possessions - it's gotten to the point where it's doing the reverse. It's swamping us. It's swamping our minds." She's even been inspired to ditch her TV: "I didn't want to have this overbearing, big, black square in the middle of my petite living room. It's about trying to reduce the amount of stuff we have rather than add, add, add."
Ursula admits that her home interior purchases "might have increased a little bit that year." There was a vintage credenza and "quite a lot of napkins", but "that's proper investment stuff," she rationalises. She also allowed herself to buy sportswear, "because I was trying to make sure I would look better in the clothes I already had". Joanna also created a loophole to justify the odd shopping "fix" - eBay. "I feel like if I sell stuff and I put money in the bank, in the PayPal bank, then I can use that again - it's almost like upcycling in a way".
It hasn't been all fun and games, though. Joanna steeled herself to 'repeat' dresses at a succession of weddings this summer, "but I didn't like it," she muses. "It didn't feel right to me, weirdly. I feel like every wedding has its own character but I was turning up in yesterday's outfit! Part of the fun of the process of weddings is finding the perfect dress." Fancy work obligations have also become a bit of a minefield, but she's found a cost-effective solution - earrings. "They can completely transform an outfit," she enthuses. "I have to admit that occasionally, in lieu of buying a proper item of clothing, I will go to H&M to buy a £7 pair of earrings - and I'll get complimented on them." She also experiments with subtle tweaks to her signature make-up look (a clean face with red lips), declaring that "make-up is my kind of playground in the absence of shopping".
Both agree that their experiences have helped them refine and gain a sense of security in their personal style. "I love new clothes and I love new styles and I love new shapes," says Joanna, "but at 33 - I think by that time you know what suits you, what your style is. Buying new stuff is a nice buzz, but I don't need it." Ursula says that going cold-turkey made her "far less driven by trends. I stopped feeling that desperate need for this season's key item that was somehow going to change my life".
"I didn't like repeating dresses at weddings - it didn't feel right to me, weirdly. I feel like every wedding has its own character but I was turning up in yesterday's outfit!"
Neither will look at clothes in the same way, they affirm. The world of reality TV-ready walk-in closets is "just accumulation for accumulation's sake," Joanna proclaims. "There's something self-important about it, something egocentric about it." Ursula, meanwhile, has stopped using fashion "as an emotional crutch," saying that the experience has changed her mindset, in terms of "being just a little bit more thoughtful about where things are coming from and valuing what you have".
Tempted to mount your own wardrobe embargo? "Do it," Ursula urges, "Certainly if you think you're a bit of a clothing addict." Both women emphasise the importance of managing your existing wardrobe with care. Start by editing your entire wardrobe into keep, mend and sell piles. Then handle the keepers with love. Hand wash or dry clean delicates, and re-heel those tired-looking shoes. "We all have those bags under our beds or at the backs of our wardrobes filled with different pieces that we kind of love..." says Joanna. "But the hem's come off on one, or there's a small hole that needs to be sewn up on another, a button's missing..." By getting 10 key pieces "seen to", she says, she's managed to give them a whole new lease of life, "for what amounts to about £30". Could rediscovery be its own reward, after all?
How to curb your shopping addiction and stop spending:
Edit your wardrobe into keep, mend, sell, bin and charity shop piles. Don't forget your jewellery box - accessories can make or break an outfit that feels a bit tired.
Dump the no-hopers in a textile recycling bin and drop off the charity shop bag(s).
Set a day aside to research car boot sales, photograph and list your most sellable items on eBay. New to selling online? Read our top tips on turning your old stuff into cash.
Made a profit? Take a tip from Joanna and re-invest it... but choose wisely!
Time to show the keepers some love. Clean jewellery, take shoes to be re-heeled and get delicates dry-cleaned, or, if cash flow is an issue, hand wash them. "It's a bit like Russian roulette," Joanna laughs, "but most of the time it's fine!"
Identify the top ten items from your 'mend' stack and take them to a tailor, dry cleaner or jeweller to be seen to. Feeling handy? Get your needle and thread out!
Set your rules in advance. Will you allow yourself to buy sportswear, like Ursula, or the odd piece of high street jewellery, like Joanna? If you sell a piece of clothing, can you reinvest the proceeds in a new (or pre-loved) item of clothing?
Plan how you'll cope when temptation strikes. Will you replace shopping with running, for example? Or perhaps you could sign up for a dressmaking class, and learn how to make your own clothes.
Sign up to our free daily email for the latest royal and entertainment news, interesting opinion, expert advice on styling and beauty trends, and no-nonsense guides to the health and wellness questions you want answered.
Kelly is the former Digital Editor of womanandhome.com. She joined the brand in 2015 and left in March 2022. With over 15 years of experience in digital and print journalism, Kelly has worked for some of the UK's most prestigious publishers, including The Guardian, Shortlist Media, Time Inc, and now Future Publishing. She specializes in women's lifestyle and has been nominated for two PPA awards throughout her career. In the past, she had provided expert advice and comment for the BBC and Channel 4 about fashion and feminism. Kelly also guest lectures at the London College of Fashion about digital fashion media.