We're obsessed with Adele's Louis Vuitton trench coat as she joins James Corden for final Carpool Karaoke
On the final installment of Carpool Karaoke, Adele joined James Corden to sing some of her top hits - and looked stunning while doing it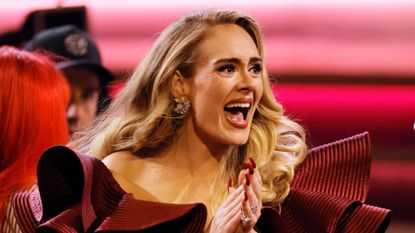 (Image credit: Getty Images)
Adele recently appeared on one of the final episodes of The Late Late Show with James Corden to do one final carpool karaoke - and although her singing stole the show, we couldn't help but notice her incredible outfit.
As we all know, Adele has had quite the fashion renaissance over the years. Most of Adele's best outfits are simple, timeless, and effortlessly chic, while still maintaining an air of sophistication. On her appearance on The Late Late Show with James Corden this week, she proved that to us once again.
During the episode, she does a hilarious segment in which she wakes James up in the morning at his house, and prods him to drive her to work - which is when the infamous James Corden special, Carpool Karaoke, ensues.
It was the final installment of Carpool Karaoke, as James Corden's beloved talk show is set to end this week after an 8-year run on CBS.
Although this was the last hurrah for Carpool Karaoke, James and Adele gave their all while busting out classic Adele tunes like Rolling In The Deep together. While they were singing, though, Adele's outfit and accessories caught our eye.
Adele is known for sticking to muted and neutral colors, and she further proved this point by showing up in a classy beige trench from Louis Vuitton with a waist-cinching belt. Adele knows how to style a trench with ease as chooses a slightly oversized style for her stunning appearance.
She also wore a pair of wide-leg trousers that were just about a shade lighter than her trench, as well as a pair of chunky gold hoops from Louis Vuitton.
Adele makes a pretty convincing case for owning a trench - and luckily, we found a great dupe so you can snag her style!
---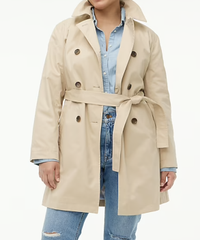 Trench coat in Light Khaki, $142.50 | J. Crew Factory
By buying cotton products from J.Crew Factory, you're supporting our investment in Better Cotton's mission to help cotton communities survive and thrive while protecting and restoring the environment. This trench features a soft cotton material; perfect for any spring occasion.
Needless to say, elevated basics are the name of the game for Adele, and we're two seconds away from adding a timeless trench to our carts.
Madeline Merinuk is woman&home's US lifestyle news writer. She covers celebrity, entertainment, fashion, and beauty news but is also obsessed with internet trends - you can find her reciting trending TikTok sounds out loud at any given time.
After winning multiple student journalism awards for her investigative work, she graduated from Hofstra University in 2021 with a B.A. in Journalism. After graduating, she worked at today.com, the digital site for the Today Show, where she wrote pop culture news and interviewed big-name personalities like Emily Ratajkowski, Haley Lu Richardson, Emma Corrin, and more.
Her personal interests, in no particular order, are: cheese, Joni Mitchell, reading, hot yoga, traveling, having multiple chapsticks in every handbag at all times, and dancing to ABBA songs as if she were in the Mamma Mia movies.