Specsavers' new range with an iconic fashion brand is a fantastic bargain
We love it!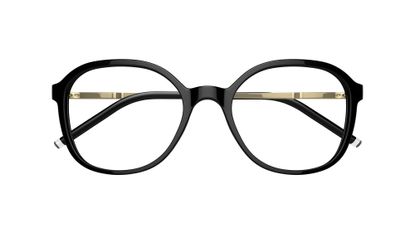 The iconic Dutch designers, Viktor & Rolf have created an exclusive 18-piece eyewear collection in collaboration with Specsavers. It's the perfect blend of modern and retro.
More than one in three people who wear glasses in the UK buy them from Specsavers. We're not suprised. They offer great designs at great prices. And the latest collection is no exception.
Launching in all UK and Ireland Specsavers stores in February 2020, the full collection consists of 15 pairs of unisex glasses, and 3 pairs of sunglasses.
The range embodies Viktor & Rolf's avant-garde aesthetic, while remaining wearable. Some of the frames may look a little out there, but they're flattering and well balanced on the face.
You'll see that traditional glasses shapes are reinvented and brought to life in a rich colour palette of burgundy, bright yellow, silver and gold. They're made from acetates and polished metals.
Each pair is priced at £169, but the full collection is also included in the Specsavers 2 for 1 offer. If you can't get to a store Specsavers runs a home-visiting service in the UK and Ireland for those who cannot get to their local store unaccompanied.
Kiran Sondhi, Specsavers head of frame buying, says about the collaboration: "The team at Specsavers feel very privileged to launch this fantastic collection and to work with Viktor&Rolf. The Viktor&Rolf brand continues to achieve phenomenal success on the global stage, and we are proud to be able to bring this beautifully designed eyewear range to our customers at an accessible price."
Specsavers x Viktor & Rolf collection
Here are our top picks from the collection.
VR6, £169
Predicted by the team at Specavers to be the best seller of the collection, these classic black frames with sleek gold arms are ultra chic.
SHOP IT NOW: VR6 01, £169 (opens in new tab)
VR11, £169
Aviator-inspired glasses have become a style staple and these frames take it up another level. Created in beautiful pale, gold metal and delicately intertwined these are certainly a striking pair of frames.
SHOP IT NOW: VR 11, £169 (opens in new tab)
VR13, £169
These understated specs have been designed with an unusual upturned browline.
SHOP IT NOW: VR 13, £169 (opens in new tab)
VR15, £169
Inject some colour into your eyewear with these bold yellow cat eye frames.
SHOP IT NOW: VR 15, £169 (opens in new tab)
VR16, £169
Theses thick rimmed two-tone pair give a slight retro feel.
VR16, £169
SHOP IT NOW: VR 16, £169 (opens in new tab)
VR14, £169
For the fashion forward or for anyone who loves a little bit of sparkle, these gold frames will certainly make you stand out from the crowd.
SHOP IT NOW: VR 14, £169 (opens in new tab)
Specsavers x Viktor & Rolf sunglasses
These bold, oversized frames in tortoiseshell are perfect for glorious, sunny days.
VR02 Sun RX, £169
SHOP IT NOW: VR 02 SUN RX, £169 (opens in new tab)
To see the full collection please visit your local Specsavers shop.
Becky Joiner-O'Riordan is a Senior Fashion Stylist & Writer. With 10 years experience in the fashion industry, she currently works across woman&home, womanandhome.com, Woman, Woman's Own, Woman's Weekly, Chat, goodto.com, and has previously worked on Harper's Bazaar, Notion and Now Magazine.
After graduating from both the University of the Creative Arts and The Fashion Retail Academy with first-class honours she dipped her toes into the world of television styling working on This Old Thing, hosted by Dawn O'Porter and Channel 4's live tv show series Gok Live: Stripping for Summer.