Prue Leith launches her first jewellery collection with Lola Rose and we're obsessed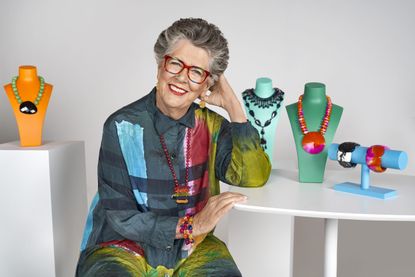 (Image credit: Lola Rose)
Prue Leith, an authority on all things culinary, is now venturing in the fashion business by launching the Prue x Lola Rose jewellery collection.
Available on both on the brand's website and QVCUK.com and ranging from £45 to £300, the collaboration plays with stones in different shapes, colours and textures creating amazing pieces. Every semi-precious gem is individually sourced making each item unique.
Bringing together Prue's love for layering accessories and the brand's expertise, the collection features an explosion of colours, from shades of pink, orange and blue to neutrals as black, white and red. Agates, quartzites, and jaspers, among other semi-precious stones in different colour ways are the collection key elements.
'My love affair with necklaces started over 50 years ago and they have been a consistent obsession,'Prue Leith says about her collection. 'It has been exciting to work with Nikki [Gewirtz, the brand's founder] and the Lola Rose team to create a collection that I love, and I know many other women will too."
Think statement necklaces, bold bracelets and colourful drop earrings – mix and match them to jazz up your outfit or let them take centre stage. Although we're in love with pretty much everything we've made things easier for you and chosen our absolute favourites.
The Mercia Necklace
The Mercia necklace is a gorgeous neutral piece. Wear it over a plain crew neck top and let it be your outfit's key element.
SHOP NOW: Mercia necklace, £105, Prue x Lola Rose (opens in new tab)
The Ismini bracelet
The modern design and mix of textures add a twist to the Ismini bracelet. We're sure it'll become one of your favourite in no time. Wear it over your sleeve in this chilled weather to make a statement.
SHOP NOW: Ismini bracelet, £95, Prue x Lola Rose (opens in new tab)
The Jo-Anne Necklace
If you're looking for a smarter option to go from office meetings to a casual night out with friends, the Jo-Anne necklace is your choice. Simple and elegant and far from boring, it'll add to your black dress or silk shirt look.
SHOP NOW: Jo-Anne necklace, £125, Prue x Lola Rose (opens in new tab)
We've done the hard work for you and picked our loved ones but the collection comprises a range of different styles, available both on Lola Rose (opens in new tab) and QVCUK.com (opens in new tab).
Whether you want an over the top colourful necklace or a cool neutral bracelet you'll definitely find a piece to add up to your jewellery collection.
Freelance Fashion and Lifestyle Writer
Manuela Rio Tinto is a freelance fashion and lifestyle writer with experience in both short and long-form articles, as well as copywriting. Brazilian, she moved to London six years ago and since then has worked for brands like Woman & Home, Woman's Own, Chat, Selfridges and Karen Millen, to name a few. Passionate about all things culture, travel and scuba diving-related, you'll find her either reading, travelling or diving in her spare time.