Princess Anne looks stylish in a chic monogrammed mask
The Princess Royal turns into a fashion icon with a personalised mask.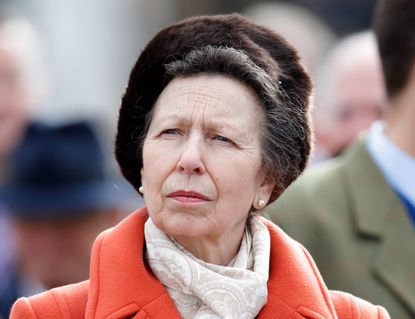 (Image credit: Getty Images)
Princess Anne is our latest royal fashion icon with this polished look.
Princess Anne is a trendsetter with her monogrammed Royal cypher face mask.
The royal visited Citizen's Advice to show off the now mandatory protective item.
In other royal news, Princess Eugenie is breaking royal tradition with her birth plan.
Not usually one for trendsetting, Princess Anne has recently changed that. For her 70th birthday, she had three portraits taken and in all of them, she was wearing beautiful regal outfits. In one, a Sue Palmer emerald green dress and a gold ribbon knot brooch. In another,an embellished white gown with lace trim and a matching bolero jacket. The final, a more casual but altogether polished look for walks in the countryside.
Princess Anne recently visited Citizens Advice in Harlow, which she is a patron, to speak to its members and staff about how they have coped during the pandemic. During the visit, she kept up with her trendsetting and impressed with a monogrammed mask. The first of its kind among royals. We've seen florals, peacock feathers and Liberty print but none of the family has utilised the Royal cypher for the country's new mask laws, until now.
The white mask was embroidered with her Royal cypher— a monogram of the royal's initials, often interwoven and surmounted by a crown — an 'A' with a crown. Every member has their own cypher and it often randomly turns up in places, such as on napkins at royal dinners, on letterheads and Kate Middleton even has a bracelet featuring it.
While it may not have the grandeur that people usually associate with a Princess — velvet, gold, jewels and more — it is understated and still powerful. Paired with a classically simple outfit, the cypher speaks for itself.
Sadly, us 'normal' people do not have our own cypher we can use, however, we suggest your initials on a reusable mask instead… Close enough! Check outEtsy (opens in new tab)where there are a number of designs to choose from.
Rachel is a freelance contributor to woman&home, covering news as well as books, lifestyle and travel. Her byline has also appeared in The Independent, The Financial Times, ELLE Magazine, VICE, Glamour Magazine and others. She loves nothing more than talking with people to share their stories. When she is not writing you will definitely find her nose in a book or magazine, or perhaps training for the next half marathon, practicing yoga or eating in London's best restaurants.