M&Co's in-house premium brand Sonder Studio launches collection and we want it all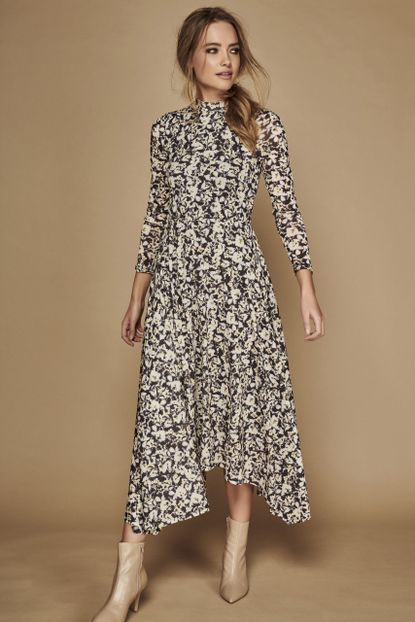 Print blouses, leather look skirts, midi dresses… Sonder Studio's new collection will give your wardrobe a fresh twist.
As if we needed another reason to love M&Co! But now, besides their amazing pieces at affordable prices, their in-house brand team, Sonder Studio, has just added one more reason to be head-over-heels: a new premium collection.
Their new collection is coming in two drops: the first one features a neutral colour palette and a mix of textures and prints, while the second comes in bright colours and denim, both in premium fabrics. The first one is already available online, the second one comes out in early March.
M&Co launched in 2018 and since there has constantly been seen on digital influencers and celebs like Amanda Holden. It's currently sold at Next but is soon launching its own website with the new collections.
Its simple and yet stylish pieces explain all this success. Clean, modern and easy to pair with everything that's in your wardrobe already, what's not love about it? The brand's style is relaxed, understated yet sophisticated. The price point is tremendous: tops starting at £25 and dresses at £45. It's a really good place to shop if you want to jazz up your look on a budget.
The fashion team top 5 picks from the new collection
Polka dot shirt, £38 (opens in new tab)
Not your regular polka dot shirt, this fun spot print top is perfect to dress up your denim or to pair with black leather trousers.
SHOP NOW: Shirt, £38, Sonder Studio (opens in new tab)
Crochet jumper, £39 (opens in new tab)
A crochet jumper will see you through winter to spring with the right layers. Wear it over a white roll neck on chilly days or by itself when higher temperatures finally arrive.
SHOP NOW: Top, £39, Sonder Studio (opens in new tab)
Pleather skirt, £40 (opens in new tab)
An A-line skirt is a classic regardless the season. This camel faux leather belted skirt is gorgeous and easy to wear. Pair it with a silk blouse for an office meeting or with a denim shirt and trainers for a cool outfit.
SHOP NOW: Skirt, £40, Sonder Studio (opens in new tab)
Print blouse, £40 (opens in new tab)
This ruffle print blouse featuring a high collar will be a great match to your black skinny jeans or midi skirt. Happy hour outfit sorted.
SHOP NOW: Blouse, £45, Sonder Studio (opens in new tab)
Print dress, £45 (opens in new tab)
Black and white always looks chic and elegant. Add a floral print and a flowing shape and you have a beautiful and sophisticated piece. Dress it down with black loafers or up with knee high boots.
SHOP NOW: Dress, £45, Sonder Studio (opens in new tab)
Ready, set, shop!
Manuela Rio Tinto is a freelance fashion and lifestyle writer with experience in both short and long-form articles, as well as copywriting. Brazilian, she moved to London six years ago and since then has worked for brands like Woman & Home, Woman's Own, Chat, Selfridges and Karen Millen, to name a few. Passionate about all things culture, travel and scuba diving-related, you'll find her either reading, travelling or diving in her spare time.