M&S launches second batch of NHS charity T-shirts after they sell out in record time!
One t-shirt was sold every second on launch day!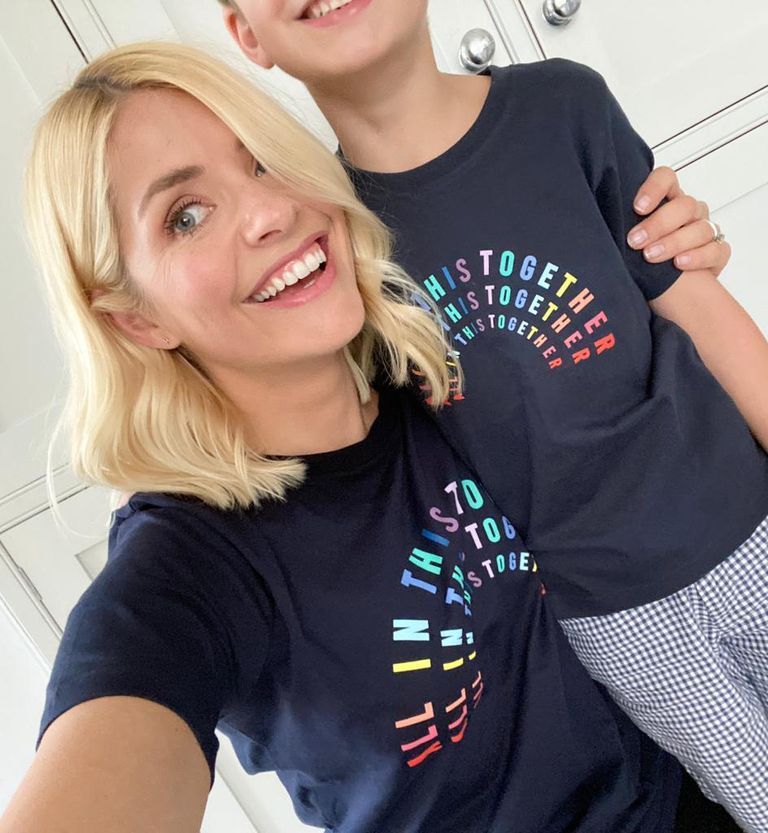 Last week Marks & Spencer launched a brand new range of 'All in this together' charity t-shirts, to help raise money for NHS Charities Together.
The 'All in this together' charity t-shirts were the fastest ever selling M&S t-shirt thanks to overwhelming support from customers and sold out in hours, with one t-shirt sold every second on launch day.
As a result, M&S has restocked the tees and has thousands more landing online, today, Friday 1st May with more coming over the next few weeks.
Featuring a colourful rainbow design or the 'All in this together' slogan, the T-shirts are made from soft and breathable cotton. The short-sleeved tees are available in men's, women's and kid's sizes, so there's a design for the whole family. Furthermore, all cotton used for M&S clothing, including these t-shirts, is sustainably sourced.
From designers working from home and UK-based printers, through to M&S Womenswear Ambassador Holly Willoughby, who shared a highly popular shot of her and her son Chester wearing their t-shirts on her Instagram account.
M&S Food ambassador Amanda Holden also shared a picture wearing her t-shirt.
READ MORE: Duchess of Cambridge's go-to jewellery brand has designed a lovely necklace to support the NHS
Amanda Holden commented, 'Life has taken a really funny turn but one thing that I think has become really clear is that we are all in this together. And more than ever, we've reconnected with love and hope during this time. The wonderful team at Marks & Spencer have designed these beautiful rainbow t-shirts with all proceeds going to NHS Charities Together. This campaign and the NHS mean a lot to me. I feel like I owe the NHS so much.'
Jill Stanton, Director of Womenswear & Kidswear at M&S said, "Taking part in the Thursday's 'thank you' clap has become a moving weekly milestone for millions of us around thecountry. In this uncertain time, it's a moment where we come together, even though we may be apart.
"Our customers and colleagues have been telling us how much it means to them – so we wanted to capture this moment and celebrate it within the design of the T-shirt. I'm so grateful to every who has pulled together to turn the many requests we've had into a reality - from our remote working design team, to our amazing printers, to our warehouse colleagues who'll be sending it out to customers – all to help us fundraise for our incredible NHS Heroes."
All profits will be donated to NHS Charities Together - supporting NHS staff and volunteers caring for Covid-19 patients.
Women's NHS Charities Together Clapping T-Shirt
£9.50, Marks & Spencer
VIEW NOW: Women's NHS Charities Together Clapping T-Shirt
Men's NHS Charities Together T-Shirt
£9.50, Marks & Spencer
VIEW NOW: Men's NHS Charities Together T-Shirt
Kids' NHS Charities Together T-Shirt (2-12 Yrs)
£8, Marks & Spencer