Kristen Bell is loving this Harper Wilde bra, and it's raising a ton of money for charity
The bra-clad starlet highlights the Female Collective's partnership with Harper Wilde in a recent Instagram post.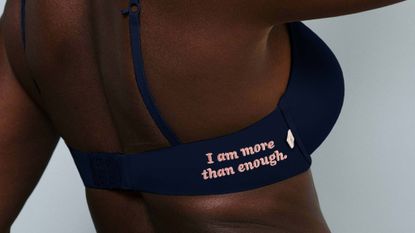 (Image credit: Harper Wilde)
Simplifying our universal hunt for the best bras (opens in new tab) on the market, Kristen Bell recommends a new bra from Harper Wilde that's backed by quality and a philanthropic mission.
Kristen Bell takes to Instagram to unveil her navy blue bra in support of a charitable initiative — with clever use of brasserie wordplay and alliteration. A Global Citizen (opens in new tab) and advocacy champion, The Good Place sweetheart reveals she went bare-breasted without a "Nipple Knapsack" for 11 months.
Unlike any other "Honkey Hankey," her bra is a design from the Female Collective's (opens in new tab) recent collaboration with Harper Wilde, a cause-related, sustainability-first bra brand with an array of options under $50. This limited-edition "Upper Decker Flopper Stopper" is available in band sizes 32-42 and cup sizes A-F (and if you need guidance, we got you covered on how to measure your bra size). It's also embroidered with an empowering message that reads, "I am more than enough." Bell informs followers that 15% of profits from sales will be donated to GirlTrek, a non-profit organization that champions radical self-care and public health for Black women.
Harper Wilde's "I Am More Than Enough" bra
In partnership with Female Collective
Specifications
Price: $50.00
Band Size: 32-42
Cup Size: A-F
Core Color: Navy
In an era of ethics-driven shopping, a growing stampede of fans has responded with love and support to Bell's poignant declaration. Her post has since received over 600,000 likes and nearly 5,000 glowing comments. And naturally, the confession dissolved onlookers, including Katie Couric, into laughter, encouraging them to respond with creative emojis and euphemisms of their own. Moved by the greater call to action, her followers have vowed to invest in her beloved over-the-shoulder-boulder-holder.
Keep reading to learn why the Gossip Girl star says she'll wear this bra with pride.
Bra Design Details
When it comes to design, Harper-Wilde values transparency and innovation. In the image below, the brand highlights the Female Collective bra's high-grade features, which marry quality and functionality. The result: a long-lasting bra that lifts, and offers comfort and support.
(opens in new tab)
Reviewers particularly rave about its second-skin fit, soft, non-bulging fabric, and how it doesn't slip or dig into ribs after continued wear. We'd argue that it's the type of bra (opens in new tab) that every woman needs to know about.
About Harper Wilde
Backed by a mission that transcends lingerie itself, Harper Wilde aims to empower, educate, and inspire women in an industry filled with overly-sexualized marketing that commodifies women. The brand's portfolio is as follows, each available in beige, tan, brown, and black shades:
1. The Base: a traditional lightly-lined bra for everyday wear.
2. The Bliss: a traditional lightly-lined bralette for everyday wear.
3. The Move: a compression-style sports bra that offers support and comfort for medium-intensity workouts.
4. The Flex: an underwire strapless bra that gives support and won't slip throughout the day.
5. The Boost: a non-restrictive, pick-me-up push-up bra that's made of soft fabric.
Each bra is available in band sizes 32-42, cup sizes A-F, and retails for $40-$45, an affordable alternative to luxury options with similar quality.
Harper Wilde donates 1% of all proceeds to Girls Inc., which provides mentorship and educational programming for girls ages 6-18, as part of its #LiftUpTheLadies initiative. To combat landfill waste, the brand created Recycle, Bra, a bra recycling program centered around sustainability and ethics-driven consumerism. Since the program's inception, Harper Wilde has recycled over 30,000 bras, a number that continues to grow.
About Female Collective
The Female Collective is a digital destination "where women are celebrated, uplifted, supported, and empowered every day." Based in Los Angeles, California, founder and self-love advocate Candace Reels aims to foster female unity, highlight unique stories, and spearhead meaningful conversations on activism and intersectional feminism. More evidently, she works to catalyze systemic change through content creation.
The Female Collective has since amassed a considerable fandom of nearly 1 million followers on Instagram. Reels has been featured in top-tier publications, including PopSugar, Teen Vogue, Essence, i-D Magazine, Who What Wear, and GIRLBOSS. Additionally, she served as an organizer for the Women's March in Los Angeles and a speaker at the Create & Cultivate Conference in Chicago.
About Girltrek
Featured in Essence, Ebony, and CNN, Girltrek is the largest public health and self-care movement for Black women with a profound call to action. With nearly 100,000 neighborhood walkers, the non-profit organization has an ethos focused on empowerment, community leadership, and advocacy, deeming walking as "a practical first step to inspire healthy living." Girltrek encourages active members to mobilize and support local and national physical activity policy (think: protecting green spaces and improving access to safe places to walk). To further its mission, the organization has partnered with Healthier America, The Centers for Disease Control, and The American Council on Exercise, just to name a few.
Shop Now
Dominique worked as a shopping writer at Woman & Home and while with the brand she covered products, sales and deals, and market news across categories. Before joining the team, she penned stories as an editorial fellow at Insider Reviews, the affiliate commerce team at Insider Inc./Business Insider. The bespectacled NJ transplant specializes in commerce journalism, women's lifestyle content, and hoarding makeup—much to her mother's dismay.