Kim Kardashian opts for a naked pantsuit look and it's giving fresh spring vibes
The "naked" dress isn't revolutionary at this point - but Kim K's "naked" pantsuit just might be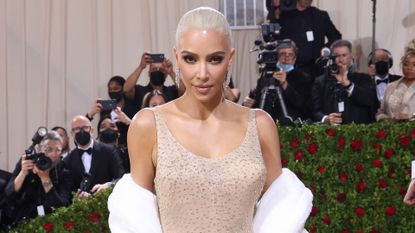 (Image credit: Getty images)
Kim Kardashian is always pushing boundaries in the fashion world, from her Marilyn Monroe gown at last year's Met Gala to her own lingerie franchise Skims - but she recently took the trend of wearing sheer clothing to a whole new level.
As we know, celebs have been sporting sheer clothing on red carpets and out in public for quite some time - specifically, dresses. From Florence Pugh, to Emily Ratajkowski, Jessica Chastain, and Pamela Anderson (just to name a few).
Kim Kardashian recently, however, took it upon herself to revolutionize this concept, transforming the sheer, barely-there dress into a sheer, barely-there pantsuit.
The pantsuit itself isn't a new trend as tailored clothing is all the rage - just look at Kate Middleton's pastel pink pantsuit.
Kim wore the sheer pantsuit by Rick Owens to the Time 100 event in New York, pairing a sheer blazer with matching trousers and a small, matching bandeau top. All of the elements are a subtle eggshell color that perfectly complemented Kim's features.
She paired the pantsuit with a pair of white suede pumps, as well as her "Kim" Ruby Stella diamond necklace and a pretty hefty, silver ring. She also wore her hair up in a tousled, "un-done" top-knot a lá Pamela Anderson, helping to tie all of the outfit's fun elements together.
The suit really teeters the line between her public persona as an entertainer and businesswoman and we're into it!
At the 2023 Time 100 Summit, Kim sat down with moderator Poppy Harlow to discuss a path change that seems to be looming in her life.
"I would be just as happy being an attorney full time," she said to Poppy and the audience.
As some may recall, in May 2019, Kim announced that she had decided to study and become a lawyer like her late father - and while she passed the "baby bar" two years ago, she still has to pass another bar exam before she can officially practice law on her own.
She has said many times in the past that she considers criminal justice reform "her life's work" - which is quite the statement, seeing as the entrepreneur owns an incredibly successful lingerie brand, as well as her own makeup brand, on top of continuing to shoot new seasons of The Kardashians for Hulu. Oh, plus taking care of her four kids. Walk in the park!
Between all of her business and personal ventures, she still manages to show up to every event looking more fabulous than the last time we saw her - and this sheer suit is no exception.
Madeline Merinuk is woman&home's US lifestyle news writer. She covers celebrity, entertainment, fashion, and beauty news but is also obsessed with internet trends - you can find her reciting trending TikTok sounds out loud at any given time.
After winning multiple student journalism awards for her investigative work, she graduated from Hofstra University in 2021 with a B.A. in Journalism. After graduating, she worked at today.com, the digital site for the Today Show, where she wrote pop culture news and interviewed big-name personalities like Emily Ratajkowski, Haley Lu Richardson, Emma Corrin, and more.
Her personal interests, in no particular order, are: cheese, Joni Mitchell, reading, hot yoga, traveling, having multiple chapsticks in every handbag at all times, and dancing to ABBA songs as if she were in the Mamma Mia movies.