Kate Middleton's demure button-down white dress is one of her best looks, and we're obsessed with that fun bow belt too
Kate Middleton strikes yet again with one of the most perfectly put together looks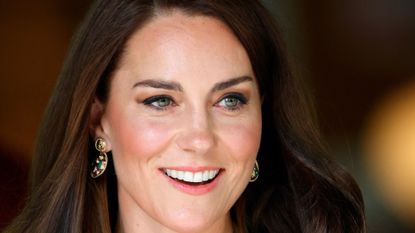 (Image credit: Getty Images)
Kate Middleton sported a super chic, white button-down dress that screamed quiet luxury - here's where you can buy similar styles.
For the royal family, stepping out in a public-facing environment means that your outfit choice is going to be heavily scrutinized - especially if you're Kate Middleton, who is proving to be somewhat of an eternal style inspiration for many. Even now in 2023, we're constantly looking back at Kate's older looks for sartorial inspo, especially as the summer months draw closer and we're looking for more ways to spice up our wardrobes.
One look we can't stop thinking about these days is one of her best looks from Wimbledon in 2019 (and no, we're not talking about that super fab black and white silk polka dot dress). Luckily for us, Kate's dress is versatile, comfortable, and of course, stylish - making it a perfect staple piece for any wardrobe.
The Princess' courtside look is a white midi dress with an A-line silhouette, featuring black buttons that go all the way up. The dress is from the brand Suzannah (one of Kate's faves), and this dress specifically is known as the Flippy Wiggle dress - try not to laugh while imagining the Princess asking for her "flippy wiggle dress." We digress.
Unfortunately and unsurprisingly, this dress is quite the pretty penny, coming in at $3,620. And, when you add on the chic, black bow belt from Alexander McQueen, you're racking yourself up quite the bill if you want to precisely recreate this look.
Don't fret, dear reader - we've found some similar styles that will give off the same vibes, for a much less intimidating price point.
---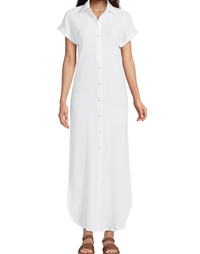 Women's Cotton Gauze Button Front Maxi Dress, $55.96 (£45) | Land's End
Breezy and comfortable cotton gauze fabric makes this one of the best dresses for any summer occasion. The maxi length and cute sleeves are perfect to dress up or down, perhaps with a pair of wedge sandals or white sneakers.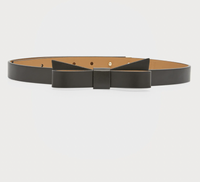 Kate Spade New York bow skinny leather belt, $58 (£47) | Neiman Marcus
This bleached leather belt comes in a handful of different colors, perfect for spicing up any outfit, whether a long dress or jeans and a blouse. Pair with some black leather shoes for the perfect combo.
To style the dress, Kate paired this Wimbledon look with suede, black pump heels to match the dress' accents, as well as a super chic rattan handbag with black lining to add a perfect, summery pop to the already fabulous look. She also paired the look with her classic Ray-Ban sunglasses, which she's worn to other Wimbledon matches in years past.
Madeline Merinuk is woman&home's US lifestyle news writer. She covers celebrity, entertainment, fashion, and beauty news but is also obsessed with internet trends - you can find her reciting trending TikTok sounds out loud at any given time.
After winning multiple student journalism awards for her investigative work, she graduated from Hofstra University in 2021 with a B.A. in Journalism. After graduating, she worked at today.com, the digital site for the Today Show, where she wrote pop culture news and interviewed big-name personalities like Emily Ratajkowski, Haley Lu Richardson, Emma Corrin, and more.
Her personal interests, in no particular order, are: cheese, Joni Mitchell, reading, hot yoga, traveling, having multiple chapsticks in every handbag at all times, and dancing to ABBA songs as if she were in the Mamma Mia movies.