Kate Middleton proves square necklines are eternally in style with a bold dress we can't get enough of
Kate Middleton's bold dress was a style move in the right direction!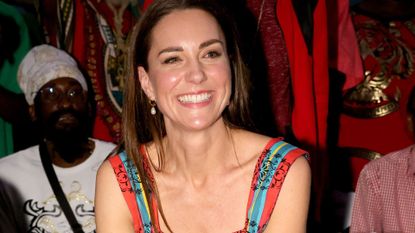 (Image credit: Getty Images)
Princess Catherine is constantly proving that timeless styles continue to reign supreme - and the square neckline dress she wore in Jamaica only further solidifies that theory.
Kate Middleton's dresses, from her stylish highly patterned midi dress to her ultra-luxe blue and green geometric print dress, never fail to impress on her royal outings.
Last year, while in Jamaica on their Platinum Jubilee royal tour, Kate wore a super fun midi dress to visit the Trench Town Culture Yard Museum, where Bob Marley used to live.
In a bit of a change for the Princess, this dress actually was upcycled from a dress that was originally from the 1950s - so yes, it's hard to come by, and yes, it is expensive.
It is, however, available to purchase on Willow Hilson Vintage, £369 ($471), which is where Kate sources some of her other vintage items, including her orange beaded handbag.
The A-line dress, which is of a midi length, (a silhouette and length Kate famously opts for often) also boasts a timeless square neckline, showing off her décolletage in a flattering yet conservative way. She and Prince William even played the drums (as seen in the picture above), so it was a good thing she wore an appropriately fun-patterned dress for the occasion.
Although Kate's unique vintage dress is on the pricey side, we found some styles that are similar - perfect for adding to your spring capsule wardrobe - and at much less expensive price points than Kate's.
---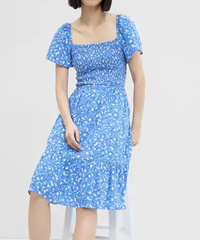 Smocked Squareneck Midi Dress in Blue Floral, $48.99 (£39) | Gap Factory
This dress is perfect for the warmer months, boasting a smooth cotton-rayon weave, as well as short puff sleeves with elasticized shoulders and an elasticized square neckline for ultimate Kate Middleton vibes.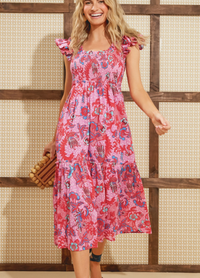 Bougainvillea Breeze Mallie Dress, $99 (£79) | Tuckernuck
Inspired by the retro feel of late-70s California style, The Ocean Ave Collection features unique prints and a saturated summer palette to take you from easy days to glamorous nights. Crafted from a floral print inspired by vibrant botanicals overflowing in a seaside town, the Bougainvillea Breeze Mallie Dress is the perfect flirty frock for all your warm weather events this season.
The Princess also paired some classic nude slingback heels with her dress, perfect for keeping the look dressy, but not as high as her usual Emmy London pump heels. For accessories, she kept the focus on her chic square neckline opting for no necklace, but instead focused on earrings, which were gold hoops with classic pearl drops.
Madeline Merinuk is woman&home's US lifestyle news writer. She covers celebrity, entertainment, fashion, and beauty news but is also obsessed with internet trends - you can find her reciting trending TikTok sounds out loud at any given time.
After winning multiple student journalism awards for her investigative work, she graduated from Hofstra University in 2021 with a B.A. in Journalism. After graduating, she worked at today.com, the digital site for the Today Show, where she wrote pop culture news and interviewed big-name personalities like Emily Ratajkowski, Haley Lu Richardson, Emma Corrin, and more.
Her personal interests, in no particular order, are: cheese, Joni Mitchell, reading, hot yoga, traveling, having multiple chapsticks in every handbag at all times, and dancing to ABBA songs as if she were in the Mamma Mia movies.