Hotter Shoes team up with Marie Curie UK to launch the perfect slip-ons for spring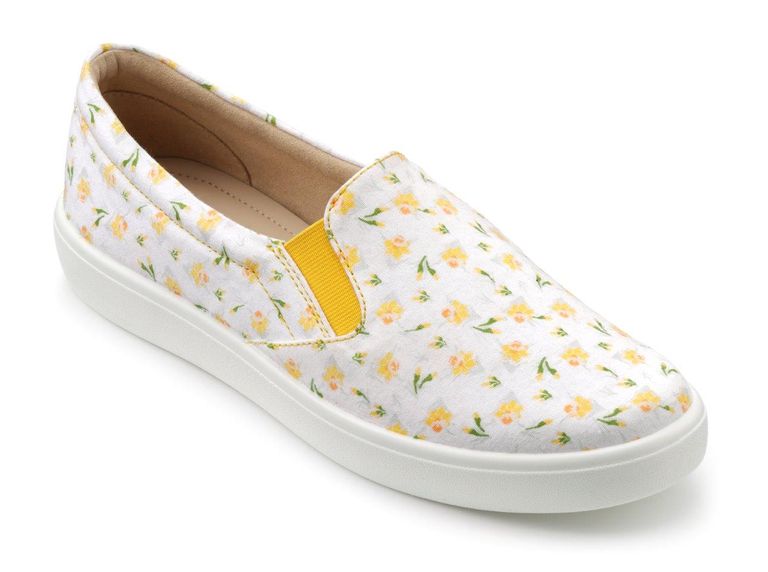 By Amy Hunt
When we can team great fashion with doing our bit for charity, there's not much more rewarding.
So when we heard the news that stylish footwear brand Hotter Shoes have teamed up with the charity Marie Curie to create some gorgeous new slip-on shoes, we were all ears.
Inspired by Marie Curie's iconic daffodil emblem, the shoe brand has created a sleek new, limited edition shoe in their much-loved style, the Tara, to help raise money for the charity that offers care and support through terminal illness.
For each sale of the shoe, which is available now and costs £55, £20 will go to Marie Curie, which will help fund an hour of nursing care.
The Tara is one of Hotter's best-selling styles, meaning the daffodil print pairs are likely to fly off the shelves. The breathable, easy-to-wear shoe is super-supportive, so you can guarantee you'll be comfy all day in these as well.
Given that their super lightweight too, they're also perfect for the summer weather, now that it seems to be heating up outside...
It's not the first time Hotter and Marie Curie have teamed up for a stylish shoe launch though. Last year, they launched the Daffodil Mabel and the Daffordil Pixie, which went down a storm with customers.
Sara Prowse, Hotter CEO, said of the collaboration, "We're so proud to be partnered with Marie Curie for another year, a fantastic charity doing amazing work to support people living with a terminal illness.
"Following the success of last year's exclusive Marie Curie footwear, the Daffodil Mabel and Daffodil Pixie, we're certain the new Daffodil Tara will raise even more money."
Hotter and Marie Curie have been working together for some time, and so far, the shoe brand has raised £75,000 since the beginning of their partnership.
This new limited edition shoe should certainly up that total - because what better excuse for shopping than proceeds going to such an incredibly worthwhile charity?
The Tara is available online and in Hotter stores nationwide now - don't miss out on your pair!