These exceedingly comfortable crystal encrusted heels are the evening shoes you have been waiting for
We'll take some in every colour!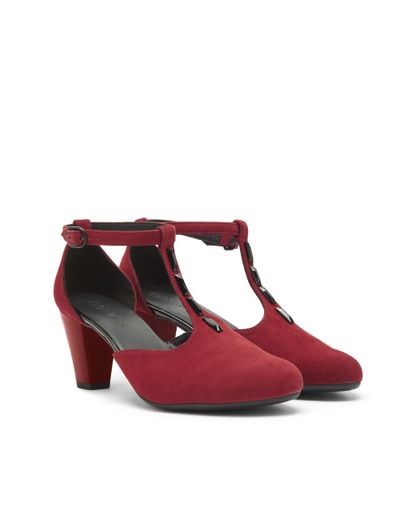 To celebrate an incredible 60 years in the shoemaking business, Hotter has created a special anniversary shoe collection.
The brand first began its journey back in 1959 by designing and making slippers in its Lancashire factory. Fast-forward to 2019 and the brand now produces over a million pairs of shoes every year and the factory still stands proudly in Lancashire!
This month Hotter have unveiled a set of shoes embellished with Swarovski crystals to celebrate their milestone birthday (it's the diamond anniversary after all!).
MORE:It's worth visiting H&M ASAP because their new Pringle collaboration is really very good (and it's selling fast!)
Perfect for party season, the mid-height heels feature the understated sparkle of coloured crystals and come in three different colour ways – black, truffle and claret.
If you have ever worn Hotter shoes then you'll know that each pair, including the heels, are as comfortable as the slippers they originally launched their business on. They really are exceedingly kind on the feet. But we haven't even got to the best bit about these shoes yet... Hotter have made this collection customisable! So you can create you own bespoke pair with their online shoe-builder, one that will match your wardrobe perfectly.
You can choose any combination of chic courts or vintage T-Bar shapes, three versatile colour and three stone choices. Better yet, they're even available in wide fit.
Vicky Betts, Chief Commercial Officer at Hotter has said. "As a brand we couldn't be more proud to celebrate this amazing milestone and to mark the occasion we're giving our customers the chance to party with us in true Hotter comfort with a custom pair of Hotter heels. This is the first time our customers have been able to customise their own Hotter shoes so it's another milestone we'll be celebrating and one which we hope will be a sell out!"
CREATE YOU OWN PAIR NOW: Visit Hotter.com
The limited edition shoes are available to buy in Hotter stores across the UK or via mail order for £120.
Millie Gooch worked at woman&home as a fashion writer and stylist and has worked on numerous shoots for the brand. As a freelance journalist, Millie has written for a range of publications, including, ELLE, Stylist, the BBC, and the Evening Standard.
Millie is also the founder of Sober Girl Society, an online collective of women who don't drink alcohol. Millie's debut non-fiction book, The Sober Girl Society Handbook, is a bestselling manual to navigating life as a young and sober woman. Millie gave up alcohol back in February 2018 and has since dedicated her career to changing perceptions around sobriety.