Cate Blanchett's 80's style white boots and acid-wash jogging bottoms are giving us life
Cate Blanchett's white boots are just too cool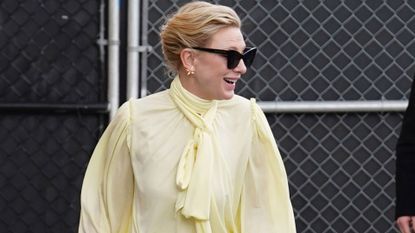 (Image credit: Getty Images)
Cate Blanchett, whose most recent feature film Tár is up for an Oscar, is carrying her confidence all throughout awards season - and it's showing in her latest streetwear look.
The actress, who is known for her fashion-forwardness, recently stepped out in LA in an outfit that was too good to miss. Her signature blonde hair, which she had up in a French twist (but is usually in a slick bob hairstyle), was complemented perfectly by her yellow top with a super chic bow on the front. On the bottom, though, was where you could see the pièce(s) de résistance that really helped pull her outfit together.
Cate's joggers give a little bit of edge to her look with an acid-wash finish, and we're completely obsessed with her pointed-toe white boots (a boot trend that is here to stay). Since the slouchy ankle of the boots blends perfectly with her cinched jogger-style pants, this is a look that gets a hard 10/10.
To be honest, we didn't think acid wash was back in style, but Cate may have convinced us otherwise.
---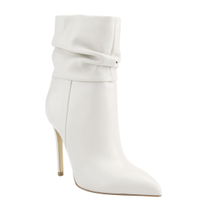 (opens in new tab)
Rayya Dress Booties, $99 | Marc Fisher (opens in new tab)
Rayya is a stylish dress bootie available in chic cream leather. These high-quality dress booties are the perfect addition for a spring dress, a chic outfit with jeans, or really, any occasion you want.
No outfit is complete without a few intentional accessories, and Cate certainly nailed this portion of the outfit - starting with her cat-eye black sunglasses. If you're wondering, "What sunglasses suit me?," a cat-eye frame is at the top of the list - and Cate only further proves the point. For jewelry, she's wearing some stunning, wide gold hoop earrings on her left ear, and one dazzling pearl earring with floral accents on her right.
Her handbag, which appears to be a chestnut brown leather clutch, totally finishes off the look, giving her outfit a practical yet fashion-forward flair.
Cate recently starred in Tár, a film nominated for best picture at the 2023 Academy Awards. Her portrayal as Lydia Tár, an orchestra conductor who falls from grace when all elements of her career seem to be put against her, including being accused of sexual assault, is outstanding.
Madeline Merinuk is woman&home's US lifestyle news writer. She covers celebrity, entertainment, fashion, and beauty news but is also obsessed with internet trends - you can find her reciting trending TikTok sounds out loud at any given time.
After winning multiple student journalism awards for her investigative work, she graduated from Hofstra University in 2021 with a B.A. in Journalism. After graduating, she worked at today.com, the digital site for the Today Show, where she wrote pop culture news and interviewed big-name personalities like Emily Ratajkowski, Haley Lu Richardson, Emma Corrin, and more.
Her personal interests, in no particular order, are: cheese, Joni Mitchell, reading, hot yoga, traveling, having multiple chapsticks in every handbag at all times, and dancing to ABBA songs as if she were in the Mamma Mia movies.